James Beard's Buttermilk White Bread is from Beard on Bread, James Beard's best selling cookbook. It's definitely one to consider if you are buying books for the bakers in your life. Or another thought -- buy the James Beard biography, The Man Who Ate Too Much. It's on my list after reading the review from The NYT. I'm surprised they haven't made a movie about him yet. I'd stream it. For now, here's the recipe.
Jump to Recipe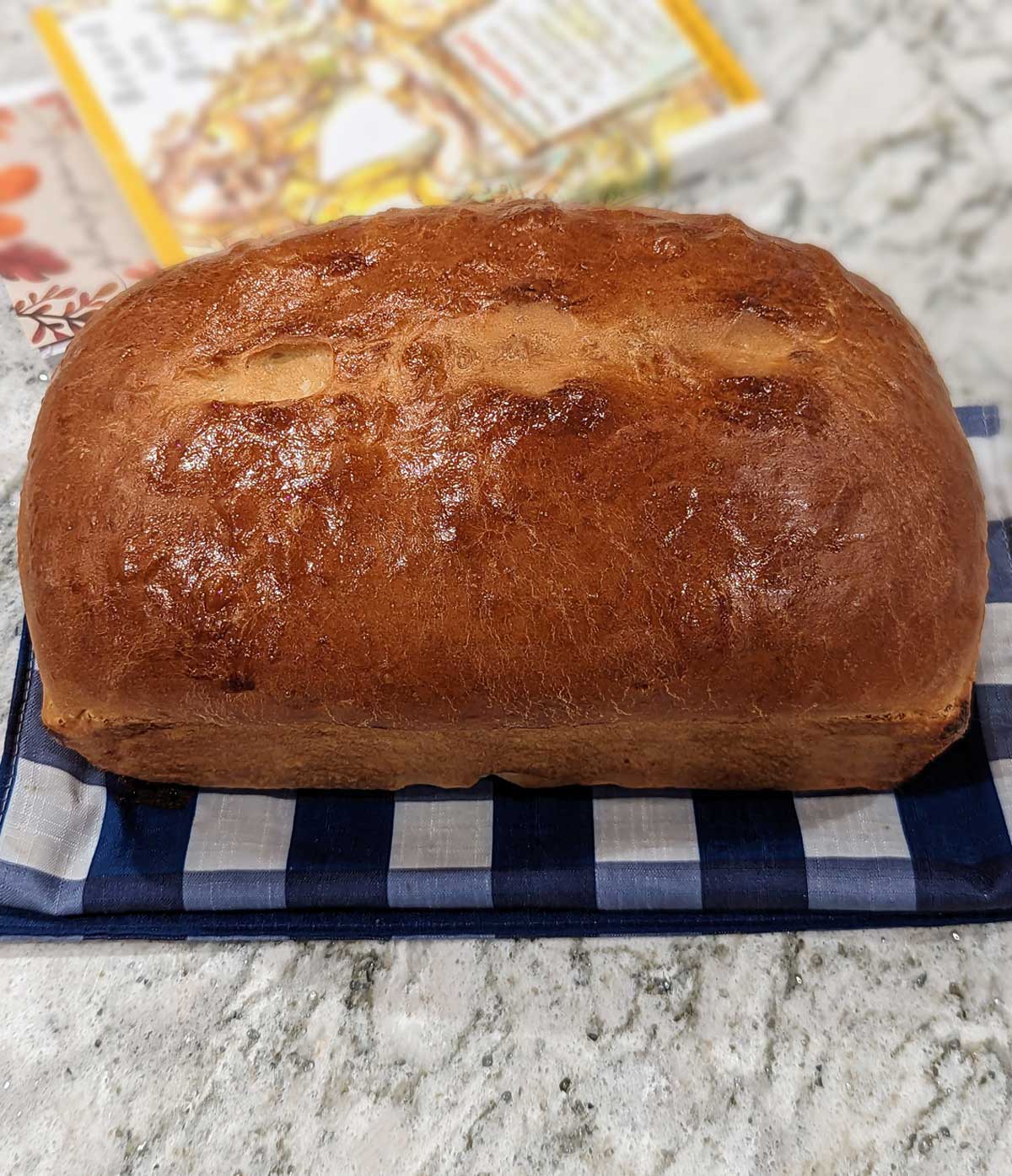 Buttermilk White Bread Loaf Pan Size
This is a big, fluffy, light and flavorful buttermilk bread. I tend to make slightly smaller loaves using 8 ½ by 4 ½ inch loaf pans, but this one is designed for a 9x5 inch pan, so I went all out and made big loaves. Some are in the freezer and one went to a friend. You could probably divide the recipe to make two small 8x4 inch loaves, but for sandwiches this size works well.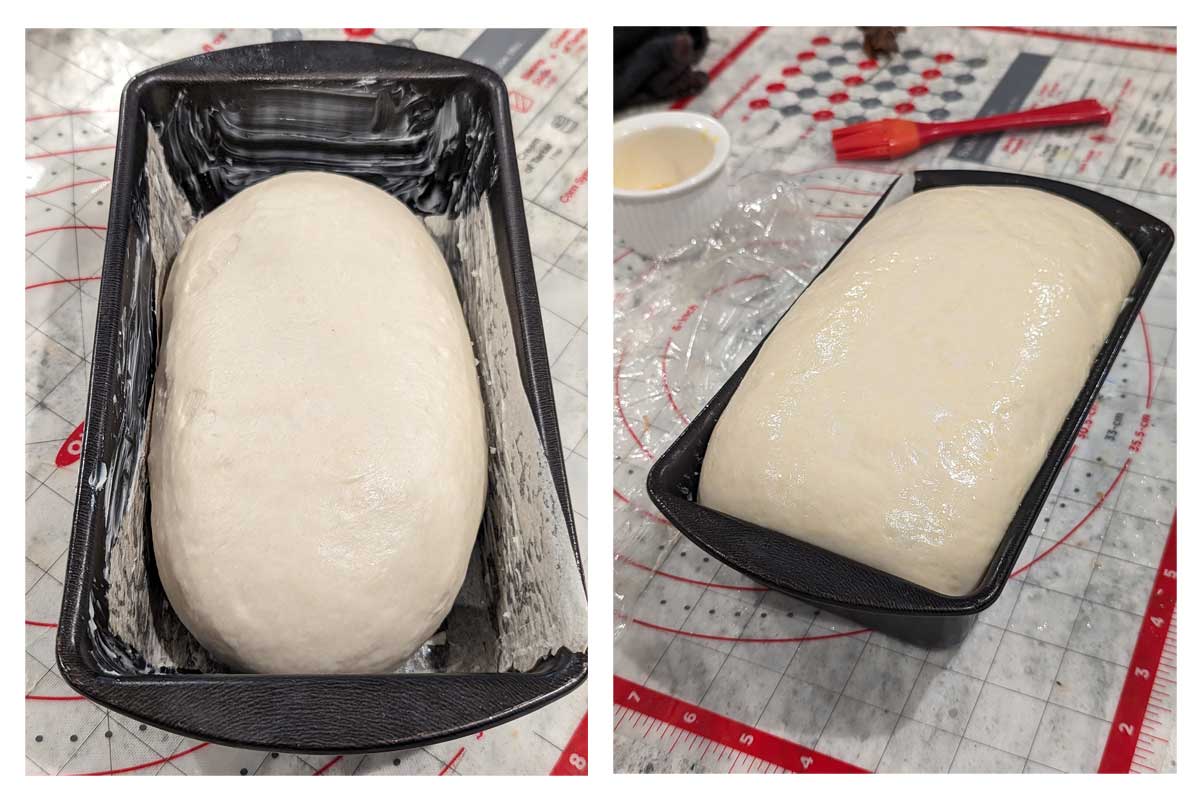 Changes
It feels weird saying I made changes to a James Beard recipe, but if you read his books it's obvious he wants you to because it means you think you know what you are doing. If he were here, he'd also appreciate the gram amounts.
Other Frequently Asked Questions
I'm experimenting with the FAQ format to see if it makes the information easier to follow or if it just annoys people. Some of these won't mean anything until you actually start reading the recipe.
How much buttermilk does the James Beard's Buttermilk White Bread Really Need?
The buttermilk white bread recipe calls for 1 to 1 ½ cups buttermilk and 4 cups of flour, but nowhere does it say "start with 1 cup liquid" or "add buttermilk gradually". I think you are supposed to know this from reading the first part of the book. I found 1 ⅓ cups to be the perfect amount.
Does the bread really need a tablespoon of salt?
James Beard's rule of thumb was 1 tablespoon of salt to every pound of flour, and that's how much he uses in this bread. He states earlier in the book that 1 tablespoon might be too much for some. In this recipe, it sure was. I reduced the salt to 2 ¼ teaspoons.
Does James Beard Use Unsalted or Salted Butter?
Most of the recipes in Beard on Bread just say "butter", but some call for sweet butter, which is unsalted. Since he specifically calls for sweet butter in certain recipes and butter in others, I'm assuming this recipe can be made with any butter. There's only 3 tablespoons of it, so it shouldn't make much of a difference, especially if you cut the salt down to 2 ¼ teaspoons as I did.
Can I Leave the Buttermilk out of James Beard's Buttermilk Bread?
Sure! Just make one of the other breads listed below.
Easy Bread Recipes Without Buttermilk
This is a decent recipe to start with if you are are new to bread baking, but there are even easier ones without buttermilk. Two that come to mind are the Gold Medal White Bread or the Basic White Bread Without a Bread Machine.
Buttermilk Whole Wheat Bread Recipe
If you're more of a whole wheat person or just have some whole wheat flour to use, there's a whole wheat version called Whole Wheat Buttermilk Bread. I posted the recipe back in August. It's denser and not what I'd call fluffy like this one.
Recipe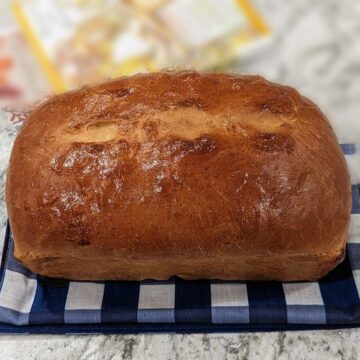 James Beard's Buttermilk White Bread
Soft sandwich bread made with buttermilk
Ingredients 
2

packets

active dry yeast (I used 2 packets Red Star 4 ½ teaspoons)

1

tablespoon

sugar (I used heaping and would probably use more)

½

cup

water (100 to 110 degrees)

4

cups

bread flour (King Arthur)

(560 grams)

1

tablespoon

salt (I recommend 2 ¼ teaspoons)

3

tablespoon

melted butter

1 to 1 ½

cups

buttermilk (1 ⅓ cup is about right
Instructions 
You'll need a 9x5 inch loaf pan. Set it aside and grease it while the bread is rising.

Combine the ½ cup warm water, sugar and yeast and let sit until foamy (5 to 10 minutes).

In the bowl of a stand mixer, combine 4 cups of bread flour, salt and butter, then add 1 cup of the buttermilk. Stir with the paddle attachment or with a spoon.

Add the yeast mixture and stir well. Mixture will probably be pretty dry at this point, so add another ⅓ cup of the buttermilk. Attach dough hook and begin kneading. If dough seems heavy and dry and splits, continue to gradually add remaining buttermilk by small spoonfuls. Keep kneading for 5 to 7 minutes or until dough is smooth and elastic.

Turn onto a very lightly floured pastry mat and knead by hand for another 2 minutes or so. This dough should be very slick, firm, kind of bouncy but not sticky at all.

Put the dough in a lightly buttered or oiled bowl, roll in the butter or oil, then cover and let rise in a warm place (closed microwave is always a good bet) until more than doubled in bulk. This will probably be about and hour to an hour and a half.

Form into a rough rectangle, then form into a loaf by folding in the ends and then folding in the sides.

Put the dough in the greased pan. Cover with greased plastic wrap and let rise for another hour or just until it is about 1 inch (in the middle) over the edge of the pan.

Bake at 375 degrees F for about 45 minutes. Let cool for about 5 minutes, then remove from the pan and let cool completely.