I've been trying a lot of different whole wheat bread recipes lately, and this Buttermilk Wheat Bread recipe was the latest. The recipe caught my eye immediately because I've been working my way through a bag of powdered buttermilk, a truly underrated product! But don't worry because you can use regular buttermilk here. You'll need that, plus some whole wheat flour, bread flour, active dry yeast, honey, sugar, salt, oil, and a pinch of baking powder. This is a yeast bread with baking powder in it.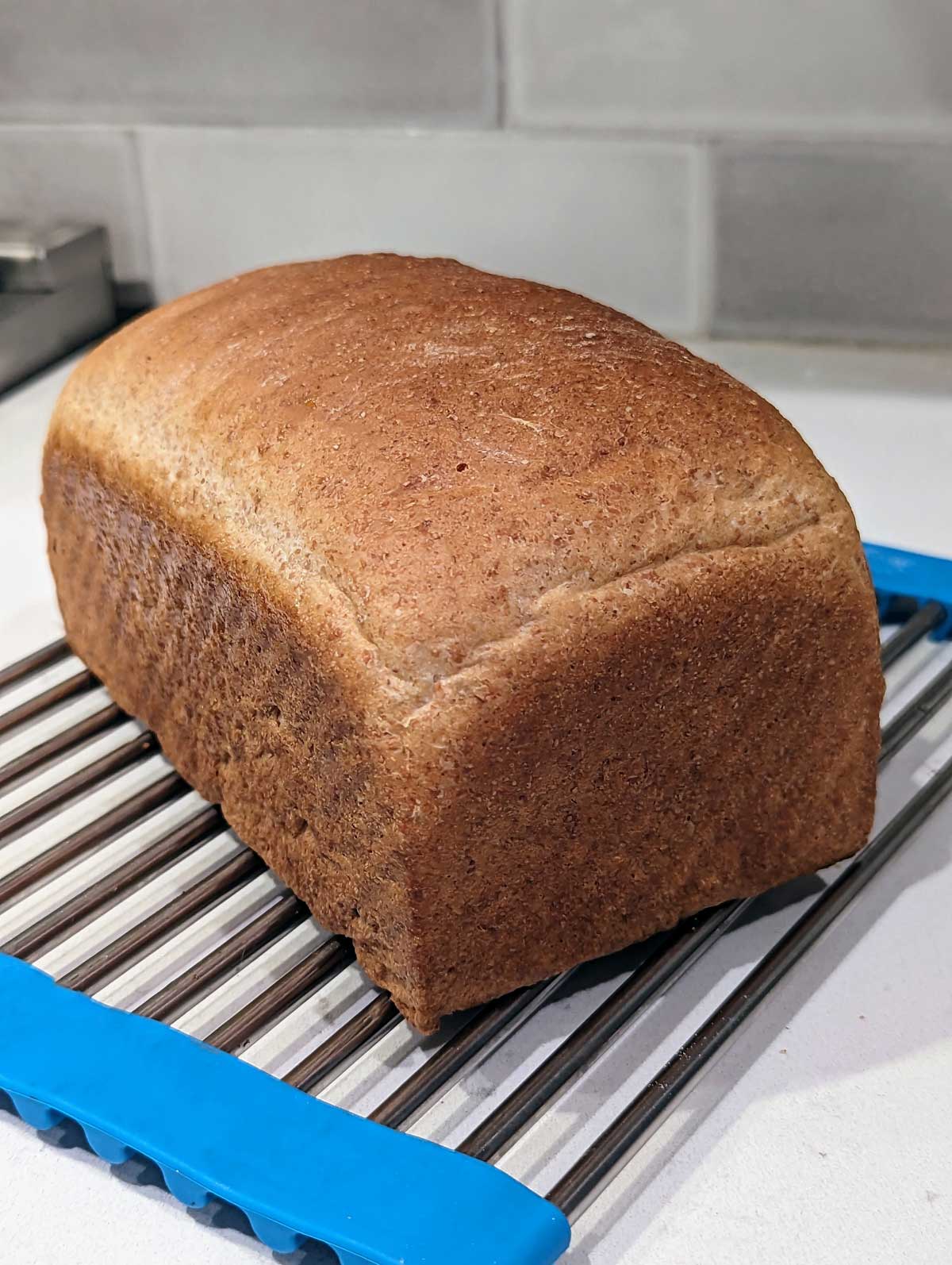 Loaf Size
So this recipe is older and has a few quirks. First, it calls for two 8 ½ by 4 ½ inch pans, yet the volume is such that unless your pans are pretty narrow (like my Pullman) you'll get short loaves. Most recipes of this size today are baked in 9x5 inch or even slightly larger loaf pans. That said, I prefer taller and narrower loaves so I halved the recipe and used my Pullman, which is about 8x4 but has very tall sides. It worked perfectly as usual. Next time I'll try it in a 9x5.
Baking Powder in a Yeast Bread
Another interesting thing about the recipe is that while it's a yeast bread, it calls for ⅛ teaspoon of baking powder. I have used tiny bits of baking soda or baking powder in gluten-free yeast breads, but I had to read up on why baking powder would be added to a buttermilk wheat bread. Most sources argue against it, but one baker noted that small amounts made their loaves lighter and fluffier and "more like commercial bread" which was my first thought when cutting into this loaf. So I think the baking powder might act as a dough enhancer.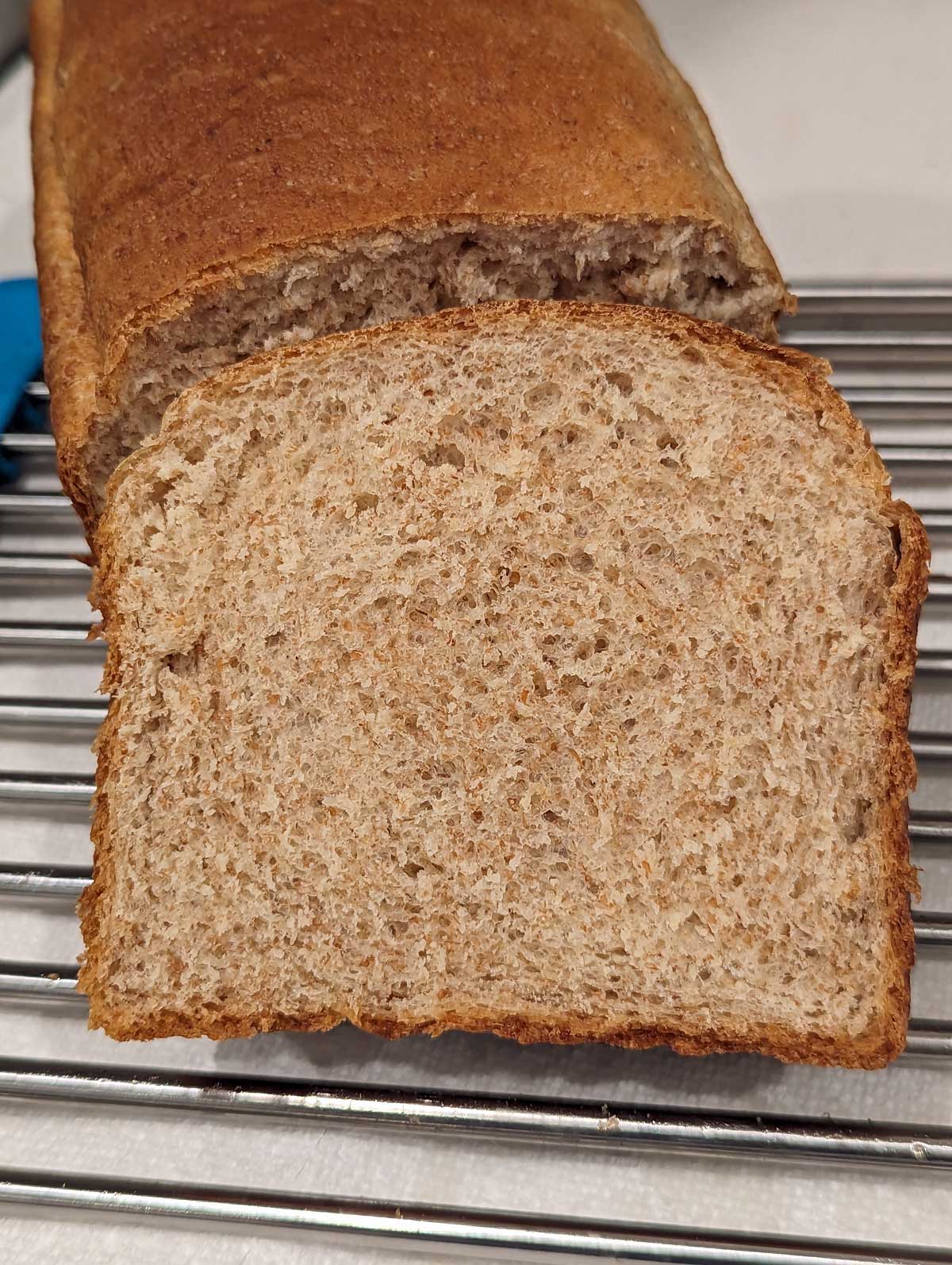 Buttermilk Wheat Bread Texture and Flavor
So it's lighter than some homemade wheat breads and similar in texture to grocery store wheat bread, which could be good or bad depending on your personal preferences. The flavor is very light wheat with a hint of buttermilk. Surprise! It tastes like you think. We did not find it overly sweet.
Here's the recipe. I guess you'd say it's "tried but not true" since I tried it but have only made it one time. Based on the results, I do plan on making it again so it will earn its "true".
Recipe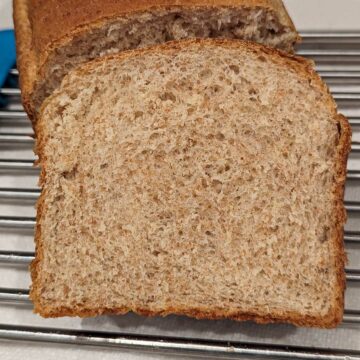 Buttermilk Wheat Bread
Soft whole wheat bread with the flavors of buttermilk and honey.
Ingredients 
½

cup

warm water (110 to 115 degrees F)

2 ¼

teaspoons

active dry yeast

2

tablespoons

granulated sugar

(24 grams)

1 ¾

cups

whole wheat flour, used Pillsbury brand so a nice light wheat and not overly dry.

(230 grams)

⅛

teaspoon

baking powder

2

tablespoons

honey

(40 grams)

4

tablespoon

vegetable oil or light olive oil

1

teaspoon

salt

1

large

egg, room temperature

(50 grams)

⅔

cup

room temperature buttermilk (see note about powder)

2 ¼

cups

bread flour, divided use --More if needed

(315 grams)
Instructions 
Grease two 8 ½ by 4 ½ pans or a 9x5 inch pan. You may want to line with a strip of parchment, but that's optional.

Put the warm water, yeast and sugar in a stand mixer bowl and let proof.

Add the whole wheat flour, baking powder, honey, oil, salt and egg and beat with the paddle until well blended. Gradually add 2 cups (280 grams) of the bread flour and beat. Continue adding bread flour IF NEEDED until the dough is thick and less sticky, then switch to the paddle. Alternatively, you can knead by hand. Note: I made half batch and used 1 cup bread flour and then added an extra 2 tablespoons during the knead, so a full batch will probably be 2 cups added and the extra ¼ cup during the knead).

Knead on low with the dough hook, adding about ¼ cup of flour or, until the dough is smooth and elastic. If kneading by hand, use the remaining flour to dust the mat and allow the dough to pick up flour as you knead.

Shape dough into a ball and put it in a bowl with a little oil. Turn dough ball to coat with oil, then cover and let rise for about 60 minutes or until dough has doubled in bulk.

Punch dough dough. Press the dough into a rectangle on a lightly floured mat, then roll it up into a cylinder, turning down corners as you roll and pushing out air. If making two loaves, divide in half and do this twice.

Position the dough in the pan or pans. Cover with greased plastic wrap and let rise for 35-40 minutes or until it has doubled and nicely rounded. Preheat the oven to 350 degrees F.

Bake at 350 degrees F. for about 35 minutes or until internal temperature of dough registers around 205 degrees F.

Let cool in the pan for about 10 minutes, then carefully remove from pan and let cool completely before slicing.
Notes
If using buttermilk powder, use the equivalent of ⅔ cup.  The brand you buy should say exactly how much powder equals a cup, so check the label.