It was quite a celebratory weekend around here! Everyone is healthy, it was Mother's Day, and we have a new addition to the family – a rescue puppy from Town Lake Animal Shelter. He's going to get his own separate post, though. This post is about the brownies.
A few months ago I bought some Michael's Irish Cream on the recommendation of the guy at the liquor store. Bailey's is good, but he said this one was a little better and slightly cheaper. It's been quite wonderful for baking, though I'd have to drink it straight next to Bailey's to say which one is really better. Anyhow, I had some on hand plus all the ingredients to make these brownies. They have a firm chocolate base (and definitely need the chocolate chips to counteract all the flour in the base) and a cream cheese/Irish Cream icing.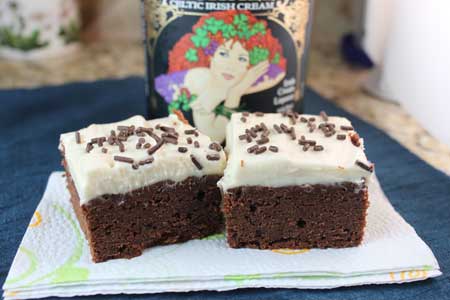 Irish Cream Brownies
4 oz/114 grams unsalted butter
4 oz /114 grams semi-sweet chocolate (I used Ghirardelli)
½ cup/ 98 grams granulated sugar
1/4 cup Irish Cream
2 large eggs
1 cup (4.5 oz/126 grams) flour, spoon and sweep or fluff up and scoop if you don't have a scale
1/2 teaspoon baking powder
1/4 teaspoon salt
1/2 cup mini semi-sweet chocolate chips (or regular size morsels if that's all you've got)
Irish Cream Frosting
2 oz/56 grams cream cheese, softened
1 tablespoons unsalted butter, softened
2 tablespoons Irish Cream
1 ½ cups powdered sugar
Preheat oven to 350 degrees F. Line an 8 inch metal pan with non-stick foil.
Melt the butter in a microwave-safe mixing bow. Add the chocolate and stir to coat with melted butter. Microwave at 50% power (high would probably be okay too) for 30 seconds. Stir and repeat until chocolate is melted.
Stir in sugar, then beat in the Irish Cream. Beat in the eggs, one at a time, then beat in the baking powder and salt. Using lowest speed of mixer or by hand, mix in the flour. Stir in the chocolate chips.
Pour into pan and bake on center rack for 22 minutes or until brownies test done. Let cool completely in pan set on a rack. Make the frosting when cool.
To make the frosting, mix all the ingredients together and beat until light and creamy. Frost the brownies when they are cool.
Lift from pan, set on a cutting board and cut into 16 squares.
Related posts: