If there's a blog dedicated to granola, don't tell me about it because I'll be compelled to try every recipe and will subsequently be buried in mounds and mounds of granola. Then again, maybe not. It's one of those treats that's so easy to wrap and share. Plus people react differently to a gift of granola than they do cookies because it's perceived as nutritious. Or at least until one realize they can't stop eating it until the bag is empty. But there's a remedy for that, too. Just put a lot of nuts in the granola. The protein and fat offsets the sugar a little bit and in my opinion, makes the granola more satiating.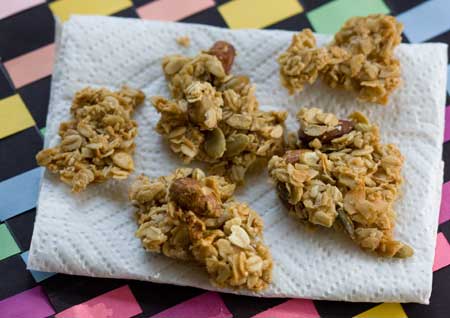 This chunky granola is our family's favorite granola It's not loose, therefore it's not perfect for sprinkling or pouring milk over, but it's great for eating on the go because it's in big chunks and slabs as demonstrated in this awful photo.
The secret ingredient in the chunky granola is the egg white, which helps bind the granola and lets you get away with using less oil and butter. I apologize for the fact it calls for 1 tablespoon of egg white. It's kind of a pain to measure it out (not that you have to be precise), but I get the best results when I use around a tablespoon rather than the whole white. If you end up doubling the recipe (which I don't recommend until you've at least made one batch), then you can use 1 full egg white.
Another fun thing you can do is swap out the 1/2 cup dried fruit with 1/2 cup of interesting dried fruit type trail mix. For instance, you can give it a tropical theme by using one with dried mangoes, papaya, etc. or go with an American theme by using dried cranberries and blueberries. Or you can just leave the fruit out completely, which is what I have to do thanks to FUZZ.
Extra Chunky Granola
Chunky granola with lots of nuts
Ingredients
1 1/2 tablespoons unsalted butter
1 tablespoon vegetable oil or coconut oil
1/4 cup brown sugar
1 tablespoon maple syrup
1 tablespoon honey
1/8 teaspoon salt
1/2 teaspoon vanilla extract
2 cups oats, old fashioned type
1/4 cup pepitas or sunflower seeds
1/4 cup coconut flakes
3/4 cup mixed nuts, or MORE
1 tablespoon egg white, beaten lightly with a fork
1/2 cup dried fruit of your choice
Instructions
Preheat oven to 300 F and line a large heavy baking sheet with nonstick foil.
In a small saucepan, heat the butter over medium until it melts. Reduce heat to low and stir in oil, sugar, maple syrup, honey and salt. Cook over low just until brown sugar melts. Remove from heat. Let cool slightly, then stir in the vanilla.
In a large mixing bowl, mix the oats, seeds, coconut and nuts.
Pour the egg white over the oat mixture and stir well, then pour the sugar mixture over the oat mixture and stir thoroughly until mixed.
Spread the mixture over the bottom of the lined baking sheet to make thin slab. It should be all squished together, as if you were making bars.
Bake at 300F for 25-30 minutes (might take a bit longer depending on your oven -- go by color and smell) or just until lightly browned, Remove from the oven. It should be warm, slightly browned and chewy, but will crisp as it cools. Let cool completely. Break into chunks and stir in the fruit.
Notes
I make my granola in small batches because I'm always trying new recipes. If you double this and bake it on two different oven racks, you might have to adjust the timing. One recommendation, should you decide to double, is to make it all at once, then bake one sheet at a time. That will also give you a chance to gauge the correct time since ovens are always different.
Related posts: