I'm not sure I would have tried "cookie granola" had there not been half a roll of peanut butter cookie dough in the refrigerator, but I needed to get rid of it and didn't feel like cookies. Granola, on the other hand, seemed like a great idea, and using refrigerated peanut butter cookie dough to make it was pure genius. Or at least if it worked out. My concern was that it would taste like a bunch of mashed up peanut butter cookies.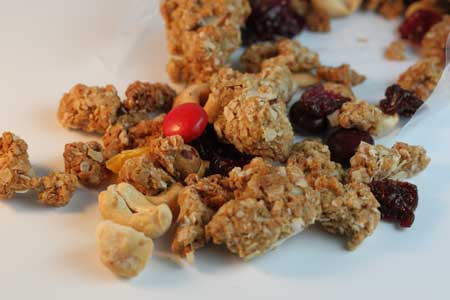 When I pulled it out of the oven, I was still skeptical. It looked soft, doughy and kind of pale. But after a thorough 30 minute cooling off period, the granola was crisp and crunchy. It's flavor was like a peanut butter & oatmeal cookie, but the texture reminded me of those little puffy peanut butter granola things Nature Valley used to make – I can't remember what they were called, but they came in little packets and I used to put them in my lunchbox. At any rate, this granola is worth buying a whole new roll of peanut butter dough and making again. In fact, I think I'm going to make a bunch and bag it up for a bake sale next weekend.
The original recipe is here, but I made considerable changes and plan on doing it again my way which means adding the fruit after the baking period, using cashews and macadamia nuts, and swapping out the raisins for dried cherries, dried mango and cranberry.  For the candies, I used Hershey's candy coated chocolates.
Recipe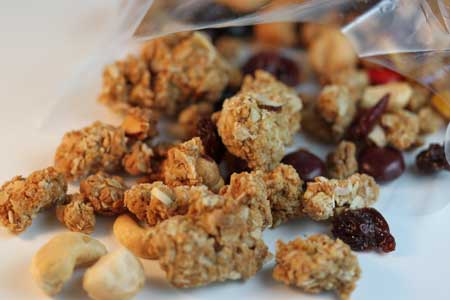 Peanut Butter Cookie Granola
An easy granola recipe made with packaged peanut butter cookie dough.
Ingredients 
1

roll

16.5 oz Pillsbury® refrigerated peanut butter cookies, at room temperature

½

teaspoon

cinnamon

2 ½

cups

oats

1

cup

flaked coconut

1

cup

sliced almonds

1

cup

mixed cashews and macadamia nuts

⅓

cup

sweetened dried cranberries or dried cherries

½

cup

candy coated chocolates

½

cup

peanut butter chips or Reese's Pieces
Instructions 
Preheat oven to 325°F. rub two large rimmed baking sheets lightly with oil or line with non-stick foil.

In large bowl, mix cookie dough and cinnamon. Add oats, coconut and cinnamon; knead into dough until well blended. Add the nuts. Crumble mixture evenly on cookie sheets.

Bake both cookie sheets at the same time 17 to 22 minutes, stirring every 5 minutes and rotating cookie sheets halfway through baking, until light golden brown. Cool completely on cookie sheets, about 30 minutes. Break granola into smaller pieces if necessary (I didn't) and toss it with the dried fruit and candy.