Chunky Granola is a family favorite, and I've acquired way too many recipes for it.  Way too many.  I have so many granola recipes I forget which one we like the best, but I usually come back to this one because it contains the word "chunky".
Egg White or Flax & Water For Chunky Granola
Over the years I've experimented with different ways to bind the granola.  For a while I used egg white, and while I sometimes still do use egg, it seems a mixture of flax and water is just as effective.  But what really keeps the granola chunky is not stirring.  Of course you have to keep it from burning, so that means baking at a really low temperature and shielding with foil or parchment for all or part of the bake time.  Here's a batch prior to baking.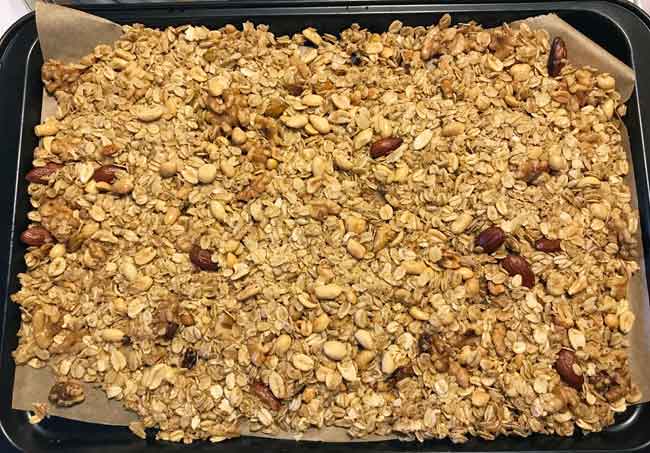 This recipe makes a pretty reasonable size batch.  It's not too small, not too large.  And if the recipe works well for you, you'll probably want to change it up a bit by using different kinds of nut and seeds.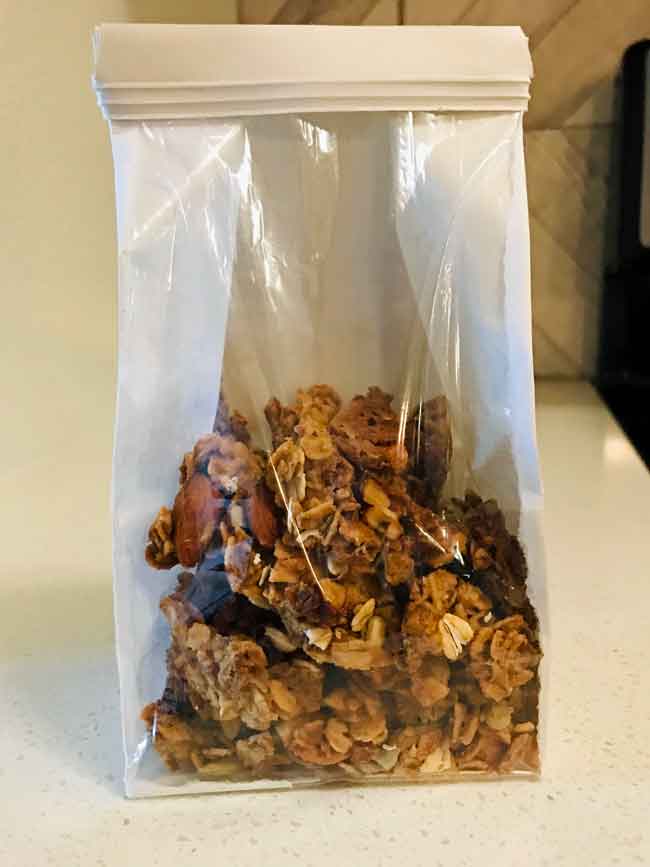 Granola Add-Ins
Dried fruit is optional. Half the time I leave it out completely, but if Sprouts has some interesting mix in the bulk bin or if I have some dried cranberries to throw in, I will throw some in.
Another thing I'm pretty loose with is the type of nuts. Granola recipes usually call for raw nuts, but I use whatever is around -- even roasted and salted nuts work.
This recipe calls for a mixture of honey and maple syrup. If you have both, use both for a richer flavor. However, all honey or all maple syrup is fine too.
Cute Bags for Granola
And finally, if you like the little white tin tie bag in the picture, you can order some for yourself on Amazon.  The one in the photo is a window bag, but I peeled the white part off the front of the bag so you can see the granola.
Recipe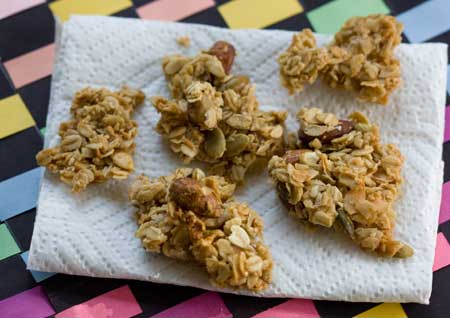 Extra Chunky Granola
Chunky granola with lots of nuts! I originally made this recipe with a little egg white, but these days I use 1 tablespoon of water and 1 tablespoon of ground flax which acts as a binder.
Ingredients 
1 ½

tablespoons

unsalted butter

(21 grams)

1

tablespoon

vegetable oil or coconut oil

(13 grams)

¼

cup

brown sugar

(50 grams)

1

tablespoon

maple syrup

(20 grams)

1

tablespoon

honey

(20 grams)

⅛

teaspoon

salt (plus a little more for sprinkling on top)

½

teaspoon

vanilla extract

1

tablespoon

egg white

approximately (15 grams) OR use 1 T. water and 1 T. ground flax

2

cups

oats, old fashioned type

(160 grams)

¼

cup

pepitas or sunflower seeds

optional

¼

cup

coconut flakes

optional

¾

cup

mixed nuts**

½

cup

dried fruit of your choice
Instructions 
Preheat oven to 275 F. Line a rimmed baking sheet with nonstick foil or parchment paper.

In a small saucepan, melt the butter over medium heat. Reduce heat to low and stir in oil, sugar, maple syrup, honey and salt. Cook for about a minute over low, stirring to dissolve brown sugar. Remove from heat. Stir in vanilla and set aside.

Put the egg white in a large mixing bowl or if using water and flax, put those two things in.

Put oats into the bowl with the egg white (or flax mixture), then stir with a mixing spoon to blend the white in with the oats. They'll still seem pretty dry at this point.

Add the seeds and nuts to the mixture, then pour the liquid mixture into the bowl and stir until blended.

Spread the mixture over the bottom of the lined baking sheet to make thin slab. It should be all squished together, as if you were making bars.

Bake at 275F for 40 minutes. After about 20 minutes in, carefully scrape up edges with a spatula and flip the granola on the edge towards the center. With the back of a spatula gently mash it back into a slab and continue cooking. Alternatively, skip the step of flipping the granola with a spatula. Instead, check at 20 minutes and just cover the slab with foil. Not flipping the granola will give you larger chunks in the end.

Remove from the oven after the full 40 minutes. It should be warm, slightly browned and still chewy, but will crisp as it cools. Let cool completely. Break into chunks and stir in the fruit.
Notes
If you double this and bake it on two different oven racks, you might have to adjust the timing. One recommendation should you decide to double, is to make it all at once, then bake one sheet at a time. That will also give you a chance to gauge the correct time since ovens are always different.
I used to bake this at 300, but now I use 275 and bake for a little longer. The granola browns slower and doesn't require as much stirring which means you get more chunks in the end.
To press the granola into a slab, you can dampen your hands with a little water. This keeps the granola from sticking to your hands and it also adds a tiny bit of moisture to the granola which helps it stay in chunks. You don't want to add too much water, though.