Wow, it feels good to have finally updated the photo for Chocolate Malted Cookies from Cooking Light. This is a very old recipe. It's lower in fat, but the cookies are chewy and very tasty.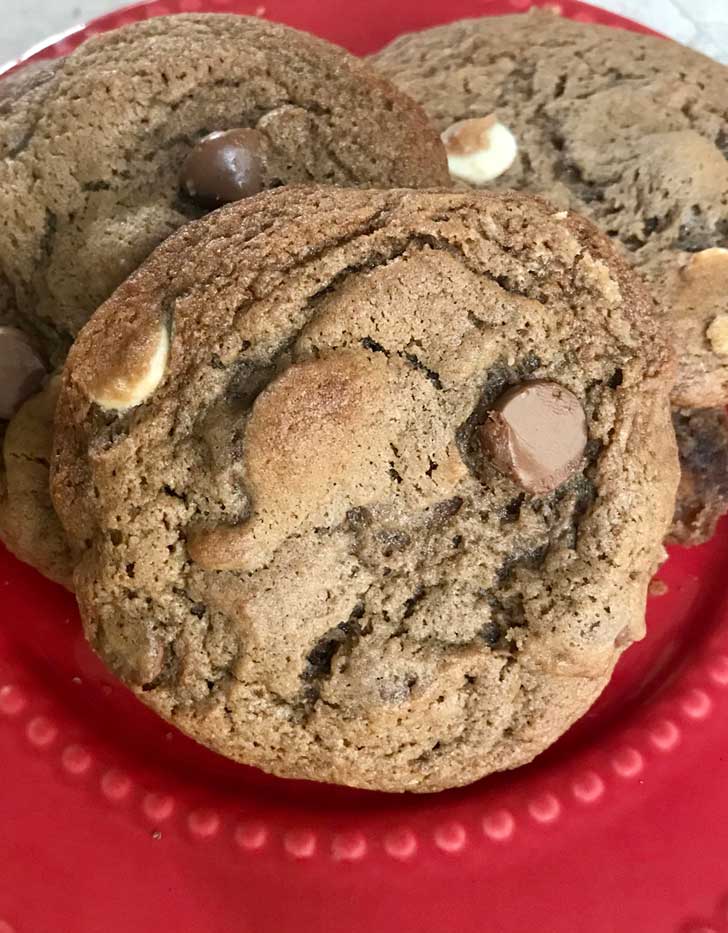 Chocolate Malted Cookies from Cooking Light
1 cup packed brown sugar (200 grams)
6 tablespoons malted milk powder (such as Carnation)
5 tablespoons unsalted butter — softened
3 tablespoons chocolate syrup
1 tablespoon vanilla extract
1 large egg
2 cups all-purpose flour (260 grams)
1 teaspoon baking soda
1/2 teaspoon salt
1/2 cup milk chocolate chips (I recommend more)
1/3 cup semisweet chocolate mini chips or white chips
Preheat oven to 350°.
Combine first 6 ingredients in a large bowl; beat with a mixer at medium
speed for 2 minutes or until light and fluffy. Lightly spoon flour into
dry measuring cups; level with a knife. Combine flour, baking soda, and
salt in a medium bowl; stir with a whisk. Gradually add flour mixture to
sugar mixture, beating at low speed until well blended. Stir in the milk
chocolate chips and semisweet chocolate minichips.
Drop dough by heaping teaspoonfuls 2 inches apart onto baking sheets. Bake
at 350° for 10 minutes. Cool on pans 2 minutes or until firm. Remove
cookies from pans; cool on wire racks.
Yield: 2 1/2 dozen cookies