An ingredient I've had a lot of fun with this year is baker's ammonia. It is a leavening agent often found in old German and Scandinavian recipes that imparts an unbelievably light and crisp texture. Modern baker's ammonia is ammonium carbonate and is made from chemical process involving ammonium sulfate and calcium carbonate. The old version was called hartshorn and made with red deer antlers.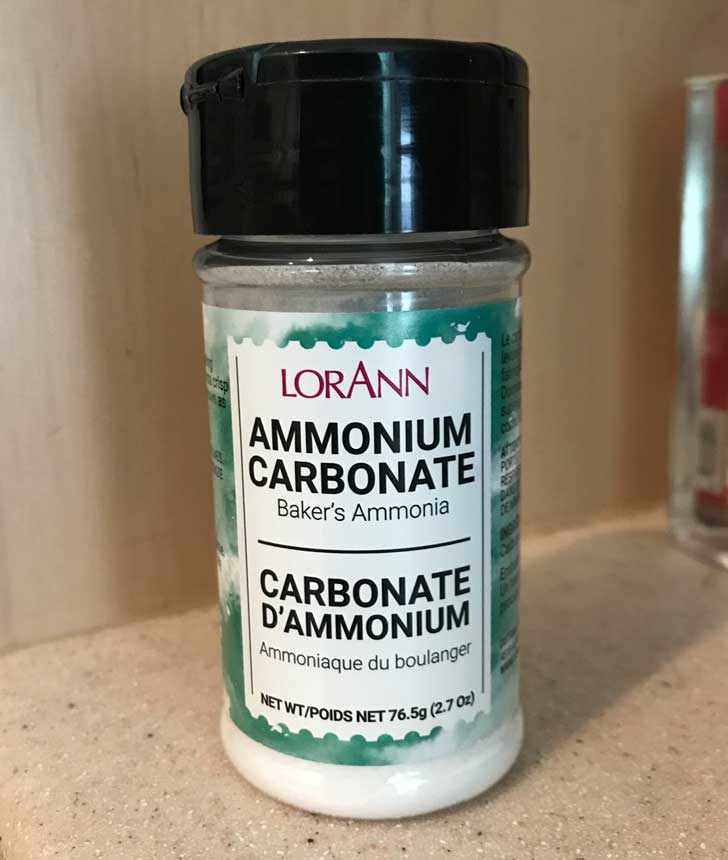 So far, I've used baker's ammonia in Swedish Dream Cookies (KA calls them Vanilla Dreams), and an oatmeal cookie recipe I made up but completely forgot. I've also used baker's ammonia in lemon wafers, but the recipe was somewhat disappointing due to what was probably operator error. I put the baker's ammonia away for a while, then pulled it out again to try it in cream puffs.
Baker's Ammonia Cream Puffs
Here's a photo of some cream puff shells made with baker's ammonia, which makes the shells a little lighter and crispier. It's not a requirement for cream puffs, but if you are sensitive to texture you should be able to notice the difference.
You can find it on Amazon or in the King Arthur Catalog. If you live in Canada, you might spot it on the baking aisle.
Updated Notes
My daughter and I made these again recently using all butter (Irish butter) rather than the butter shortening combo. The pastries did not puff as much as usual, though they did have a good flavor. I'll continue to post updates on this recipe, but right now my most reliable recipe for choux pastry is this very basic one called Eclairs II.
Baker's Ammonia Cream Puff Shells (Also Good for Eclairs)
½ cup water
2 tablespoons butter (28 grams), salted or unsalted
2 tablespoons shortening (24 grams) -- You can use more butter if you want
¾ cup all-purpose flour (100 grams)
¼ teaspoon salt
1 tablespoon milk (14 grams)
3 large eggs (150 grams)
½ tsp. Bakers' Ammonia (if you have it, otherwise just leave it out)
Preheat oven to 400 F.
Place water, butter and shortening in a saucepan and bring just to a boil over medium heat. Add the flour and salt all at once and stir constantly with a wooden spoon until the mixture leaves the sides of the pan and forms a ball. Blend in the milk.
Remove pan from stove burner and transfer it to a mixing bowl. Add the eggs, one at a time, beating well after each. Beat in the baker's ammonia.
Drop onto lined cookie sheets about 3 to 4 inches apart. Bake 20 to 25 minutes. Let cool completely before filling.
Yield -- 8