How's your National Cream Puff Day going? Hopefully things are okay. Did you make any cream puffs? I didn't, but I made some chocolate éclairs. They're not very pretty, but I haven't made them in a while so I guess that's okay.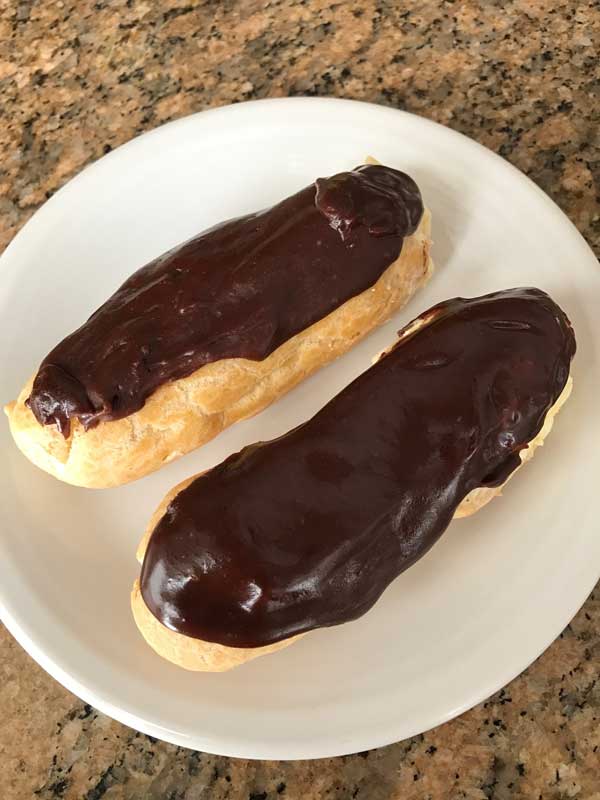 I probably should have made cream puffs since it is Cream Puff Day and not Éclair Day, but these were good anyway.
The recipe is here. I think one of my resolutions is going to be to make more cream puffs. I played around with different fillings and threw 2 batches out. Luckily, they were small and I was smart enough to buy instant pudding to make the default backup filling that came with the recipe Meanwhile, I'm still on the lookout for good cream puff fillings.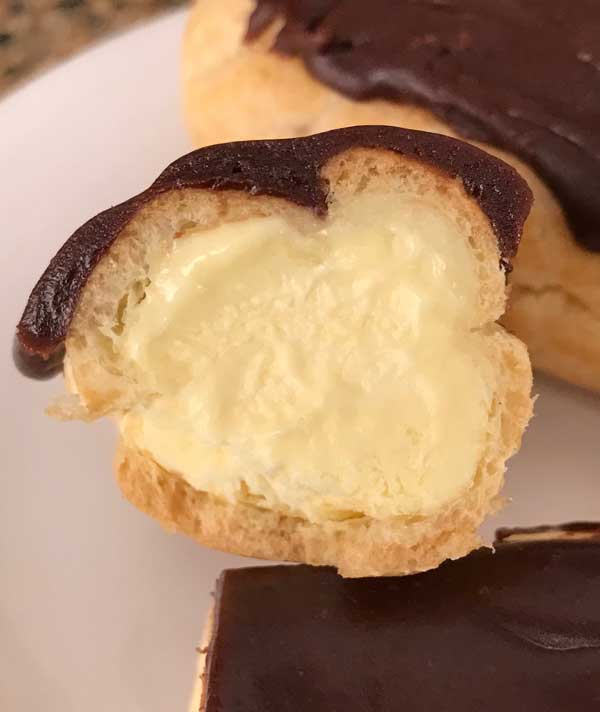 Update: Here's how I usually make the eclairs, but I'm always experimenting!  The filling is not from scratch, but rather one made with vanilla pudding.  It's quick and easy, but also very good (at least to those of us who grew up on Jell-O pudding).  Feel free to use a scratch pastry or diplomat cream.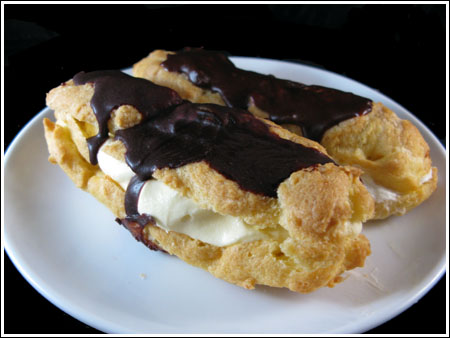 Print Recipe
Chocolate Eclairs II
My usual eclair recipe with an easy instant pudding mix filling.
Ingredients
1

stick

8 tablespoons unsalted butter, cut into chunks

1

cup

water

1/2

teaspoon

salt plus a pinch

omit if using salted butter

1

cup

bread or all-purpose flour

4.5 oz

4

large eggs
Filling
3.4

oz

box instant pudding mix

1 3/4

cup

milk

2/3

of a tub

about 2 cups whipped topping (can make your own, of course)
Icing
2

oz

chopped dark or semisweet chocolate

not chips

2

tablespoons

butter

1

cup

powdered sugar

sifted twice

1

teaspoon

vanilla

3

tablespoons

HOT water
Instructions
Partially melt the butter in a 3 quart saucepan, then add the water and salt. Bring to a boil, then remove from heat and stir in the flour all at once with a wooden spoon.

Return to the stove and cook the mixture for about 3-5 minutes, stirring it around and pushing it up against the sides of the pot, until it dries out a bit.

Transfer to a mixing bowl and let cool for about a minute, then begin beating with mixer to cool it somewhat. Add the first 3 eggs one at a time, beating after each egg. For the fourth egg, crack it into a small cup and beat with a fork. Drizzle in about 2/3 of it or just enough so that the mixture is soft and holds its shape, but not runny. If it seems dry, add all of the egg.

Transfer mixture to a piping bag fitted with a large round tip or use a spoon to form 2 or 3 inch lines of dough (yield will vary depending on size).

Bake at 450 for 15 minutes, then reduce heat to 325 and continue baking for another 20 minutes or until golden brown. Let cool while you make the filling.

Filling: Whisk together pudding mix and milk for about 2 minutes. When pudding thickens, fold in the whipped topping (or sweetened homemade whipped cream).

To fill the eclairs, use a Bismark tip (the long skinny one) and poke it into the pastry. Squeeze it in there and fill. You can also split the eclairs and fill, or hollow out with a poke and use a heavy duty freezer bag with the corner snipped off.

Keep the filled eclairs cold while you make the glaze.

To make the icing, combine the chopped chocolate and butter in a saucepan and heat over medium low, stirring constantly, until melted and smooth. Add the sifted sugar gradually, stirring well (you'll have a thick paste), then add the vanilla and the 3 tablespoons of very hot water, stirring until smooth. Mixture will be runny while warm. Allow it to cool and thicken. I like to pour it into another bowl to speed up the process.

To glaze the eclairs you can put the glaze in a shallow bowl and dip or drizzle it over the tops.
Notes
These freeze well. I like to fill the eclairs and freeze them without the glaze, then glaze while frozen.