This is my usual recipe for Chocolate Eclairs. I found it years ago when there weren't a lot of eclair recipes on the Internet. Now you can find pages with all kinds of great info on eclair making, good photos, tips and clear instruction. That being said, this little recipe from Allrecipes.com has served me well and was a great springboard into eclair making even though it's kind of basic.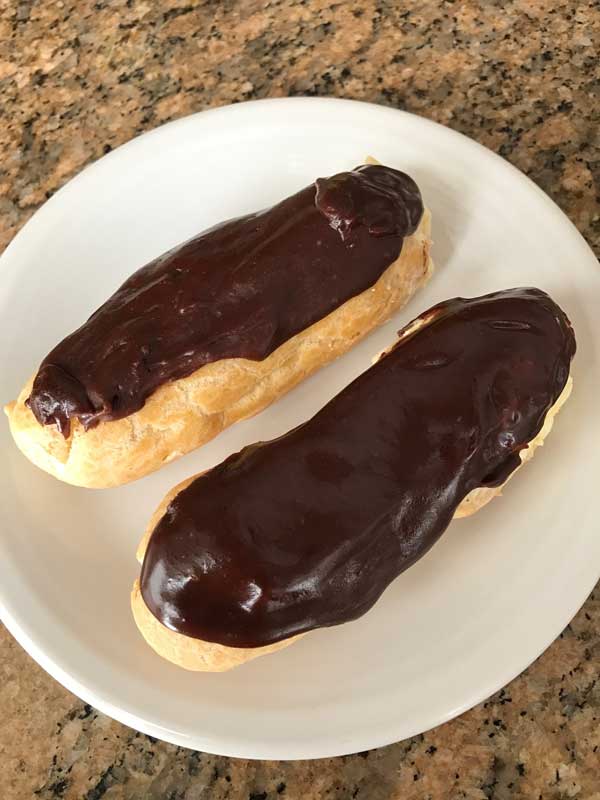 So, Basic Eclairs.
The type of dough used for eclairs is called choux pastry. You can make it completely over the stove with a saucepan and wooden spoon, or you can do it partially over the stove and finish it off in a mixing bowl. I feel like I have more control over the dough with the partial mixing bowl method, so I start it on the stove and transfer to a mixing bowl before adding eggs. That part is simple.
Ingredient Notes
Butter — You can experiment with different types of butter. European style butter and American style butter can give you different results, though it probably varies by brand. I attempted to make the dough with Danish butter and the dough was too dry and did not puff. I may try again with European style butter, but for now I just recommend using regular old American butter.
Salt — Omit or use just a pinch if using salted butter
Sugar — This recipe doesn't have any, but you can add a teaspoon or two if you want a browner shell with a hint of sweetness. I usually just leave it out.
Flour — AP and bread flour are both good choices. Bread flour will give you a crisper shell. I usually just use King Arthur AP which has just enough protein for a tender inside and crisp enough shell.
Eggs — You can use all four eggs, which is what I do these days, or you can use 3 eggs and add about half of the fourth egg. This makes a slightly dryer inside.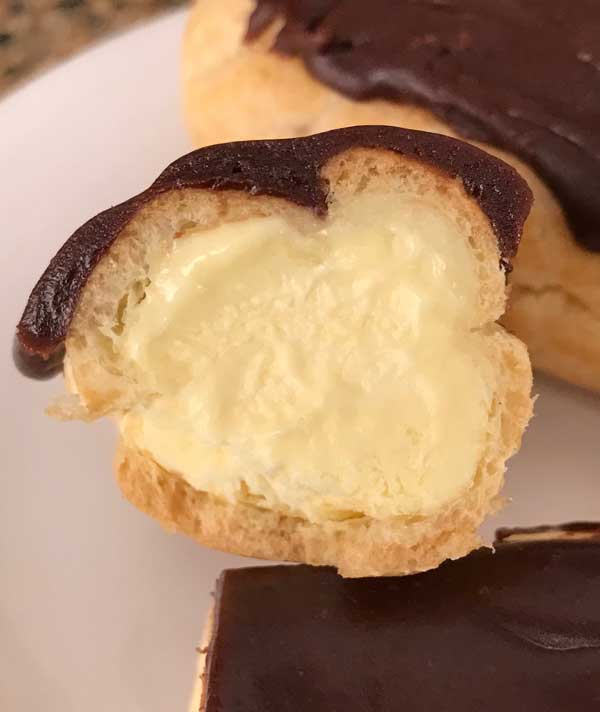 Piping the Dough
Piping the dough is easy if you have a pastry bag and a large round tip, but if you don't have a pastry bag and tip you can pipe it out of a large heavy duty freezer bag with the bottom corner cut off. Just clip the bag about an inch above the bottom corner so that you have a hole that is around an inch. You can also just shape the dough with a spoon and probably your fingers somewhat. It will puff up a big as it bakes.
Chocolate Eclairs Filling
The filling for this recipe is not from scratch, but rather one made with vanilla pudding.  It's quick and easy, but also very good (at least to those of us who grew up on Jell-O pudding).  Feel free to use a scratch pastry or diplomat cream, but I'm sticking with this one because it reminds me of the filling in frozen "Rich's" brand eclairs.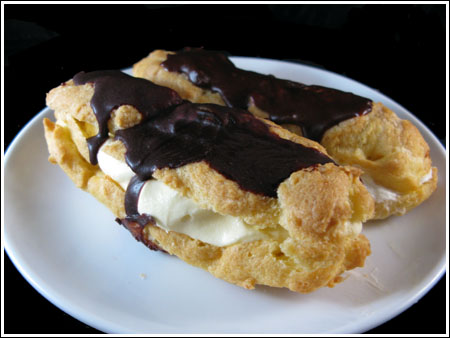 Chocolate Topping
I've included a recipe for an easy chocolate topping, but I admit I sometimes just use a ganache made with 50% cream and 50 % melted semisweet, dark or bittersweet chocolate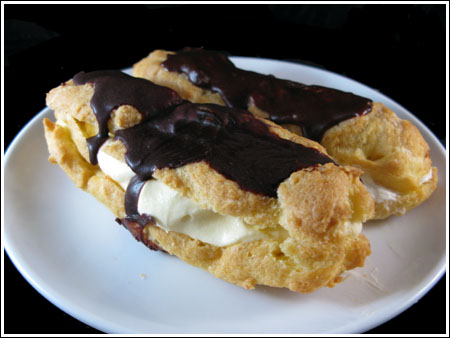 Chocolate Eclairs II
My usual eclair recipe with an easy instant pudding mix filling.
Ingredients 
1

stick

unsalted butter, cut into chunks

(114 grams)

1

cup

water

1/2

teaspoon

salt plus a pinch

omit if using salted butter

1

cup

bread or all-purpose flour

(128 grams)

4

large

eggs
Filling
3.4

oz

box instant pudding mix

1 3/4

cup

milk

2

cups

whipped topping

About 2/3 of a tub, or make your own**
Chocolate Glaze/Icing
2

oz

chopped dark or semisweet chocolate

not chips

2

tablespoons

butter

1

cup

powdered sugar

sifted twice

1

teaspoon

vanilla

3

tablespoons

HOT water
Instructions 
Partially melt the butter in a large 3-4 quart saucepan, then add the water and salt. Bring to a boil, then remove from heat and stir in the flour all at once with a wooden spoon. Reduce heat to low and continue stirring until mixture leaves side of pan and forms a ball. Stir for another minute or two until mixture starts to leave a film on the bottom of the saucepan. This step is to remove any floury flavor.

Remove from stove and transfer to a mixing bowl. Mix gently with the mixer for 1 minute, then allow the mixture to cool so that it won't cook the eggs.

When the mixture is not so hot that it will cook the eggs, go ahead and crack in one egg. Mix with the paddle attachment until incorporated,. Mix in the remaining eggs one at a time to make a soft dough. You can also do this step with a whisk if you prefer.

Transfer mixture to a large piping bag fitted with a large round tip or use a spoon to form 8 3×1 1/2 inch lines of dough. You could also do this with a heavy duty zipper bag. Just put the dough in the zipper bag and snip off the bottom corner.

Bake at 450 for 15 minutes, then reduce heat to 325 and continue baking for another 15 20 minutes or until golden brown. As soon as you remove them from the oven, prick lightly with a fork to help steam escape. This is supposed to help keep the insides from being soggy. I think it helps a little, but I don't always remember to do it. Let cool while you make the filling.

Filling: Whisk together pudding mix and milk for about 2 minutes. When pudding thickens, fold in the whipped topping (or sweetened homemade whipped cream).

To fill the eclairs, use a Bismark tip (the long skinny one) and poke it into the pastry. Squeeze it in there and fill. You can also split the eclairs and fill, or hollow out with a poke and use a heavy duty freezer bag with the corner snipped off.

Keep the filled eclairs cold while you make the glaze.

To make the icing, combine the chopped chocolate and butter in a saucepan and heat over medium low, stirring constantly, until melted and smooth. Add the sifted sugar gradually, stirring well (you'll have a thick paste), then add the vanilla and the 3 tablespoons of very hot water, stirring until smooth. Mixture will be runny while warm. Allow it to cool and thicken. I like to pour it into another bowl to speed up the process.

To glaze the eclairs you can put the glaze in a shallow bowl and dip or drizzle it over the tops.
Notes
These freeze well. I like to fill the eclairs and freeze them without the glaze, then glaze while frozen.
If you'd rather use homemade whipped cream than whipped topping, follow your usual recipe and weigh out 6 oz/170 grams, then fold it into the pudding.  Homemade whipped cream is a little heavier than packed non-dairy whipped topping, so your 170 grams will probably not be a full 2 cups volume.