Adapted from a Whole Foods recipe, these Chocolate Chip Dried Cherry Cookies are pretty good.  They are a little on the soft side in my opinion, but for some people that is a plus. I do like the subtle flavor of the whole wheat pastry flour and will probably make these again.
When I do I will update the photo!
Update:  I've made these cookies since originally posting and feel that 1 egg works better than two.  The cookies are good made with 1 egg or 2, but 1 egg gives you a denser and slightly richer cookie, while 2 eggs makes a cookie that's puffier and cakier. The cookie on the left is made with 2 eggs while the larger cookie on the left is made with 1.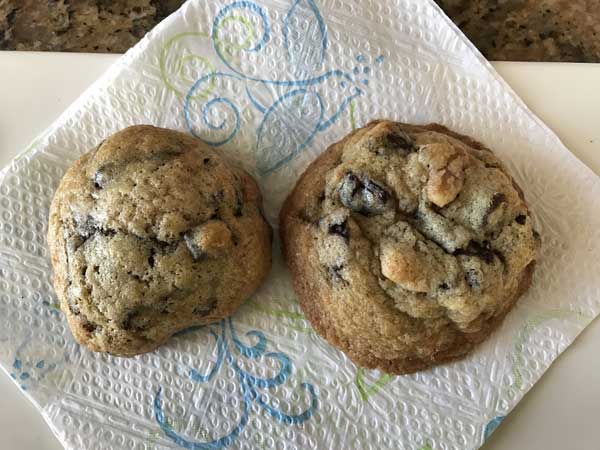 This recipe is a good one and very easy, but after all these years I'd say my favorite whole wheat chocolate chip cookie recipe is this one.
Chocolate Chip Dried Cherry Cookies
1 stick unsalted butter -- softened, organic butter or regular unsalted is fine
⅔ cup sugar, organic cane or regular sugar is fine
1 tsp vanilla extract
1 or 2 large eggs (1 for dense and buttery, 2 for puffy and cakier)
¾ cup sifted organic unbleached white flour
¼ cup sifted organic whole wheat pastry flour
½ tsp salt
½ tsp baking soda
1 cup semisweet chocolate chips
1 cup dried cherries -- roughly chopped
1 cup pecans -- roughly chopped
Preheat oven to 350°F.
Cream together butter and sugar, beating until light. Add vanilla and eggs. Continue to beat well. Sift together both flours, salt and baking soda, and add to butter mixture, beating again. Stir in chocolate chips, dried cherries and pecans. Refrigerate dough for 1 hour.
Drop by rounded tablespoonfuls onto cookie sheets that have been lined with parchment paper and sprayed with canola or olive oil spray. Bake cookies 15 to 20 minutes or until golden. Remove to wire racks to cool