If you're in need of a little fall baking inspiration, here's a great recipe adapted from Betty Crocker Cookies, Irresistibly Easy Recipes for Every Occasion. Betty Crocker calls them Pumpkin Bread Breakfast Cookies. They are wholesome oat cookies, perfect for breakfast or a snack.  Throw in a handful of cinnamon or butterscotch chips and they'll be dessert-worthy.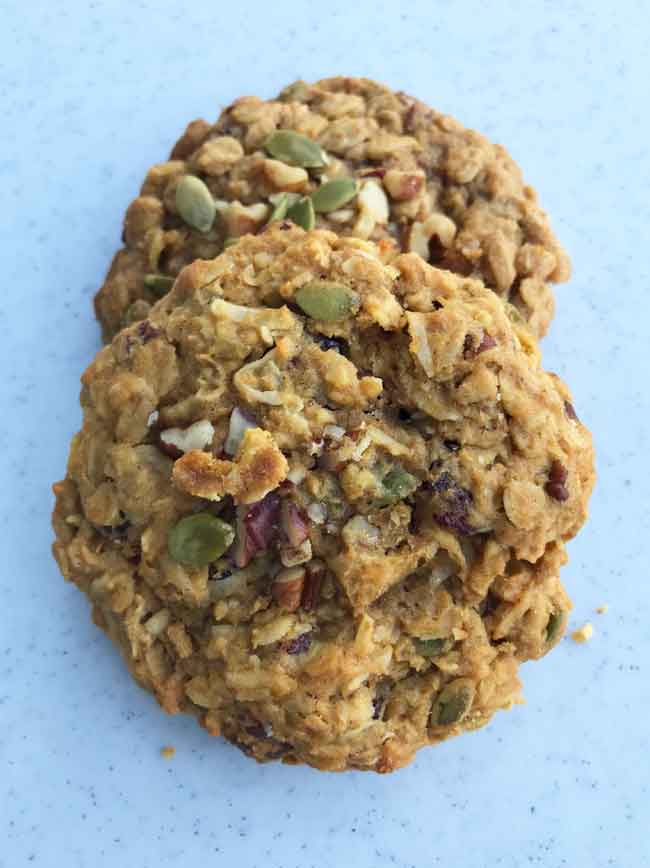 I made the pumpkin cookies twice. First, I made them with non-dairy "plant butter" in place of butter so they'd be dairy free and vegan. I also used pecans instead of walnuts.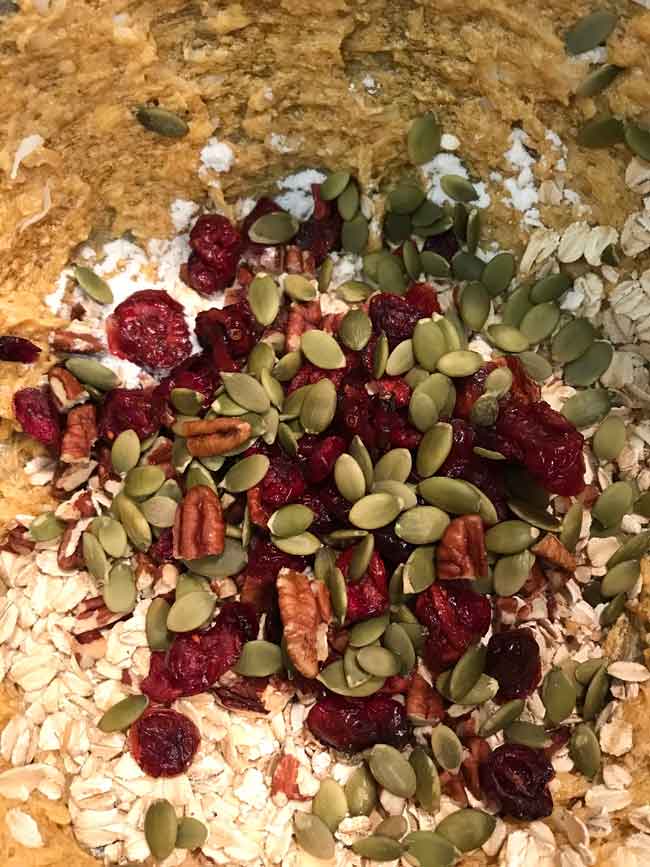 For the second round I made the cookies with butter (as directed) and used the walnuts.
Both versions were good, but the version made with butter had just a tad better texture -- a little softer and less chewy.  But the plant butter texture was still good too.
For the first batch, I underbaked a few of the cookies and can tell you that these are best fully to over-baked, so make sure to leave them in the oven long enough. They also have a much better texture when completely cool, so don't be too tempted to try them warm.
I did not bake all the dough at once, but rather made dough circles to bake "as needed" which means until I get my hands on some cinnamon chips.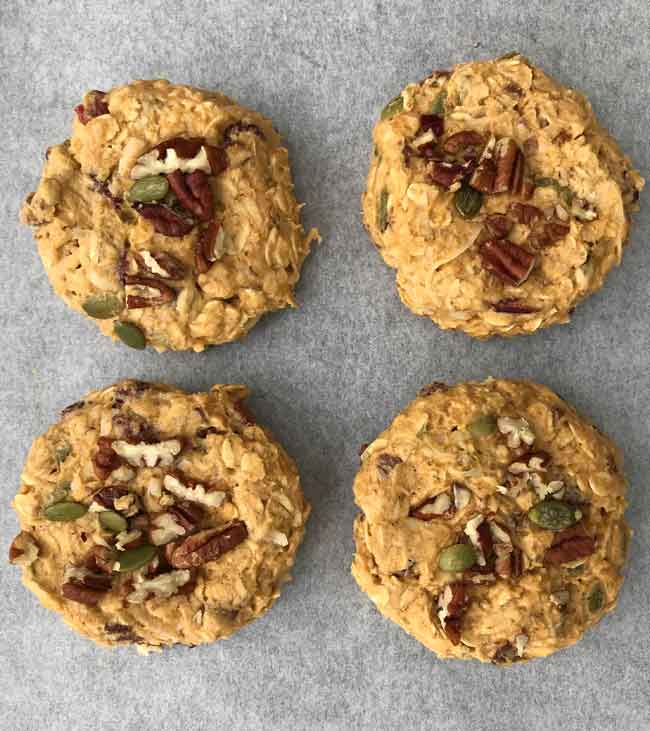 Recipe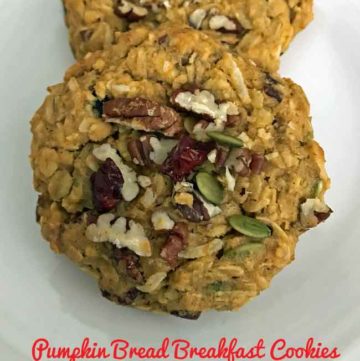 Pumpkin Bread Breakfast Cookies
Big fat oatmeal pumpkin cookies that are perfect for a breakfast or snack.
Ingredients 
¾

cup

chopped walnuts

pecans okay, too

1

cup

granulated sugar

190 grams

½

cup

packed brown sugar

100 grams

2

sticks

8 oz of butter, I used salted at room temperature

1

cup

canned pumpkin

¼

cup

maple syrup

1 ⅔

cup

all-purpose flour

210 grams

2

teaspoons

pumpkin pie spice

1 ½

teaspoons

ground cinnamon

1

teaspoon

baking soda

½

teaspoon

salt

2

cups

oats

old fashioned or quick

1

cup

sweetened dried cranberries

½

cup

raw unsalted pepitas
Instructions 
Preheat oven to 350 degrees F. Line baking sheets with parchment paper if baking immediately, or skip this step of you plan on chilling the dough.

Finely chop ½ cup of the walnuts, then set aside both the finely chopped and remaining ¼ cup chopped walnuts.

In a large bowl, beat granulated sugar, brown sugar and butter with an electric mixer until blended. Add pumpkin and maple syrup. Mix well. Beat in flour, pumpkin pie spice, ground cinnamon, baking soda, and salt until blended. Stir in the oats, cranberries, pepitas and reserved ½ cup finely chopped walnuts. Mix well.

Drop batter by quarter cupfuls onto dinner plates lined with plastic wrap. Press into 3 inch rounds and chill until ready to bake. Alternatively,drop batter by quarter cupfuls onto parchment lined baking sheets. Spread each round with a metal spatula to make a 3 inch round. Sprinkle cookie with about 1 ½ teaspoons chopped walnuts.

Bake 15 to 17 minutes or until edges are set.