Triple Chocolate Hazelnut Cheesecake is one of my all-time favorite desserts from Cooking Light.  It calls for a lot of ingredients and may require trips to multiple stores if you don't already have Frangelica, but it is worth it!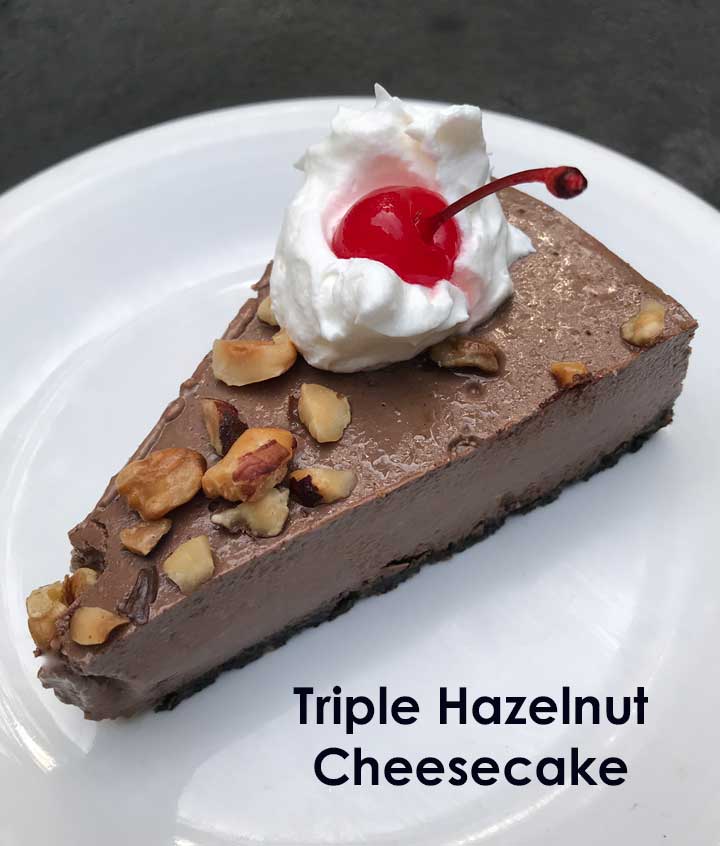 The cheesecake has what I think is a very strong chocolate hazelnut flavor and is smooth and creamy.  You might also like the fact there's a little protein in it from the fat free cream cheese, cottage cheese and eggs, though it's still very much an indulgent dessert.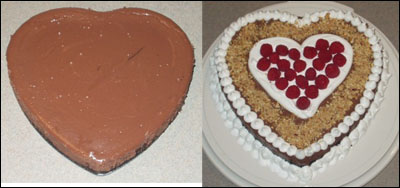 I've lost count of how many times I've made this, but here's a picture of the latest straight out of the oven.  The recipe requires a water bath, so if you've never sealed off a cheesecake pan with foil or used a water bath, I recommend watching a tutorial on how to do it.  It is very easy for water to seep into the cheesecake so you have to do the foil just right.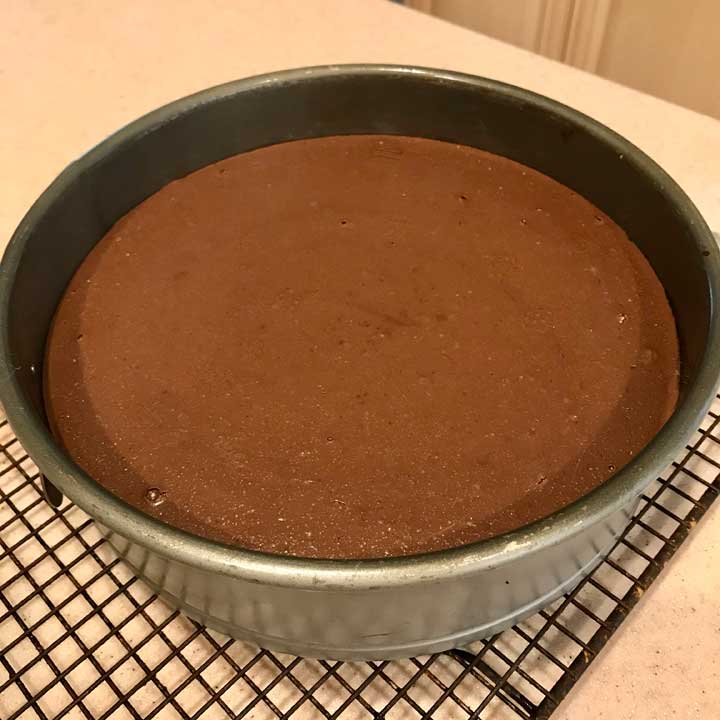 A few notes: I sometimes use Oreos for the crust -- usually about 10 Oreos and a little extra oil (like half tablespoon). The original recipe from Cooking Light calls for fat free cottage cheese, but I've always used 1% because it's easier to find.  And I never leave out the Frangelica, because it adds a lot of hazelnut flavor without making the cheesecake taste boozy.
Recipe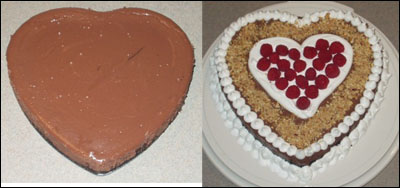 Cooking Light's Triple Hazelnut Cheesecake
For the hazelnut spread, I recommend Nutella.
Ingredients 
½

cup

chopped hazelnuts -- toasted and divided

1

tablespoon

light brown sugar

15

chocolate wafers

1

tablespoon

vegetable oil

Cooking spray

1

tablespoon

instant coffee granules

1

tablespoon

hot water

1

container fat-free cottage cheese --

16-ounce

1

block fat-free cream cheese --

8-ounce, softened

¾

cup

unsweetened cocoa

¾

cup

packed brown sugar

½

cup

granulated sugar

½

cup

hazelnut-chocolate spread

2

tablespoons

cornstarch

2

tablespoons

Frangelico

¼

teaspoon

salt

3

large eggs -- lightly beaten
Instructions 
Preheat oven to 325 degrees.

Place ¼ cup hazelnuts, 1 tablespoon brown sugar, and chocolate wafers in a food processor; process until finely ground. Add oil; process until crumbs are moist. Firmly press crumb mixture into bottom of a 9-inch springform pan coated with cooking spray. Wrap outside of pan with a double layer of aluminum foil.

Combine instant coffee granules and 1 tablespoon hot water in a small bowl. Place cheeses in food processor; process until smooth. Add coffee mixture, cocoa, and next 6 ingredients (cocoa through salt); process until well blended. Add eggs; process until smooth. Pour mixture into pan.

Place pan in a large baking pan; add hot water to baking pan to a depth of 1 inch. Bake at 325 degrees for 1 hour or until cheesecake center barely moves when pan is touched.

Remove cheesecake from oven; run a knife around outside edge. Cool to room temperature. Cover and chill at least 8 hours.

Remove cheesecake from springform pan; sprinkle with ¼ cup hazelnuts.