This is probably my all-time favorite Cooking Light dessert. I love it because it always gets raves and no one ever believes me when I tell them it is low fat. All that, plus it's crack free! The one I made for tonight is in the refrigerator and I haven't yet put the finishing touches on it, so below is a picture of one I made for Valentine's Day. Recipe follows.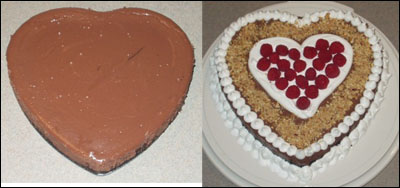 A few notes: I always use Oreos for the crust — usually about 10 Oreos and a little extra oil (like half tablespoon). I also used packaged, pre-chopped hazelnuts. If you're in a hurry, you can cheat on the toasting and "toast" them in the microwave. Just microwave them for about 2 minutes, stopping to stir occassionally, then let them cool. It really improves the taste.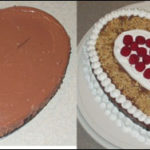 Print Recipe
Cooking Light's Triple Hazelnut Cheesecake
For the hazelnut spread, I recommend Nutella.
Ingredients
1/2

cup

chopped hazelnuts -- toasted and divided

1

tablespoon

light brown sugar

15

chocolate wafers

1

tablespoon

vegetable oil

Cooking spray

1

tablespoon

instant coffee granules

1

tablespoon

hot water

1

container fat-free cottage cheese --

16-ounce

1

block fat-free cream cheese --

8-ounce, softened

3/4

cup

unsweetened cocoa

3/4

cup

packed brown sugar

1/2

cup

granulated sugar

1/2

cup

hazelnut-chocolate spread

2

tablespoons

cornstarch

2

tablespoons

Frangelico

1/4

teaspoon

salt

3

large eggs -- lightly beaten
Instructions
Preheat oven to 325 degrees.

Place 1/4 cup hazelnuts, 1 tablespoon brown sugar, and chocolate wafers in a food processor; process until finely ground. Add oil; process until crumbs are moist. Firmly press crumb mixture into bottom of a 9-inch springform pan coated with cooking spray. Wrap outside of pan with a double layer of aluminum foil.

Combine instant coffee granules and 1 tablespoon hot water in a small bowl. Place cheeses in food processor; process until smooth. Add coffee mixture, cocoa, and next 6 ingredients (cocoa through salt); process until well blended. Add eggs; process until smooth. Pour mixture into pan.

Place pan in a large baking pan; add hot water to baking pan to a depth of 1 inch. Bake at 325 degrees for 1 hour or until cheesecake center barely moves when pan is touched.

Remove cheesecake from oven; run a knife around outside edge. Cool to room temperature. Cover and chill at least 8 hours.

Remove cheesecake from springform pan; sprinkle with 1/4 cup hazelnuts.