Amidst all the last minute Christmas prep, I've tried to fit in some quick cookies. The latest being another biscotti recipe which I adapted from one from one on the Southern Living bulletin board. The original biscotti recipe was blueberry. Here's my version of Southern Living's - a strawberry chocolate biscotti. I wasn't sure it would work, but it's actually quite tasty and looks very festive. This recipe is definitely not authentic Italian style biscotti, but I'm sure you weren't expecting that from something starting with Martha White muffin mix. This is a crisp and slightly sandy American style biscotti. Make sure you let it cool completely. It will firm up and become crispier as it cools.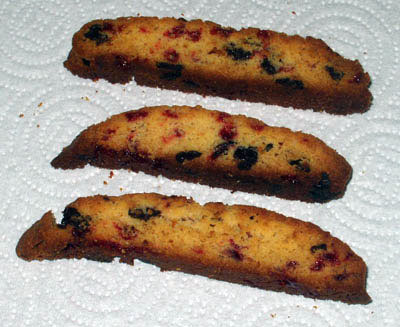 Strawberry Chocolate Chip Biscotti
1 egg
¼ cup vegetable oil
1 (7 ounce) packet Martha White Strawberry Muffin Mix
¼ cup all purpose flour
½ cup semi-sweet or dark chocolate chips
Preheat oven to 350 degrees F.
In a mixing bowl, stir together egg and oil. Stir in muffin mix and flour. Stir in chips. Wet hands with water and shape into a log about 10x2 inches. Place log on an ungreased nonstick or parchment lined cookie sheet and bake for 25-28 minutes.
Let log cool for 20 minutes or more.
Slice log into ¾ inch slices and lay slices on their sides on an ungreased or parchment lined baking sheet. Bake slices for 15 minutes at 350 degrees. Let cool completely.
Makes about 16 biscotti.