In the United States we call twice baked cookies biscotti, but in Italy the word biscotti covers all kinds of cookies. So what are the long, dry cookies we know and love? They are Cantucci. If cut small, Cantuccini. Or sometimes they are actually Tozzetti! I've made plenty of biscotti through the years, but for some reason I never knew about Tozzetti. Here's what I've learned so far.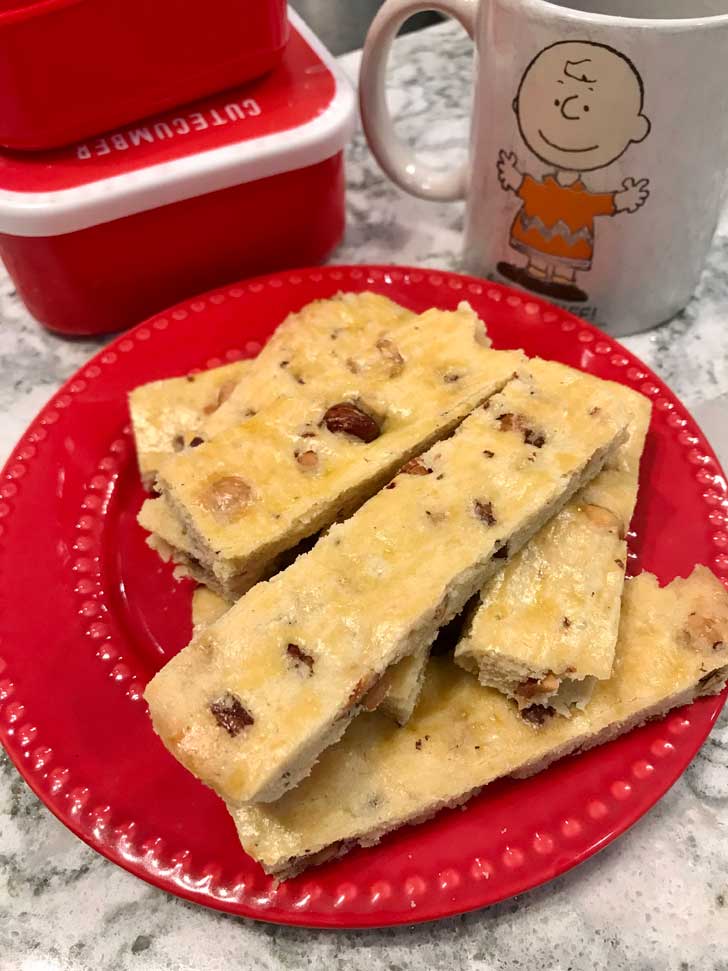 Cantucci vs. Tozzetti
Cantucci and Tozzetti are both biscotti, but depending on who you ask, there are some key differences. In researching the two, my takeaway is basically that Cantucci are associated with Tuscany, while Tozzetti are common in Umbria, Lazio and nearby regions. That, plus Tozzetti recipes usually call for hazelnuts or a combination of hazelnuts and almonds. Some point out that Tozzetti starts from a batter rather than a dough and that they are made without butter. However, there are quite a few Tozzetti recipes that start with a dough and do contain butter. And there are Tozzetti that are softer and not twice-baked. This is one of them.
The Italian Baker
This recipe is slightly adapted from one in The Italian Baker, by the late Carol Field. In the book she refers to Tozzetti as "glossy little blonde bars from Venice" and describes them as squat and chunky. Tozzo means "stocky", so maybe that's another hint as to how Tozzetti should be -- small and chunky rather than long and slim. But that wouldn't explain why so many Tozzetti recipes, especially the Roman ones, are more like sticks. But I digress. The biscotti from the Carol Field book are definitely blonde and glossy, slightly soft on the inside and can be cut into rectangles or trapezoids. And as mentioned, they're only baked once and cut.
Twice Baked Tozzetti
It felt strange baking the Tozzetti only once, but the cookies were pretty and delicious. They reminded me of shortbread, but with with a firmer crust. The drawback is they don't keep as well as traditional hard biscotti, so just for fun I tried twice-baking some of the rectangles to make them harder. I also baked some of the dough in the more traditional Cantucci method, baking as a log, slicing and baking again.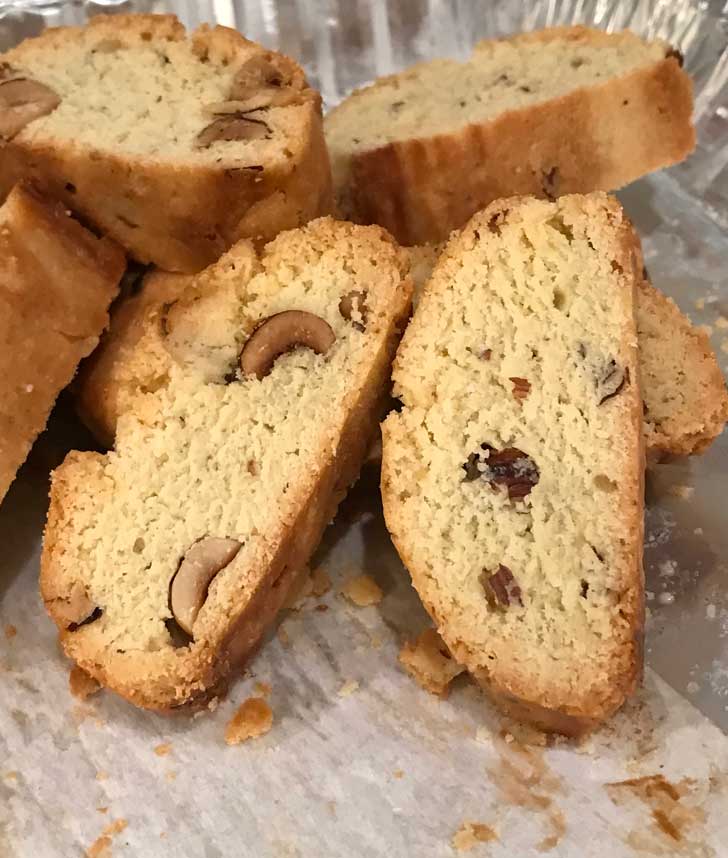 This resulted in a firmer, crunchier biscotti with a tight crumb and dark crust. I liked both. The Carol Field once-baked rectangular version was more unique, and now I want to go to Venice to see the cookies she was talking about.
Ingredients
Butter -- Unsalted butter, softened
Sugar
Eggs -- One egg and one yolk in the batter, then you'll crack another second egg to use as egg wash. You'll have leftover egg.
Flavorings -- I used ¾ teaspoon of vanilla and about ⅛ teaspoon each of orange and lemon oil from Boyajian. Great stocking stuffers, by the way!
Salt -- I put the brand name by the salt to specify that it is Morton and not Diamond. I like Diamond, but it's harder to find and measures differently so I don't often use it in baking. If Diamond is your go-to salt, you probably already know you need twice the amount.
Flour -- 250 grams regular all-purpose flour. I'll update when I test with a gluten-free blend, but I don't see why a gf blend wouldn't work.
Hazelnuts -- I toasted whole hazelnuts from Trader Joe's and just partially removed the skins.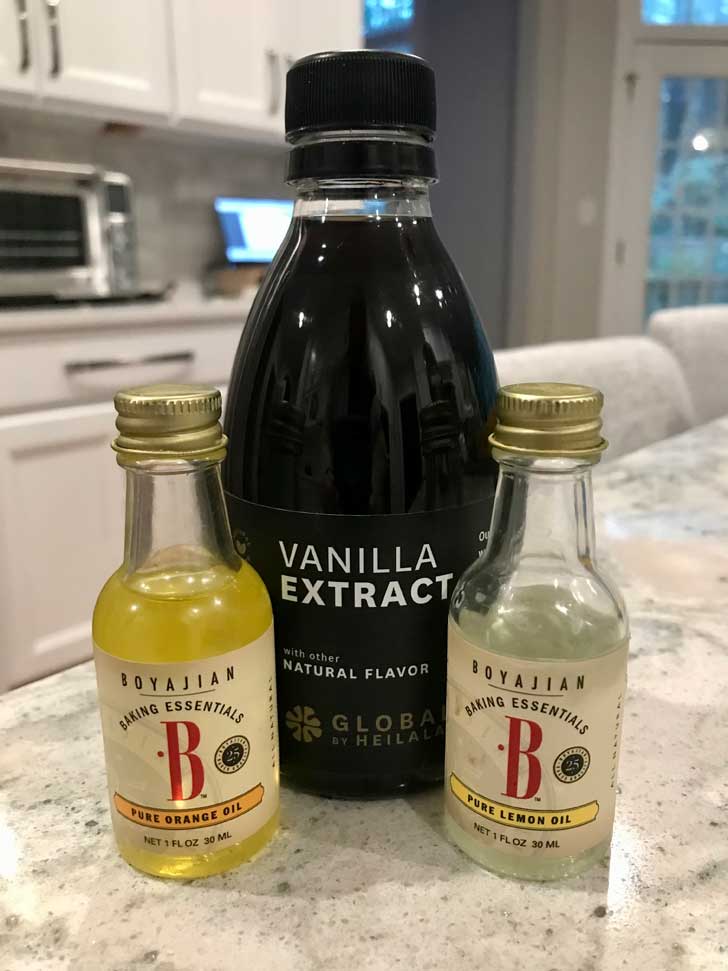 Recipe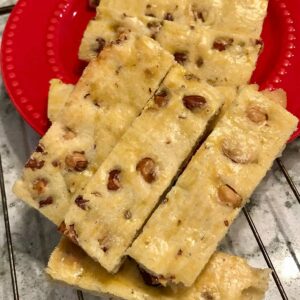 Tozzetti
Tozzetti adapted from The Italian Baker by Carol Field.
Ingredients 
9

tablespoons

unsalted butter, softened

(128 grams)

½

cup

plus 2 tablespoon granulated sugar

(125 grams)

1

large

eggs plus a second egg which you will use later

1

large

egg yolk

½

teaspoon

each lemon and orange extract or ⅛ teaspoon each lemon and orange oil

¾

teaspoon

pure vanilla extract

¼

teaspoon

salt (Morton kosher)

250

grams

all-purpose flour (weigh or spoon lightly

This could be 1 ¾ cup or up to 2 cups very lightly spooned and well-aerated flour**

1 ⅔

cups

toasted hazelnuts, coarsely chopped
Instructions 
In a large bowl, using an electric mixer, beat the softened butter and sugar until light and fluffy. Beat in one of the eggs (reserve the second egg for brushing) and the one egg yolk.

Mix in the vanilla, lemon and orange extracts or oil, followed by the salt.

Add the flour and stir until almost fully blended, then stir in the nuts. Batter should be about the same consistency as drop cookie dough. Scrape the batter onto a large sheet of parchment paper othen cover with another sheet of parchment or a piece of plastic wrap and press into a brick. Chill for about an hour or until it's pretty firm.

Cover the bowl and chill the dough for about an hour or until it is firm enough to roll.

Preheat oven to 375 degrees.

Transfer the dough to a lightly floured surface (I used a large sheet of parchment paper) and roll into a 9x15 inch rectangle. Transfer to a greased parchment lined baking sheet (I used a 15x10 inch jelly roll pan).

Crack the remaining egg into a bowl and beat it with a fork. Brush it lightly over the dough. You'll have a lot of egg leftover.

Bake until shiny, blonde and golden -- about 15- 20 minutes. Remove from the oven and let cool for 10 to 15 minutes. Carefull transfer the bars with the parchment underneath to a cutting board. While still warm, cut vertically to make two 4 ½ inch columns, then cut horizontially into bars that are around 1 to 1 ½ inches wide. Alternatively, you can cut the bars into small squares.

Carefully transfer to a wire rack and let cool. Alternatively, you can put the cut pieces back on a baking sheet and dry them out a bit by baking at 250 for 25 to 30 more minutes.
More Traditional Twice Baked Cut
Alternate Method: For a dry twice baked cookie, divide the dough in half and shape into 9 inch long logs. Brush logs with egg and bake at 375 for about 25 minutes. Let cool for 15 minutes, then slice the logs a little over 1 inch thick. Lay the cut cookies on a baking sheet and bake at 300 degrees F for about 20 minutes. Let cool and crisp
Notes
In the Italian Baker, Carol Field gives weights for the flour.  She uses 250 grams and calls it 2 cups.  This would be 2 very lightly spooned cups, so if you are not using a scale be sure to spoon the flour into the cups and level or the dough might be too dry.