I make the Alton Brown Chewy Chocolate Chip Cookies for people who like their cookies dense, chewy and kind of soft (but not cakey). The recipe calls for melted butter, bread flour and an extra egg yolk to assure chewiness.  And with these three things, the cookies always come out perfectly chewy and thick.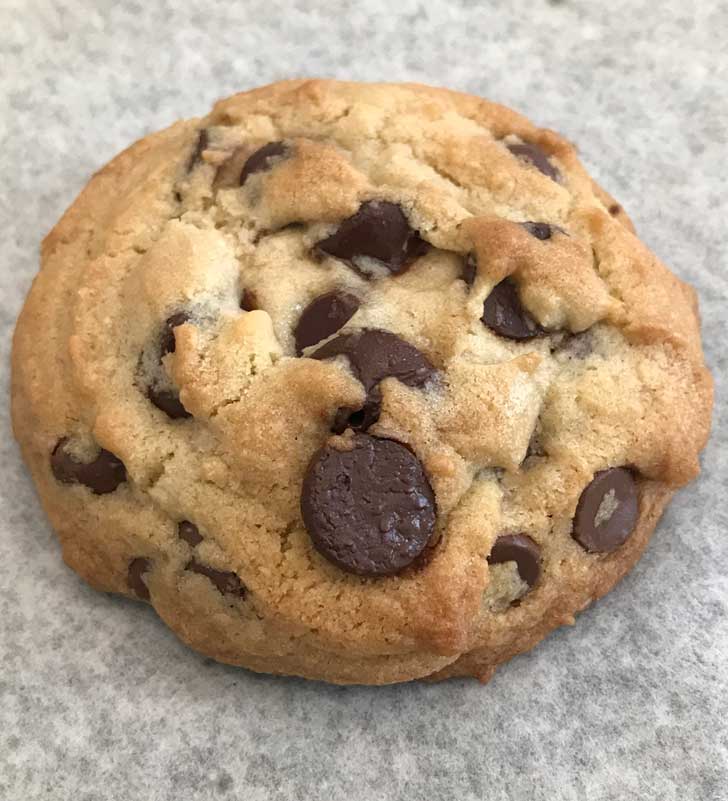 Also, Alton Brown's chocolate chip cookie recipe is given in weights. I was just reading the version over on Food Network and noticed people complaining that 12 oz of flour was too little, but it's 12 oz by weight. To make it clearer, I just put all the amounts in grams so there's no doubt it's by weight. Hopefully some day we'll all be using scales and weighing things in grams, but for now these hybrid recipes with weights and volumes will have to do. Just know that if you use the weights the cookies will be awesome!
If you prefer thin chocolate chip cookies, Alton Brown also created a thin version called The Thin. I still like The Alton Brown Chewy better.
Tips for Alton Brown's Chewy Chocolate Chip
Use weights.
Use bread flour for thicker, denser cookies. Someone mentioned mixing in a fraction of all-purpose improved the texture. It might, but the cookies are perfectly good with 100% bread flour.
Don't forget the milk! I've forgotten it on occasion and without the milk, the insides are kind of gummy.
Shape the cookies and chill the shaped balls. The cookies will be rounder and prettier when made with chilled dough balls.
I like to play around with this recipe a bit. Sometimes I put the egg and the yolk in the mixing bowl first, whip them really good, then add the baking soda and salt to the whipped eggs and whip another minute. Add sugar and whip until pale, then add vanilla. Stir in the flour (and milk, don't forget!) until blended, then stir in the chips. The whipping and adding baking soda to the eggs changes the texture somewhat.
Recipe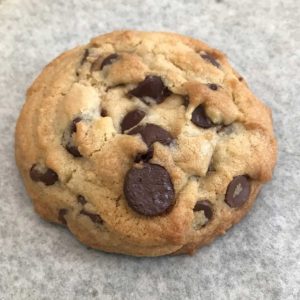 Alton Brown's "The Chewy" Chocolate Chip Cookies
Adapted from a recipe by Alton Brown, bread flour gives these cookies a nice shape -- solid on the outside and kind of soft and dense throughout. They're chewy rather than crunchy, but shouldn't be cakey.
Ingredients 
230

grams

unsalted butter

330

grams

bread flour

1

teaspoon

kosher salt

1

teaspoon

baking soda

56

grams

granulated sugar

224

grams

light brown sugar

1

egg

1

egg yolk

2

tablespoons

milk

1 ½

teaspoons

vanilla extract

2

cups

semisweet or bittersweet chocolate chips
Instructions 
Melt the butter in a medium saucepan over low heat. Let it cool slightly.

Meanwhile, mix together the flour, salt, and baking soda; set aside.

Pour the slightly cooled melted butter in a mixing bowl. Add the sugar and brown sugar. Cream the butter and sugars on medium speed of an electric mixer. Add the egg, yolk, 2 tablespoons milk and vanilla extract and mix until well combined.

Add the flour mixture and stir by hand until thoroughly combined. Stir in the chocolate chips. Chill the dough just until it is thick enough to scoop, then using a ¼ cup measure, drop big gobs of dough onto a parchment lined plate or cookie sheet and let the gobs of dough chill for several hours or until very firm.

Preheat oven to 375 degrees F. Arrange chilled dough gobs about 6 per sheet.

Bake for about 14 minutes or until golden brown, checking the cookies after 5 minutes. Rotate the baking sheet for even browning. Cool completely and store in an airtight container.