These buttermilk biscuits are among my all-time favorites. Originally from Alton Brown, they have a little bit less fat than other recipes, but are still rich, tender and very satisfying.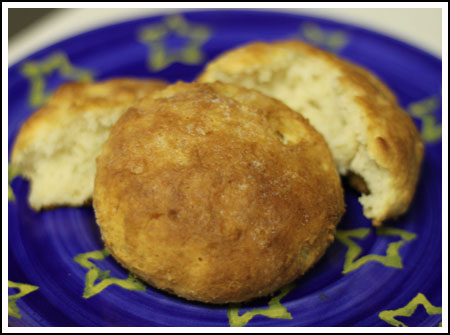 It took me a while to get them just right because in the past I was always afraid of overworking biscuit dough and avoided the folding technique. These days I'd rather work it a little more and fold it over and over on itself to get nice layers. Plus, if you use a softer flour (e.g. White Lily) with less protein, you can be a little rougher with the dough and still get tender biscuits.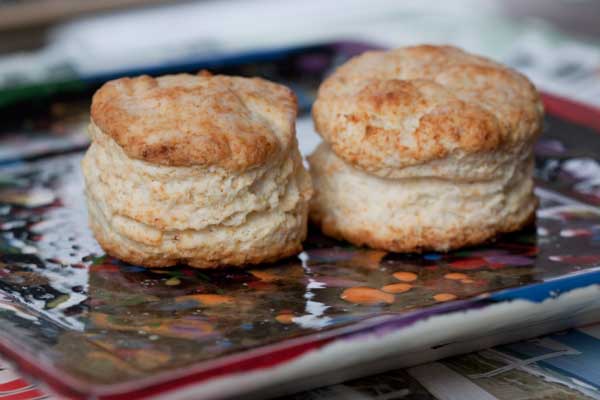 The original recipe makes 12 biscuits, but I cut it in half and usually get about 4 larger size.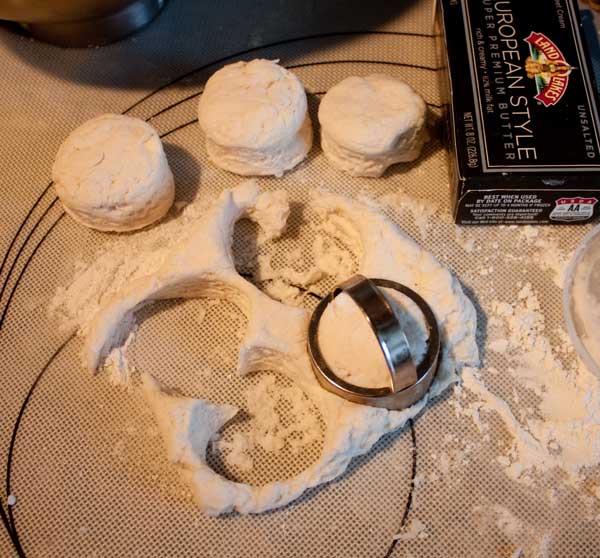 I also added a little sugar to the recipe just because I like a very, very small amount of sweetness to balance the salt. Still, these biscuits aren't exactly sweet. If you want something sweet, turn them into scones! The dough works perfectly for slightly reduced fat scones. I put instructions for turning the dough into scones in the notes section.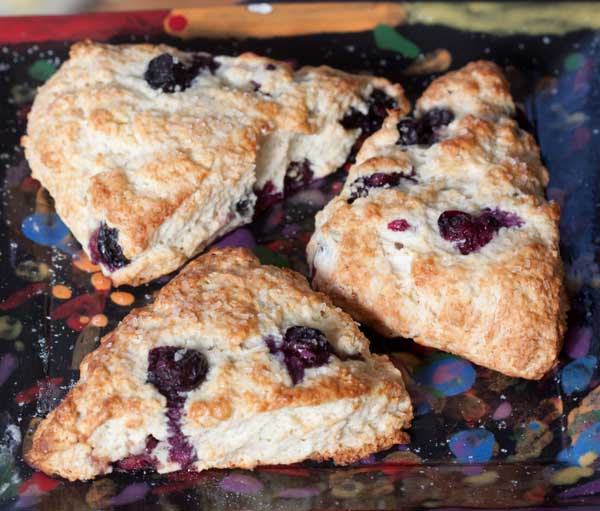 Buttermilk Biscuits
This recipe will give you 6 2 inch or 4 larger size buttermilk biscuits.
Ingredients
1 cup (4.5 oz) all purpose flour plus more for work surface
2 teaspoons baking powder
1/8 teaspoon baking soda
3/8 teaspoon salt
1 1/4 teaspoon sugar
1 tablespoon cold unsalted butter, chopped up
1 tablespoon shortening
1/2 cup cold buttermilk
Melted butter for brushing tops
Instructions
Preheat oven to 450 degrees.
Combine flour, baking powder, baking soda, salt and sugar in a large bowl and stir very well. Using your fingertips, rub butter and shortening into dry ingredients until mixture is coarse.
Add half of the buttermilk and stir with a heavy duty scraper until dough is moistened, then gradually add remaining buttermilk until dough comes together in a nice ball. It should be slightly sticky, but will become dryer as it picks up flour from the work surface.
Turn dough onto a well floured surface. Dust top with flour and gently press the dough down until it is about 1/4 inch thick. Fold it over on itself about 3 times and press down again to make a slab that's about 1 inch thick. Cut out biscuits with a 2-inch cutter.
Re-shape the scrap dough, working it as little as possible and continue cutting. Arrange biscuits on a parchment lined baking sheet and bake until biscuits are golden-- 15 to 20 minutes.
Brush tops with melted butter if desired.
Notes
This dough is not exactly kneaded, but it is folded over and over on itself to make layers. For the best results, use White Lily flour. It is a softer flour with less protein so you can handle it a little more without roughening up the gluten. To make the biscuits as scones, add 2 tablespoons of sugar to the recipe and about 1/4 teaspoon of vanilla. After you press the dough down, spread blueberries gently over the dough and press lightly. You can use fresh or frozen. Fold the dough over, being careful not to crush the berries. Shape into a 3 1/2 inch wide half-circle and cut the half circle into 4 triangles. Bake on a parchment lined baking sheet for 15 minutes.