Focaccia is one of my very favorite things to bake. And since I like to make it often, this Small Batch Focaccia recipe comes in handy. It makes just enough for 2 and up to 4 people. You can make it plain, or jazz it up with a little rosemary. You can also make it gluten-free! King Arthur Gluten-Free Bread Flour works well, though you do need to add a little extra water. More notes on that below.
Jump to Recipe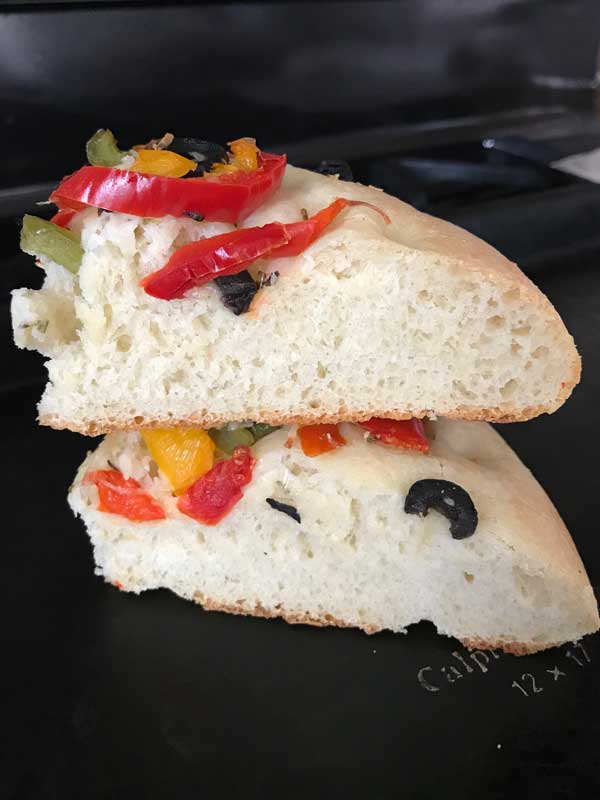 Kneading by Hand or With Hook
Because it's a small batch recipe, the dough dough can be kneaded by hand, or you can throw it in the stand mixer and knead with a dough hook. I prefer using the stand mixer with dough hook because I always have it out and the dough and hook are easy to clean. A food processor with a dough hook also works.
Small Batch Focaccia Toppings
Parmesan cheese and olives make Rosemary Focaccia a little more exciting, but if you are watching dairy or have a family member who doesn't eat cheese, top the loaf with roasted colored peppers or sliced olives or leave as-is.  Either way it's a good bread and pretty easy to throw together.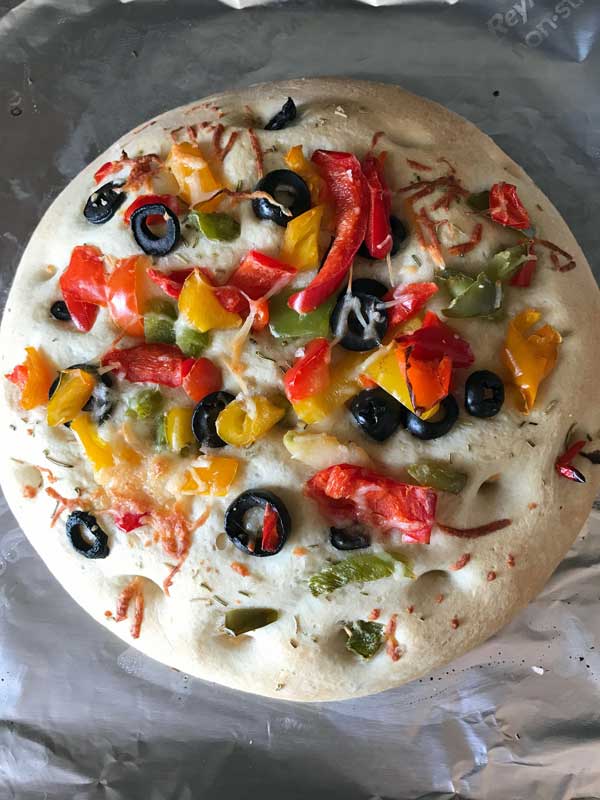 It's Fluffy!
This is a rather fluffy focaccia. It's soft and tender and reminds me of the focaccia made at a grocery store here in Chicago called Eataly. For the topping, I like to thaw out a big handful of frozen tri-color peppers, pat out all the water with paper towels, then lay the peppers across the risen dough along with some olives, rosemary and maybe a little cheese to hold it all in place.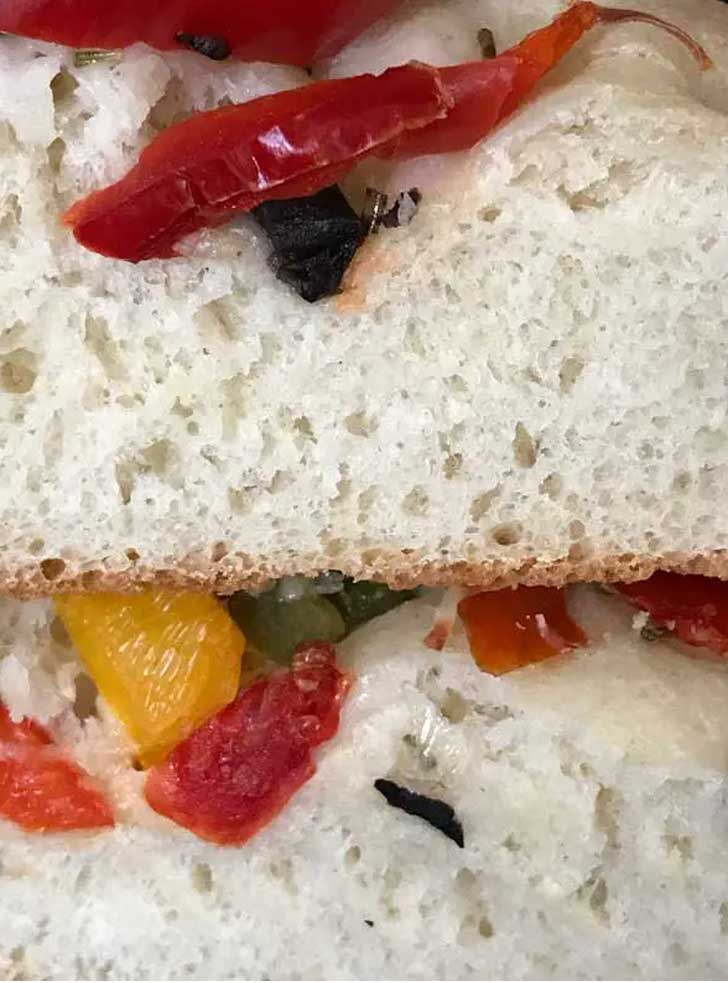 Updated Notes
Over the years I've recorded the gram amounts and have updated the recipe to include the weights that go with the volume amounts. For the yeast, you can use active dry or instant. I proof the active dry and I sometimes proof the instant, even though it can be added directly to the flour. If you add the instant yeast to the flour, make sure to heat the water to about 120-125 degrees so it will be warm enough to activate the yeast.
I hope you try the small batch version. If you need a little more bread or want a flatter and slightly denser focaccia, here's a more basic focaccia recipe we like.
King Arthur Gluten-Free Bread Flour Focaccia
I recently tested this with King Arthur Gluten-Free Bread Flour, new product that works well for yeast breads. For this recipe, I used the equivalent amount (170 grams) of the King Arthur Gluten-Free Bread Flour, but increased the water to ¾ cup. Instead of kneading with the dough hook, I just mixed the ingredients with a paddle and let the wet dough stand and thicken for about 10 minutes. I then kneaded it by gently folding it over on itself about 10 times and shaping into the 6 inch round. After a 25 to 30 minute rise, I baked at 400 for at least 20 minutes (a little longer than the directions say for the regular wheat flour version).
Recipe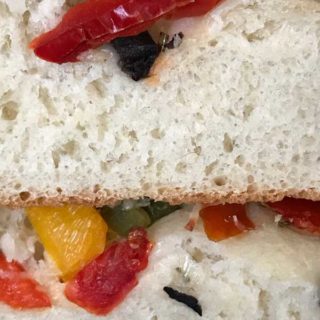 Small Batch Rosemary Focaccia
Small Batch Rosemary Focaccia is a great little focaccia recipe adapted from a book called Small Batch Baking.
Ingredients 
½

cup

very warm water

(110 degrees)

1 ⅛

teaspoons

yeast, active dry or instant

1

teaspoon

sugar

(4 grams)

1 ¼

cups

bread flour or all-purpose

(170 grams)

¾ to 1

teaspoon

kosher salt (such as Morton)

1

teaspoon

rosemary (optional)

chopped plus more for top (or ¼ teaspoon dried)

2

tablespoons

olive oil

Cornmeal for baking sheet

Can just use parchment if desired

2

tablespoons

grated Parmesan cheese

Extra olive oil

Sliced olives
Instructions 
In a glass measuring cup or small bowl, stir together warm water, active dry yeast and sugar. Let sit until bubbly and foamy (about 5 minutes). If using instant yeast, you can add it directly to the flour, but you'll need to use warmer water -- about 120 to 125 degrees.

In a mixing bowl, stir together flour, salt and rosemary. Add yeast mixture to flour and stir well. Stir in olive oil.

Knead the dough until smooth and elastic. You can do this by hand on a surface dusted with flour or better yet, use a stand mixer with the dough hook attached. Even though this is a small batch recipe, I prefer to use the stand mixer. A food processor with a dough hook also works.

Place dough in a bowl coated with olive oil (or you can just leave it in the stand mixer bowl). Cover with dish towel and let rise for 45 minutes.

Place cornmeal on a cookie sheet (or just line it with parchment or nonstick foil). Turn dough onto cornmeal and form into a 6 inch circle.

Cover loosely with a piece of greased plastic wrap or with an inverted mixing bowl and let rest for about 30 minutes. Make some indentations using the handle of a wooden spoon. Brush with extra olive oil. Sprinkle with cheese, extra rosemary and olives if using.

Bake at 400 degrees for about 18 to 22 minutes.
Notes
¾ of a teaspoon is plenty if you are using Morton kosher or table salt. If you're using a very coarse salt like Diamond or another coarse sea salt, you'll probably want to use a teaspoon.