We were maxed out on sweets today, so I decided to make a batch of basic focaccia. I can't think of any yeast bread that I don't like, but focaccia is one I really love because it's different everywhere you go and it's fun to see how other people make it.
This focaccia, which I found on Recipezaar, is about as basic as they come, but very good. It's chewy, but has a soft tight crumb and not too many extraneous things like cheese, onions, and sun-dried tomatoes. Those things are fine, but I like something a little lighter before a meal and this recipe hit the spot.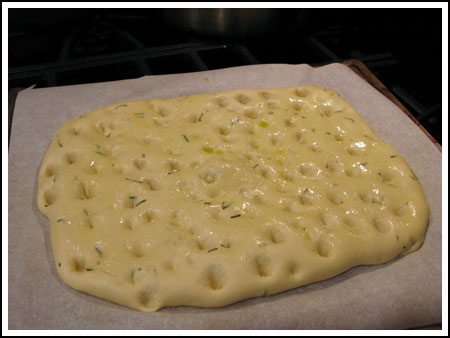 I halved it, "imperialized" some of the metric, and re-wrote it the way I made it. I also cut the sage. I like sage, but not in focaccia.   P.S. Happy Labor Day!  I hope you all have big plans.  I'm going to be here at home baking.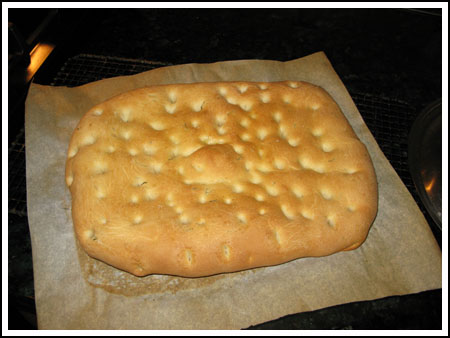 Recipe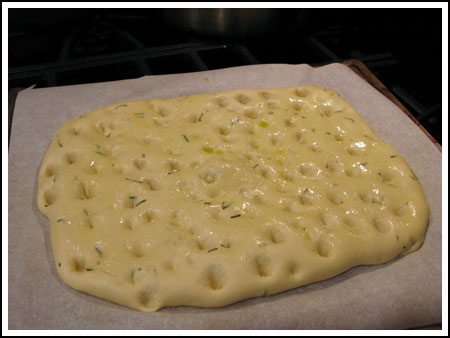 A Basic Focaccia
This basic focaccia recipe comes together quickly if you use a stand mixer. You can dress it up by brushing it with flavored oil, sprinkling with cheese or olives.
Ingredients 
1

cup

warm water

divided use

2 ¼

teaspoons

active dry yeast

1 packet

½

tablespoon

sugar

¼

cup

extra virgin olive oil plus more for brushing

2

tablespoons

chopped fresh rosemary

2 ¾

cups

bread flour

375 grams

1

teaspoon

salt

5 ml

coarse sea salt

to sprinkle
Instructions 
Combine ½ cup of the water and the packet of yeast in a large glass measuring cup. Add the sugar and let sit for 10 minutes or until it becomes very bubbly. Stir in the olive oil and rosemary.

Combine the flour and salt in a mixing bowl. Add the water mixture to the dry mixture and stir well. Add the remaining ½ cup of water, about a tablespoon at a time, stirring well. Watch the consistency of the dough and add more or less water as needed. Turn the dough onto a floured surface and knead for 10 minutes or knead in a stand mixer with dough hook or paddle (I use the dough hook).

Place the dough in a large bowl that's been coated with olive oil. Cover with a damp cloth and let rise in a warm place for an hour.

Preheat oven to 450 F. and line a rimmed baking sheet with parchment.

Press the dough into a rectangle of about 16 by 8 directly onto the parchment. Cover and allow to rise for another 20 minutes. Dimple the dough with your fingers and brush with more oil. Sprinkle with the sea salt.

Put the dish in the oven or slide parchment onto a preheated pizza stone (I don't use a stone) and bake for 25 minutes or until nice and brown.

Note: You can also make this with fast-rising yeast. If using fast-rising or "instant" yeast, put the yeast in the bowl with the flour, sugar and salt. Add half cup of water, oil and rosemary. Stir well, then add remaining ½ cup of water spoonfuls at a time until dough is proper consistency.
This is a basic focaccia, so feel free to jazz it up with more spices.