A recent Cook's Illustrated featured a recipe for focaccia. It sounded great and I want to try it eventually, but it's one of those bread recipes that requires a long standing time for the initial flour/water/yeast mixture (biga). As much as we love homemade bread, it tends to be a last minute thing around here -- something I make when I run out of or forget to buy good artisan style bread from the bakery. When I'm in a time crunch and out of bread, I have a couple of standbys. One of them is the quick rising breadsticks, and another is Stand Mixer Focaccia. It's not a quick rising bread, but it's easy to put together and doesn't require a lot of ingredients. You can top it with whatever items you have around, or just leave it plain and serve it with some good olive oil.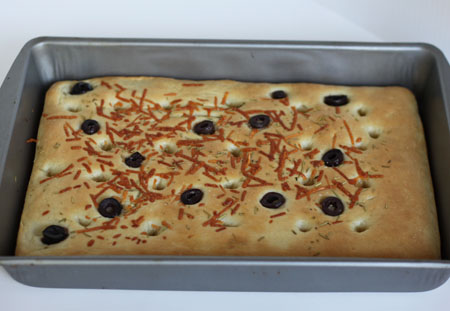 Also, I've had success with both bread flour and regular all purpose. Bread flour gives it a bit of a stiffer shell, but the inside is still moist and tender. With 3 tablespoons of oil, you'd think it would be heavy but it's actually fairly light.
Update:  It's funny reading this old post because these days I make yeast bread at least three times a week.  Also, I use a stand mixer with a dough hook for just about all yeast breads.  Nine years later I can say this is still a solid recipe.
Stand Mixer Focaccia
1 teaspoon sugar
1 packet active dry yeast (.25 oz)
⅔ cup warm water
2 cups bread flour (9 oz) or use 9 oz all purpose
½ teaspoon table salt
3 tablespoons olive oil plus more for rubbing bowl and on top.
Suggested Topping:
Rosemary leaves
Coarse Salt
Shredded Parmesan, Romano or Asiago Cheese
Combine sugar, yeast and water in bowl of stand mixer and let sit for 10 minutes to proof.
Add 1 cup flour, salt and olive oil to the yeast mixture and stir well. Add second cup of flour and stir until mixed, then use dough hook to knead mixture for about 5 minutes. Dough should be smooth and elastic and slide easily off the hook.
Rub a large bowl with extra olive oil and place dough in bowl. Cover with a damp dish towel and let sit in a warm place for one hour. Punch down the dough. Rub a 13x9 inch pan with oil and press the dough into the pan. Let rise for another hour.
Preheat oven to 400 degrees F. Brush top of dough with oil and sprinkle with rosemary, coarse salt and cheese. Press dimples in the dough using handle of a wooden spoon. Bake for 16-18 minutes.