I was so happy to get comments on the Focaccia Giardiniera that I'm sharing another little creation.  I call these Focaccia Muffins because that's what Mariano's calls them and that's where I got the idea. I saw them in the store, thought they looked cool, then went home and tried to create my own focaccia muffin recipe using one of my focaccia dough recipes.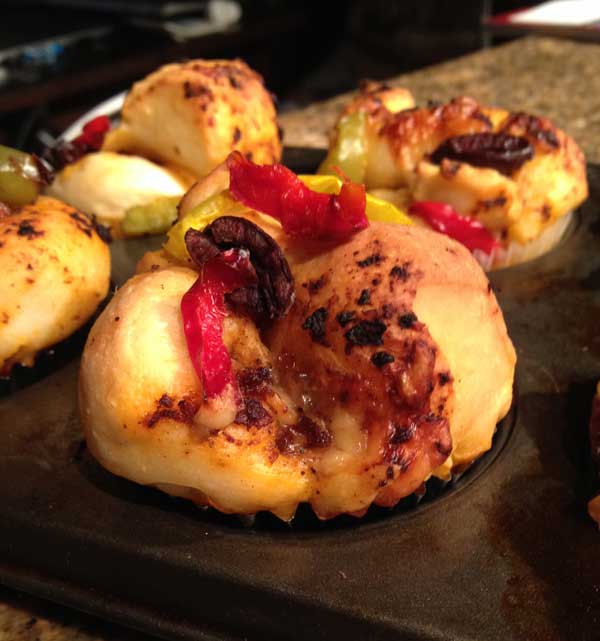 Focaccia Dough
If you already have a great dough recipe you can use that one, but this particular dough works really well because the olive oil makes it slick and smooth and you can just press it right into a rectangle on an un-floured surface.  Also, I was unsure whether the muffins would work the first time, so I only used half the dough for muffins (6 total) and just baked the other half of the dough as an an 8 inch slab of regular focaccia.
Rolling the Focaccia Dough for Muffins
The technique I used for the focacia muffin recipe was to slather a rectangle of focaccia dough with store bought sun dried tomato pesto, sprinkle with shaved Parmesan cheese, then roll into a cylinder and cut into rounds. The next step was to squish rounds of filled dough and chunks of cut-up rounds, into muffin cups.  For color and texture, I sprinkled on some red, green and yellow cooked peppers along with some delicious sliced olives.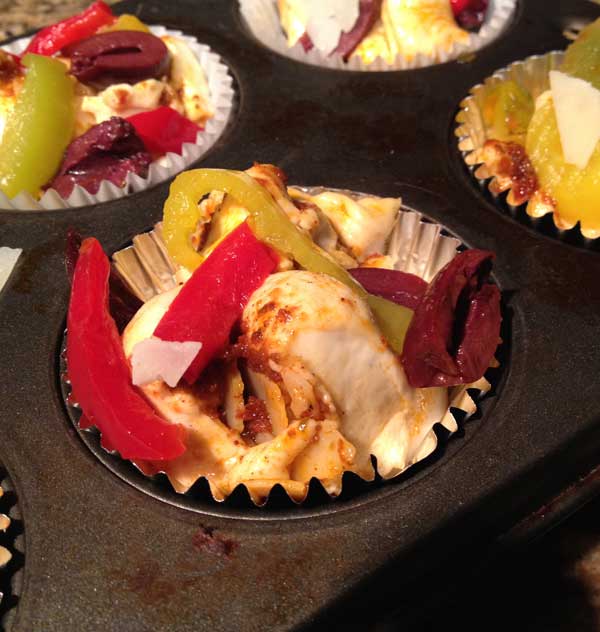 I feel like this recipe is still a work in process, but since I've made it three times already and my daughter loves the muffins, I went ahead and posted.  Create your own version!  I've only made sun dried tomato pesto flavored focaccia muffins, but there are so many potential variations.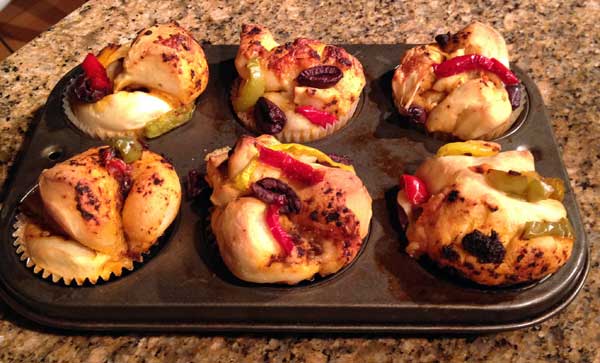 The focaccia muffin recipe is pretty easy, but if you have any questions let me know.
Recipe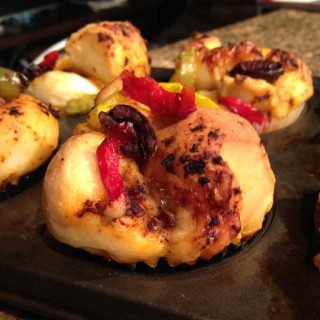 Focaccia Muffins
Focaccia Muffins Version I (Uses only half the dough) – Original Basic Focaccia
Ingredients 
2 ¾

cups

to 3 cups bread flour

375 grams**

1

packet

instant yeast

2 ¼ teaspoons

1 ½

teaspoons

sugar

1

teaspoon

salt

1

cup

very warm

120 degrees water

1

teaspoon

dried rosemary leaves

3-4

tablespoons

olive oil
Topping:
Sun Dried Tomato Pesto

store-bought or homemade

Shaved Parmesan Cheese

Sliced olives

Frozen thawed or fresh cooked yellow

green and red peppers
Instructions 
Put the flour, yeast, sugar, and salt in the bowl of a stand mixer. Add the water and 3 tablespoons of the oil and rosemary and stir until you have a very sticky dough.

Using the dough hook, knead the dough until it is smooth and elastic. It should be slick and firm.

Put the remaining oil in a large bowl, add the dough and roll it around so that it's nice and slick. Cover and let rise for about an hour.

Punch down dough and divide it in half. Put aside one half of the dough to use for more muffins or to make a small slab of focaccia.

On a clean work surface such as a large cutting board or a big sheet of waxed paper on a counter, press the dough into a rectangle about 9 inches in length and 6 inches in height.

Brush the rectangle with sun-dried tomato pesto and sprinkle with shaved Parmesan cheese. Roll into a cylinder as if you were making cinnamon rolls. Have ready 6 muffin cups lined with paper liners or just well greased.

Cut the cylinder into 9 rounds and place 1 round in each of 6 muffin cups. Cut remaining mounds into quarters and stack two quarters on top of each round. Sprinkle with sliced olives and bits of colorful cooked peppers (red, yellow and green). Let rise for 30 minutes.

Preheat oven to 375 degrees F. and bake muffins for about 25 minutes or until they are cooked through. Let cool for 20 minutes then remove from tins.