My goal this week was to share a recipe for Potato Focaccia, but I ended up taking a deep dive into potato growth around the world and got a little sidetracked.
Jump to Recipe -- Bail out now!
Did you know China produces the most potatoes? It's surprising and not surprising at the same time. Next in line are India, Russia, Ukraine and USA. But since we're talking about focaccia, what about Italy? According to this list from 2019, it ranks 39. Not bad for its size! The country grows an interesting assortment of potatoes from North to South, so it's not surprising potatoes would be incorporated into Italian bread, including focaccia.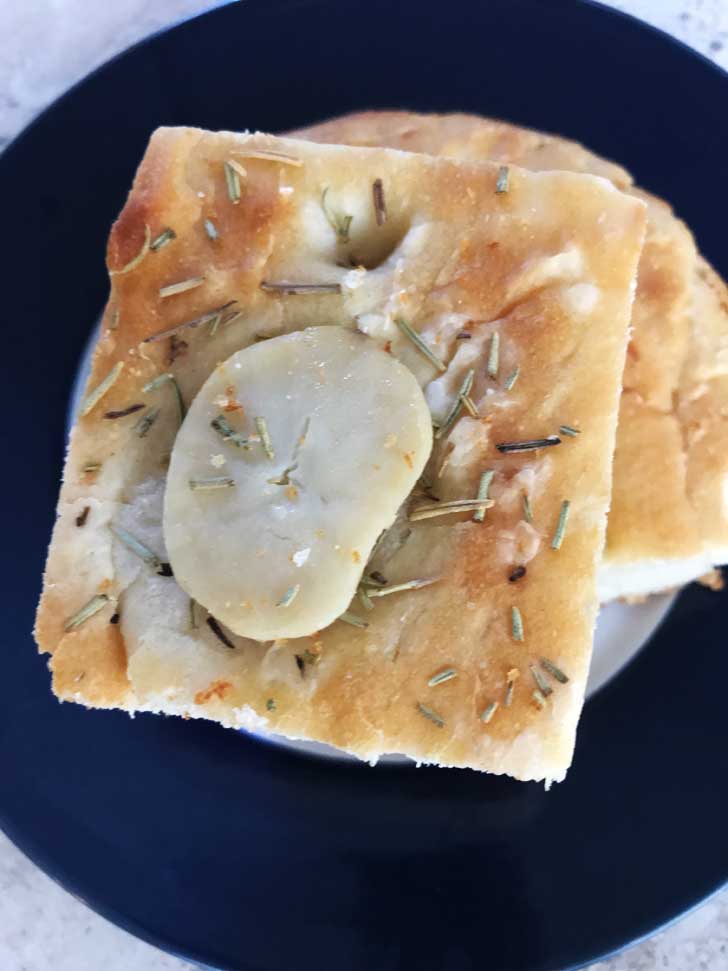 Why Add Potatoes?
Focaccia is generally pretty soft, but adding potatoes makes even softer. I also think the potatoes add flavor -- or maybe the rosemary and sea salt just bring it out. And finally, adding potato to the bread seems to extend freshness. This theory is still being tested at our house, but so far the potato version tastes just as good or better on Day 2 (stored in the refrigerator) and it doesn't dry out.
Canned Potatoes in Focaccia
Another fun thing about Potato Focaccia is you can make it with canned potatoes. Did you know there was such thing? I never thought to buy canned potatoes, but I've recently started keeping a can or two around to add to curries and breakfast tacos. They are actually quite good when added to things, but you have to doctor them up. I drain, pat dry, coat them in olive oil, air fry (or sauté or bake) until brown then add them to the curry right before serving.
Anyhow, as I was draining the liquid from a can, I started thinking about how the starchy water might work in other places, so next thing you know there was a canned potato version of the focaccia. I was thinking about just posting this recipe as Canned Potato Focaccia, but after making multiple batches with and without canned potatoes, I found it really didn't take that much time to peel one potato and boil it, so I reverted back to the usual method for this bread. But if for some reason you don't have fresh, the canned potatoes are an option!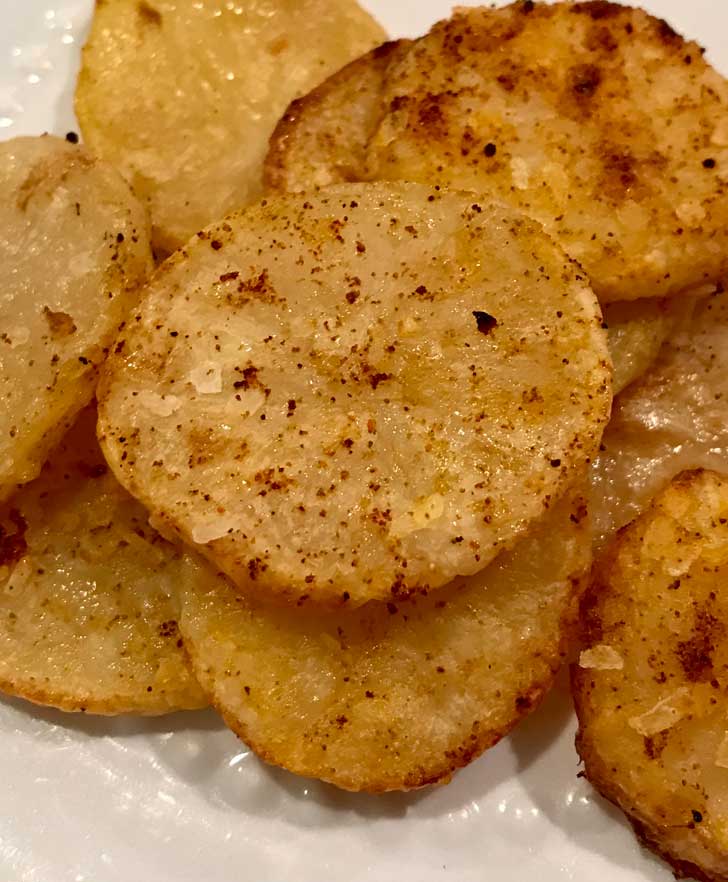 Potato Focaccia Ingredient Notes
Fresh Potato -- Any kind should work. I've been using a two small or one big Russet.
Canned Potatoes -- You can use salted or unsalted. If using salted canned potatoes, decrease the salt in the dough to ¾ teaspoon. Canned potatoes come whole or sliced. The whole ones are really the best for curries, but the sliced ones are great for bread because you can use some in the dough and lay the other slices on top.
Brand of Potatoes -- Del Monte sliced canned potatoes are a little firmer than the store brands and don't pulverize into the dough as easily.
Bread vs. All-Purpose Flour -- You can use either. Start with 260 grams (about 2 cups) and add flour as needed. The dough should cling to the hook for a while and will eventually go slack. It should be a little sticky, but the oil will make it easy to handle. If you end up adding more flour, the bread will be firmer (but most likely still good).
Yeast -- I have tested with ¾ teaspoon of instant SAF yeast and 1 teaspoon of active dry. Allow an hour for instant yeast and about 75 minutes for active dry or go by sight. The dough will not double, but it will puff up substantially on both rises. The second rise should also take at least an hour.
Rosemary & Maldon Salt -- Maybe the the potato flavor and the rosemary elevate each other because this recipe is so much better with dried rosemary sprinkled on it. A little Maldon sea salt is also good.
Other Focaccia Recipes
Recipe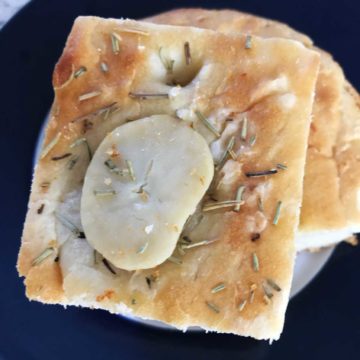 Potato Focaccia
Potato Focaccia is a soft textured focaccia with extra flavor potatoes, rosemary and sea salt.
Equipment
Stand Mixer

11x7 inch glass pan or a 10 inch cast iron skillet for baking
Ingredients 
1

large

Russet Potato, weight at least 6 oz (you'll be using 5 oz cooked), peeled

(140 grams or more)

Water for boiling

1

teaspoon

active dry yeast or ¾ teaspoon instant (SAF)

2

teaspoons

sugar (can use up to 3 if you like)

2

cups

bread flour (or all-purpose) -- plus more as needed

(260 grams) plus more

1

teaspoon

salt

2

tablespoon

olive oil

Topping: More olive oil plus dried rosemary & flaky sea salt
Instructions 
Heat 4 cups of water in a small saucepan, add peeled sliced potato and simmer for about 18 minutes or until soft. Drain potato, reserving 114 grams (½ cup) of the potato water. Note: If you want to put sliced potatoes on the top, use an 8 oz potato and pull some of the slices out of the water after 8 minutes or while they are still firm.

Put the warm potato water in the stand mixer bowl and stir in the sugar and the yeast

Add 2 cups flour (260 grams), the salt and 140 grams/5 oz (about ¾ cup) of the drained sliced potatoes . Also add just 1 tablespoon of the olive oil.

Attach paddle to mixer and beat until you have a very scraggly soft dough. The potatoes should get pulverized by the paddle, but you may still have a few chunks here and there.

Switch from paddle to dough hook and begin kneading. Dough should be sticky at this point. If it sticks to the side of the bowl as you knead, add 2 more tablespoons of flour. If it's already clinging to the hook, just keep kneading for about 5 or 6 more minutes to build elasticity. As you are kneading, add the second tablespoon of olive oil.

Put a little more olive oil in a large mixing bowl (preferably a clear one). Scrape the dough into the oily bowl and turn it so that it is slick. Cover bowl and allow dough to rise for 60 minutes. It will not quite double. Punch down dough and press it into a well greased 7x11 inch baking dish or a 10 inch cast iron pan. Cover and let rise for about 45 minutes.

Preheat oven to 425 degrees F.

This dough is so soft that you won't be able to poke the little holes in it. If you added a lot of extra flour you might be able to, but most likely the dough will be kind of delicate and will deflate if poked. So just sprinkle with dried rosemary and salt. Bake for about 25 minutes or until golden brown.
Notes
Canned Potato Focaccia
If using canned potatoes, drain the potato water from the can and put in a liquid measuring cup. Add or subtract enough tap water to make ½ cup (114 grams). Heat the mixture in the microwave to about 115 degrees.  You can use salted or unsalted canned potatoes.  If using salted, use only ¾ teaspoon of salt in the recipe.