Adapted from a Greg Patent recipe, Lemon Cookie Squares are large square shaped lemon flavored cookies with wheat germ in them. . They're lemony in a natural sort of lemon way (as opposed to fake lemon pudding mix way) and are square, which makes them stand out. Also, the frosting is more like a glaze.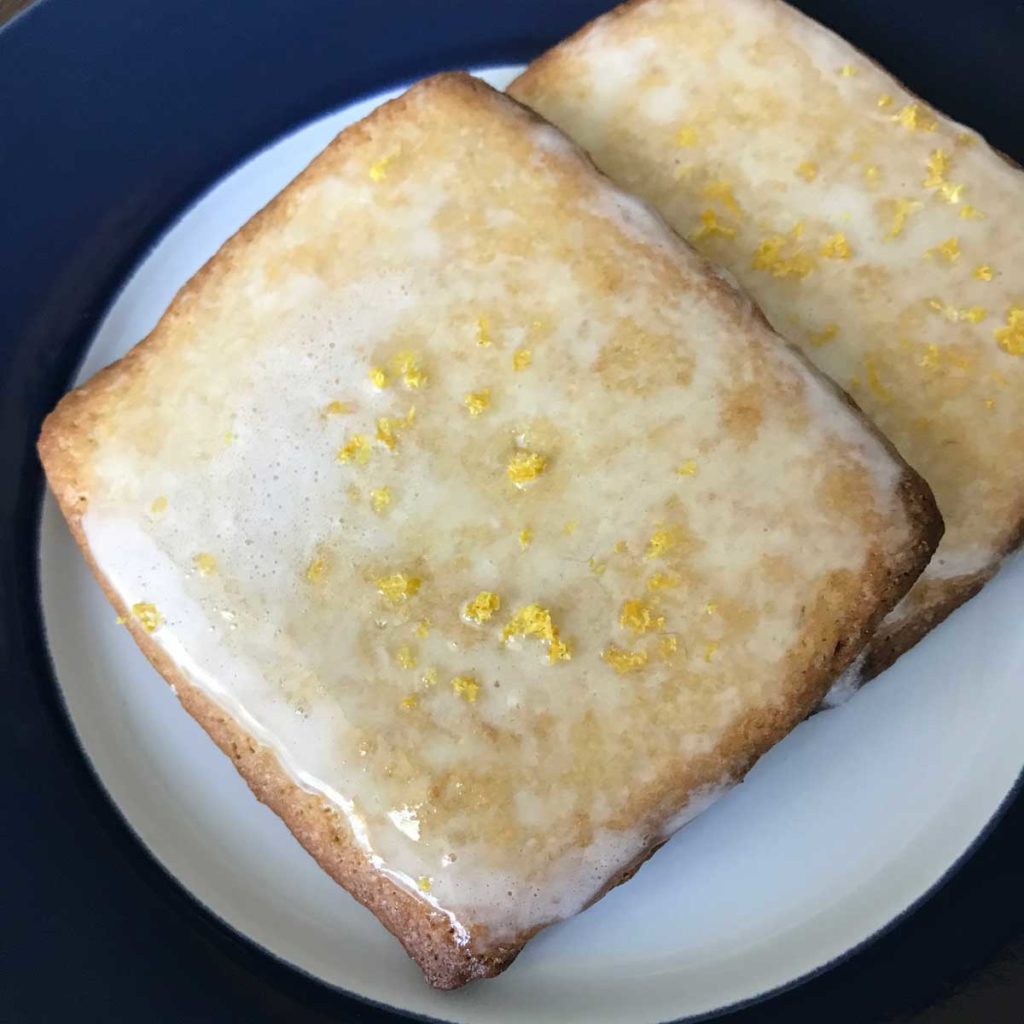 A Few Notes
I recently made a batch of these so that I could update the picture. You really can't taste the wheat germ, but it enhances the texture of the cookies. I also think Lemon Cookie Squares would be really good made with orange zest.
Lemon Cookie Squares
1 ¾ cups all-purpose flour (235 grams)
1 teaspoon baking powder -- preferably non aluminum
¼ teaspoon baking soda
¼ teaspoon salt
4 tablespoons untoasted wheat germ
8 tablespoons butter -- (1 stick) at room temperature
1 cup sugar
1 teaspoon pure vanilla extract
1 large egg plus 1 large egg white
1 tablespoon milk
Finely grated zest of 1 lemon
GLAZE
1 large egg white
2 cups confectioners' sugar
2 teaspoons fresh lemon juice -- (2 to 3)
Colored sugar sprinkles for decoration (optional)
For the dough, sift together the flour, baking powder, baking soda, and salt into a bowl. Stir in the wheat germ; set aside.
In a large bowl, beat the butter with an electric mixer on medium speed until smooth, about 1 minute. Add the sugar and vanilla and beat for 2 to 3 minutes. Add the egg, egg white, milk, and lemon zest and beat in well. With a wooden spoon, gradually stir in the flour mixture to form a moist dough.
Scrape the dough onto a sheet of plastic wrap and pat it into a rectangle about 1 inch thick, using the plastic wrap to help you. Wrap tightly and refrigerate for at least several hours, or overnight.
Adjust two oven racks to divide the oven into thirds and preheat the oven to 400 degrees.
Roll the dough on a lightly floured surface into a 12-x-15-inch rectangle, checking occasionally to make sure the dough isn't sticking. With a large sharp knife, cut the dough into twenty 3-inch squares. Carefully transfer the squares to two ungreased baking sheets, spacing them about 2 inches apart, 10 on each sheet.
Bake for 10 to 12 minutes, until the cookies are deep golden brown and have cracks on top. Rotate the sheets from top to bottom and front to back about halfway during baking to ensure even browning. With a wide metal spatula, transfer the cookies to cooling racks to cool completely.
For the glaze, beat the egg white in a small bowl until foamy. Add the confectioners' sugar and 2 teaspoons of the lemon juice and beat until smooth. The icing should be just thick enough to spread over the cookies with a pastry brush. If it is too thick, gradually beat in droplets of lemon juice until the consistency is right. Brush a thin layer of icing over the cookies and sprinkle with the sugar sprinkles, if using. Let the icing set.