Update: This is an old post about Buttermilk-Pecan Pie. I think I tried this before ever having had actual Buttermilk Pie, so I was surprised at the texture. Now that I've made actual Buttermilk Pie many times, I'd say it's best without pecans. That's just my opinion. I'd rather have a slice of nut-free Buttermilk Pie and a slice of normal Pecan Pie.
Jump to Recipe
We said goodbye to our favorite houseguests this morning, Andy and Heather, who sometimes make an Austin stopover when traveling between Mexico and the northeastern part of the US. But no more. They've taken jobs in Dallas, so it looks like there will be no more stopovers. Too bad because they are good sports and have always been up to trying new things, including Buttermilk-Pecan Pie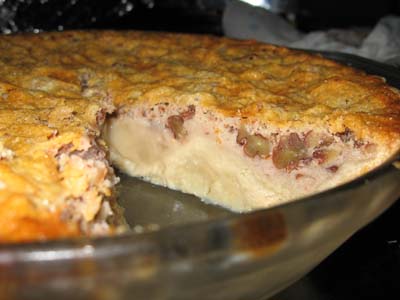 The last time they stayed over, I served popcorn salad - an actual recipe from a very real cooking magazine. It was kind of a joke, but also because I wanted to see if this was something real people would eat. It wasn't. But to keep on the popcorn salad tradition, I've always tried to offer something unusual to Andy and Heather. This time, it was buttermilk-pecan pie.
This is an old Southern recipe. Google it and you'll see that most versions use way more sugar. This version, which I adapted from Rebecca Rather's version which she based on one from the Wunsche Bros. café in Spring, TX, is less sweet.
When I first cut it open, I was a little surprised at its appearance. It was pale and appeared to be a creamy smooth buttermilk custard with a layer of pecans on top. My first taste was a big blas of twang, which I figured only senior citizens or people more accustomed to the flavor of straight buttermilk would enjoy. I was hesitant to serve it it for dessert so I made some molten lava cakes as a back-up. Surprisingly, everyone but me liked this pie more than the lava cakes. The twang has mellowed over the past 48 hours and it does taste pretty good. I don't love it, but I will probably make it for my dad, who will.
Recipe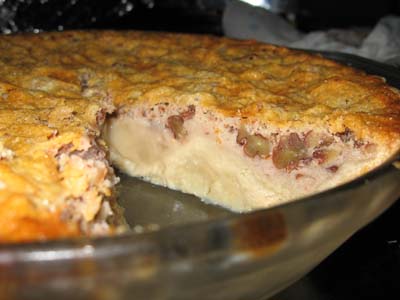 Buttermilk-Pecan Pie
Buttermilk Pecan Pie
Ingredients 
1 ½

cup

whole pecans

½

cup

butter

room temperature

1 ¼

cups

granulated sugar

¼

cup

brown sugar

2

teaspoons

vanilla

3

eggs

3

tablespoons

flour

⅛

teaspoon

salt

1

cup

buttermilk

1

uncooked pie crust

use a 9 inch deep dish
Instructions 
Preheat oven to 350 degrees F. Place pecans on a cookie sheet and toast for 8-10 minutes or until aromatic. Let cool, then chop coarsely.

Reduce oven heat to 300 degrees F.

In a mixing bowl, beat together butter and both sugars. Beat in vanilla and eggs; Stir in flour and salt. Add buttermilk and stir until fully incorporated. Stir in pecans. Pour into pie shell.

Place in oven (set on a cookie sheet to catch drips) and bake at 300 for 1 hour and 15 minutes. Cool completely, then chill.