For some reason, the only time I think about making Razz-Ma-Tazz bars is when I have white chips that need to get used up. This is sad, because Razz-Ma-Tazz bars are delicious and deserve a higher status than that of "way to use stuff up". They are extremely easy, look pretty and taste great. No wonder they won a contest.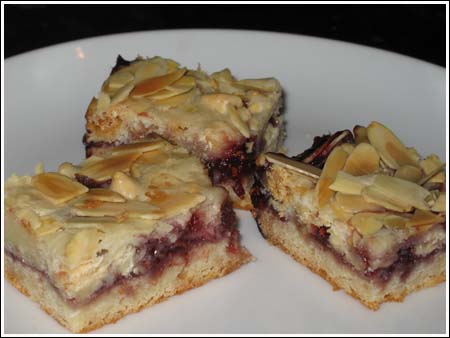 The recipe was put out my Nestle, but you can use whatever brand white chips you like. Today I used Ghirardelli. I like almond extract, but for those of you who don't, vanilla would be a fine substitution. And of course, you can change out the jam. I always say I'm going to do that one day, then never do.
This recipe can also be halved and baked in a 9x5 inch loaf pan. Since I have lots of goodies around this weekend, I kept the batch small. Here's what it looked like right out the pan. .......
And here are the bars after they were cut. Much better.
Here's a link to the recipe. For convenience, I retyped the recipe below with a few very minor adjustments.
Razz-Ma-Tazz Bars
1 stick butter
2 cups white chocolate morsels, divided use
2 large eggs
½ cup granulated sugar
1 cup flour (all purpose)
½ teaspoon salt
½ teaspoon almond extract
½ cup raspberry jam
¼ cup sliced toasted almonds
Preheat oven to 325° F. Line a 9 inch pan with parchment or grease.
Melt butter in a large microwave-safe bowl on high for 1 minute; stir. Add 1 cup morsels; let stand. Do not stir.
Beat eggs in large mixer bowl until foamy (I used a wire whisk). Add sugar; beat until light lemon colored, about 5 minutes (again, I just whisked for a few minutes). Stir in morsel-butter mixture. Add flour, salt and almond extract; mix at low speed until combined. Spread ⅔ of batter into prepared pan.
Bake for 15 to 17 minutes or until light golden brown around edges. Remove from oven to wire rack.
If jam needs it (mine didn't), warm it up a bit in a small, microwave-safe bowl for 30 seconds; stir. Spread jam over warm crust. Stir remaining morsels into remaining batter. Drop spoonfuls of batter over jam. Sprinkle with toasted almonds.
Return to oven and bake for 25 to 30 minutes or until edges are browned. Cool completely in pan on wire rack. Cut into bars. Makes a 9 inch pan, so you can figure out how many bars you want. I cut mine really small.