Chocolate covered strawberries are all the rage right now in Austin, so in honor of that (and Valentine's Day), I decided to make a bar cookie with a chocolate covered strawberry theme. Adapted from a cherry variation called "Chewy Cherry Bars", this version uses good quality strawberry preserves and dark chocolate chips.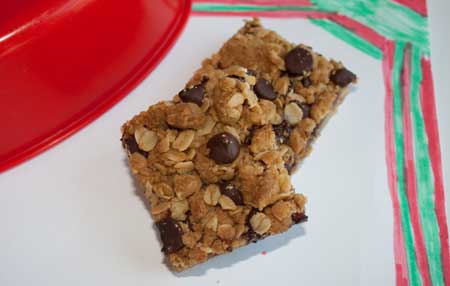 Like the cherry bars, these are definitely chewy...and very sweet! The strawberry jam was a nice change of pace since I usually fill bars with raspberry or cherry, and naturally the chocolate chips made the bars better. Don't they always? Here's the recipe. If you use salted butter or some kind of spread, omit the salt.
Chocolate Covered Strawberry Bars
1 stick (4 ounces) unsalted butter, softened
¼ teaspoon salt (omit if using salted butter)
1 cup firmly packed brown sugar
½ teaspoon vanilla extract
1 cup (4.5 ounces) all-purpose flour
1 teaspoon baking powder
1 cup old fashioned oats
½ cup Smucker's® Strawberry Preserves (or Orchard's Finest)
⅓ cup extra dark chocolate chips
Preheat oven to 350°F. Line an 8 inch square pan with non-stick foil.
With a hand-held mixer, beat the butter, salt (if using) and brown sugar in medium bowl until smooth and fluffy. Beat in extract. Mix together the flour and baking powder, then add to the batter. Stir until well mixed, then stir in the oats. Reserve a heaping ½-cup for topping. Pat remaining crumbs into bottom of prepared pan.
Spread strawberry preserves evenly over crumb crust in pan. Toss the chocolate chips with the reserved crumb topping and sprinkle over the top
Bake for 30-35 minutes or until lightly browned. Cool on wire rack, then lift from pan and cut into 9, 16 or 18 bars.