Horse Cake is a chocolate cake shaped like a horse head. I served it at Fuzz's birthday (may nears ago!) and it got a lot of good reviews. Plus it's cute! It's the one birthday cake I'm not ashamed to post. Most of the others are so embarrassing I just took them down (though Chococat is still floating around on Pinterest).
But this cake is special! I remember it well because I made it using the recipe below, and I made a second vegan version because one of our friends had a milk allergy.
The diagram for carving the horse cake was originally from a pattern on Family Fun, but the link no longer works so I'll do my best to describe it for you below.
Horse Cake Head
You bake the the chocolate cake (you can use the recipe below or a cake mix cake) in a 9×13 inch pan. Let the cake cool, then freeze it so that it will be easy to carve. When the cake is frozen, set it in front of you with the 13 inch side on the bottom. Cut a triangle from the bottom about 4 inches from the left corner. This will be the area between the horse's mouth and neck. Move the triangle to the top to make an ear. Next, you'll need to carve an arch up around the left corner to create the slope of the horse's head. Argh, this is still confusing.
Fuzz is now in college, but she's better at crafts so I'll ask her to carve a frozen cake so that I can post some better how-to pictures.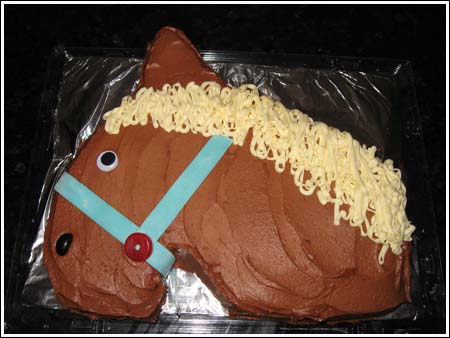 Horse Cake
Chocolate Sheet Cake With Rich Chocolate Frosting
Ingredients 
Cake
Flour-Added Cooking Spray

2

cups

sifted cake flour

sifted, then measured — 7 oz by weight

1

cup

unsweetened Dutch process cocoa powder

1 1/4

teaspoons

baking soda

3/4

teaspoon

salt

1/2

teaspoon

baking powder

1 1/2

cups

light brown sugar

packed

1

cup

plus 2 tablespoons unsalted butter

room temperature

3

large eggs

room temperature

1

tablespoon

vanilla extract

1

cup

plus 2 tablespoons buttermilk

room temperature

1/2

cup

warm water or coffee

1

cup

semisweet chocolate chips
Frosting:
8

ounces

bittersweet chocolate chips or chopped bittersweet chocolate

13

tablespoons

unsalted butter

1

teaspoon

espresso powder

2

teaspoons

vanilla

1 1/2

cups

sifted powdered sugar

3

tablespoons

unsweetened cocoa powder

10

tablespoons

unsalted butter

½

teaspoon

salt

1

cup

heavy cream
Instructions 
Preheat oven to 350 degrees F. Line a 13×9 inch baking pan with foil leaving a slight overhang; spray foil with cooking spray.

Whisk flour and next 4 ingredients in medium bowl and set aside.

In a large mixing bowl, using an electric mixer, beat brown sugar and butter until fluffy, about 2 minutes. Add eggs 1 at a time, beating well after each addition. Beat in vanilla. Stir in flour mixture, alternately with buttermilk. Stir in water (or coffee). Let batter cool if it is warm from the coffee, then stir in the chocolate chips.

Pour batter into pan and bake until tester inserted into center of cakes comes out clean, about 225-30 minutes or until cake springs back when touched. Set pan on a rack and cool completely. Wrap tightly in foil and freeze until ready to use.

Make Frosting. Using the top of a double boiler or the microwave, melt the chocolate and butter together. Stir in the espresso powder, then transfer melted chocolate mixture to the bowl of a stand mixer.

In a food processor, process sugar, cocoa, remaining butter and salt until thoroughly mixed. Scrape sugar mixture into the stand mixer bowl with the melted chocolate mixture and beat until smooth. Stir in cream.

Place the mixing bowl in refrigerator and chill until very cold. When chilled, mixture will be firm. When ready to use, set the bowl at room temperature until the mixture is not quite so firm.

Using a stand mixer with a whisk attachment, beat cold chocolate mixture until fluffy and spreadable.
Notes
Note: This makes enough frosting to frost two 13×9 inch cakes. It freezes well, so you can freeze half or use all at once.
White frosting (used for mane)
I can't really give proportions because I tend to just throw things in the bowl and beat until the consistency seems right, but the mane was made with softened butter, shortening, confectioners sugar, vanilla and milk. I also did a vegan (dairy free) version with Willow Run spread, shortening, confectioners sugar and soymilk.