School's out and Fuzz and I are enjoying some lazy days before various camps start. Next week's breakfasts will be rushed (as usual) so for the next two days, we're going to splurge a little. Around here, a splurge means scones. Fuzz loves the pumpkin ones best, but I decided to try a new flavor and went with butterscotch.
These are excellent, but only if you like your scones rich and tender. You can forget about eating these with cream or butter because in this case, it's baked right in. I made 6 large and slightly flattish scones, but I think next time I'll make 8.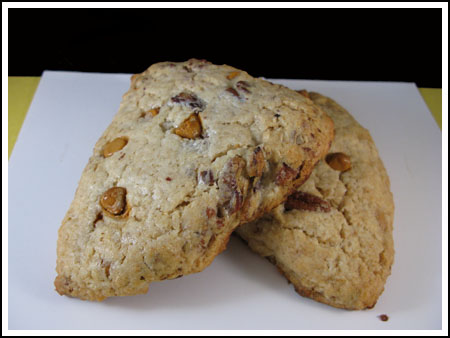 Rich Butterscotch Pecan Scones
2 cups all purpose flour (9 oz/270 grams)
⅓ cup packed dark brown sugar (70 grams)
¼ cup granulated sugar (48 grams)
2 teaspoons baking powder
¼ teaspoon salt**
7 tablespoons (100 grams) cold salted butter, cut up
½ teaspoon vanilla (2 ml)
1 cup heavy cream, divided use (240 ml)
⅔ cup butterscotch chips
½ cup pecans, lightly toasted**
Preheat oven to 425 degrees F.
Combine flour, both sugars, baking powder, and salt in food processor and pulse to mix. Add butter and pulse until mixture is a coarse meal. Combine the vanilla and cream in a measuring cup. Gradually add the cream mixture to the flour mixture (about ¼ cup at a time) and pulse until mixture comes together. You should use all but about 1 tablespoon of the cream.
Empty dough onto a lightly floured or non-stick work surface and gently knead in the butterscotch chips and pecans. Pat dough into an 8 inch circle and using a greased or damp knife, cut it into 6 neat triangles.
At this point, you can freeze the triangles for later use. Otherwise, arrange a few inches apart (they spread) on an ungreased cookie sheet, brush the tops with remaining cream, and bake for 15-17 minutes or until edges are nicely browned. These don't brown a lot (probably due to the baking powder and lack of soda), so look at the edges.
I cut my circle into 6 triangles, but since these are so rich you might want to try 8 triangles and bake for 13-15 minutes.
Makes 6 to 8
**if using unsalted butter, use ½ teaspoon salt