I feel like I haven't made enough biscuits lately. Scones, yes. Biscuits, no. So here's a recipe called Self-Rising Flour Biscuits for Two. Also known as Cathead Biscuits (they're the size of a cat's head) they are light, fluffy, velvety drop biscuits. I've been baking them in 3.5 inch mini skillets (one per skillet) and in my 6.5 inch skillet.
Jump to Recipe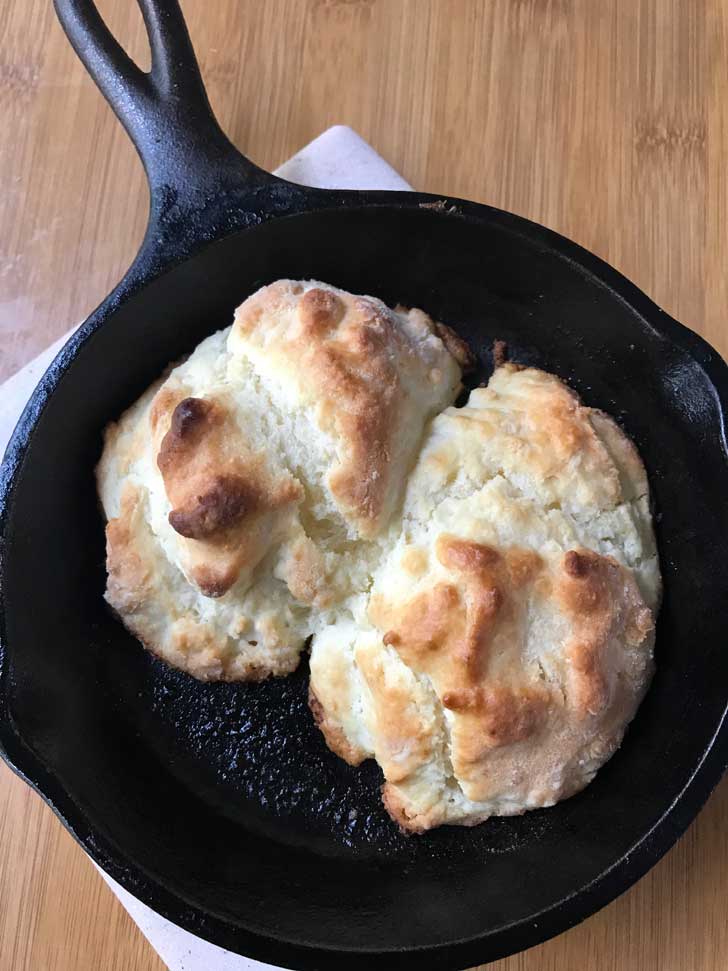 Self-Rising Flour Biscuits for Two Recipe
Lately all the recipes I use make anywhere from 2 to 6 biscuits. This recipe makes just two large. It's also a great make-ahead recipe, because you can mix the dry ingredients and fat, store the crumbly blend in the freezer, and then assemble before the meal. In other words, you don't have to worry about rolling dough early in the morning or in the evening when you're busy with dinner.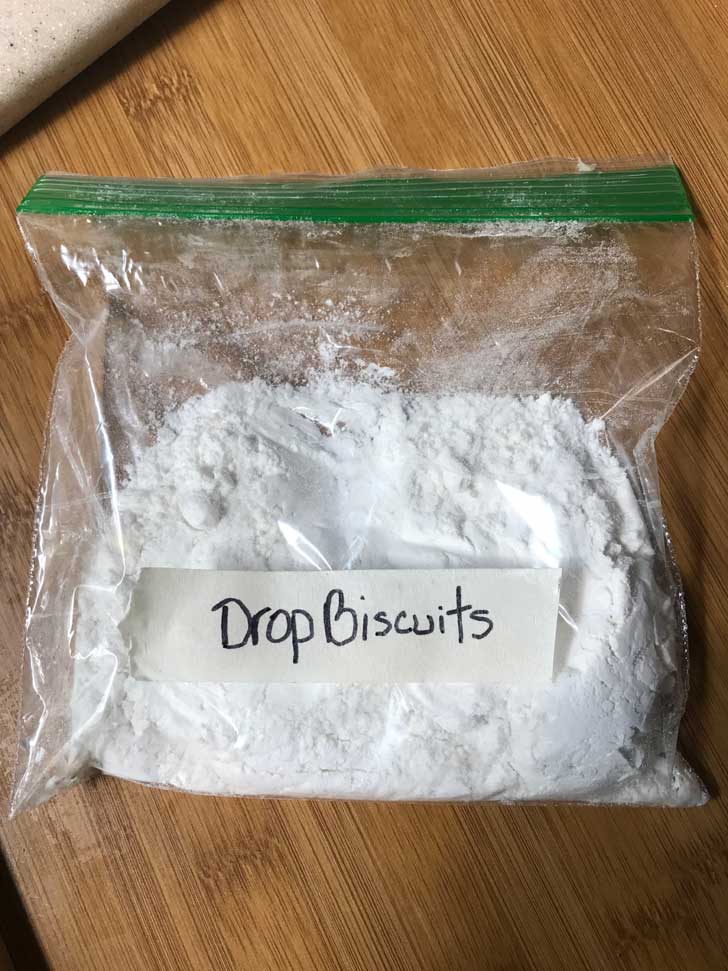 Key Biscuit Ingredients
These are the softest, fluffiest biscuits I've ever made, and I do believe it's because of the White Lily self-rising flour. Along with the White Lily, the recipe calls for a mixture of butter and shortening, a little sugar for a hint of sweetness and browning and a combination of cream and buttermilk.
Easy Mixing!
My usual and favorite way of incorporating butter into a flour mixture is to grate cold butter right off the stick and into the flour mixture. However, in this recipe you don't have to worry about the butter being cold. Since you are using such small amounts of butter and shortening (½ tablespoon each), it's easy to blend the fat into the flour no matter what temperature it is. Even if you double the recipe you can just chop the tablespoon of butter into bits and mix it in with the flour. Speaking of which, I bought a new scraper recently. For years I used a Pampered Chef Mix 'N Scraper, but the silicone tip broke and I splurged and bought a new $13 one from Sur la Table! It's not as big as the Mix 'N Scraper, but it's strong and heat-proof and I'm learning to love it as much as my old one.
No Rolling
I love shaping biscuits, even small batch ones. It's fun to try to laminate the dough and make layers. But this recipe is a little different in that it's a drop biscuit recipe which means no rolling. There is a step where you dust the soft dough portions with flour, but that's it. To get an idea of how soft the dough it, here's a photo. It really does look like cottage cheese.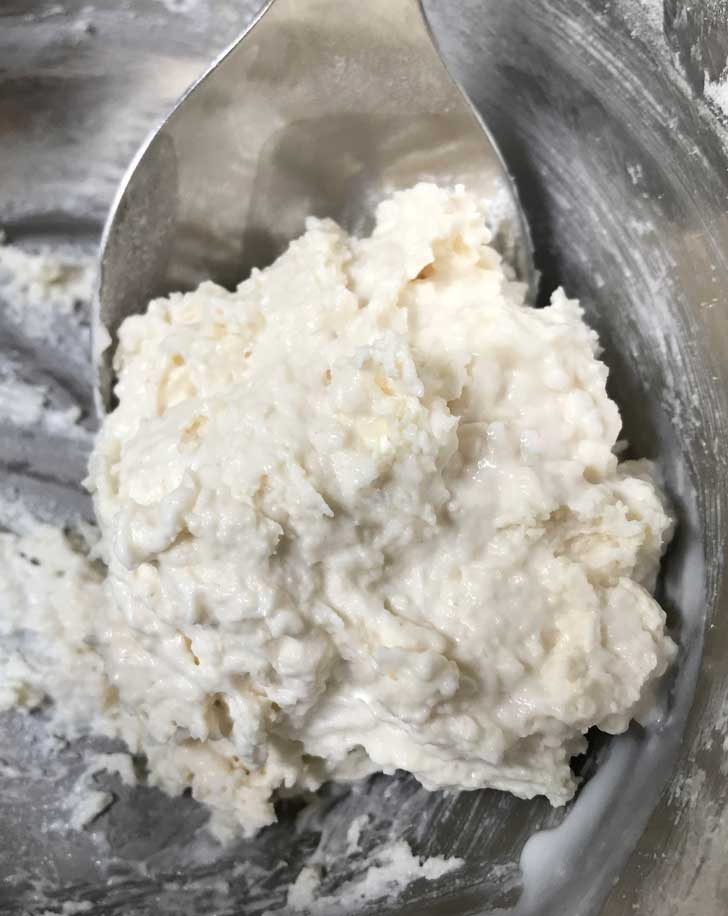 The Cast Iron SKillet
I love my little Lodge cast iron skillets. I have two of the 3.5 inch skillets and one trusty 6.5 inch which I use for a lot of things including Small Batch Cornbread. This recipe calls for the 6.5 inch skillet, but you can also use two of the cute 3.5 inch ones if you want to give each person their own personal skillet. If using the 6.5 inch skillet, the biscuits will spread a little as in the photo above. I think it adds to their charm.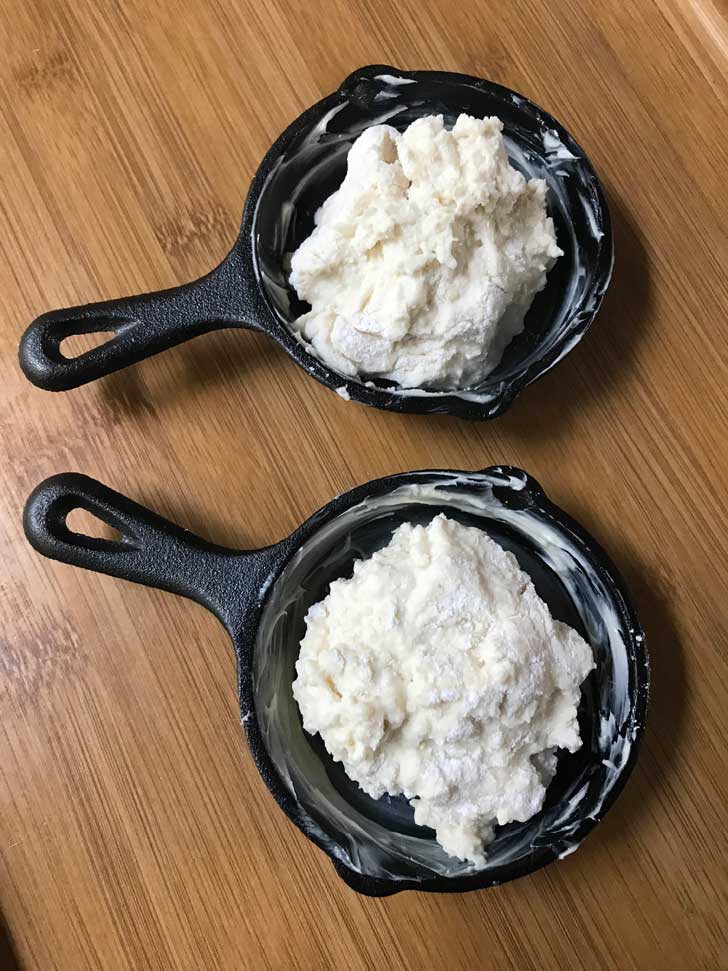 All-Purpose Flour Version
I've made these with all-purpose flour and they are delicious, but they are a tad less soft. In my opinion they're better with the self-rising flour, but don't hesitate to make them if all you have is all-purpose. I put the leavening amounts in the notes. Also, if you want to scale this recipe up, you can double, triple or quadruple it.
More Recipe Suggestions
Recipe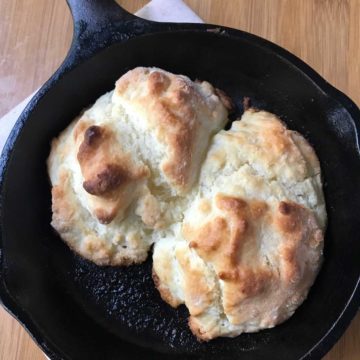 Self-Rising Flour Biscuits for Two or Cathead Biscuits
This recipe makes 2 large buttermilk biscuits. It's adapted from a recipe from Lodge cast iron and Chef Karl Worley.
Ingredients 
½

cup

White Lily self-rising flour

(65 grams)

1 ½

teaspoons

sugar

(6 grams)

½

tablespoon

butter softened

(7 grams)

½

tablespoon

shortening

(6 grams)

2 ½

tablespoons

cream

(35 grams)

¼

cup

cold buttermilk

(56 grams)

¼ to ⅓

cup

flour for shaping (doesn't have to be self-rising)

You won't use all of this

1-2

tablespoons

high quality salted butter for pan and brushing

Use as much or as little as you need
Instructions 
Preheat oven to 450 degrees F. Grease a 6.5 inch cast iron skillet or 2 3.5 inch skillets OR a small cake pan very thoroughly with butter. You can preheat the oven immediately if yours takes a while to get hot, or you can preheat while the flour mixture is getting cold.

Put your flour in a mixing bowl and add the softened ½ tablespoon butter and shortening. Mix it up with a spoon or heavy duty scraper, coating the flour particles the best you can until fat is evenly blended and mixture is crumbly. Place bowl in the freezer for about 20 minutes or just keep it there until you are ready to use it. The point is to get it really cold rather than frozen solid.

To your cold flour mixture, add all of the cream and stir until blended, then add buttermilk 1 tablespoon at a time until mixture resembles cottage cheese. It will be very lumpy and bumpy! You may need only 3 tablespoons, so go slowly with the milk and don't add it all at once.

Put the shaping flour (¼ to ⅓ cup) in a shallow bowl next to your mixing bowl.

With your spoon or scraper, scoop up half of the soft biscuit dough and plop it in the extra flour. Dust top with the lightly, then shake off excess. Put it in the skillet. Repeat with remaining biscuit batter, setting the two biscuit dough sections side by side so they'll bake into each other.

Bake in upper third of oven for about 18 minutes, or until golden brown and puffed. Pull from oven and immediately brush with melted butter. Let rest for about 10 minutes before serving.
Notes
For the skillet, try a Lodge 6.5 inch cast iron.
All-Purpose Flour Substitute -- To substitute all-purpose flour, use 65 grams of AP flour plus ½ teaspoon of baking powder and ¼ teaspoon kosher salt. 
Making Ahead:  If you mix and freeze the dry ingredients, let them sit for a few minutes before you add the cream and buttermilk.  The butter and shortening should be extremely cold, but not frozen solid.  If you have frozen chunks in the flour mixture, break them up the best you can with your spatula/spoon.