The hardest thing about making pecan pie is choosing the right recipe. To get started, I used recipes which had high reviews and lots of butter in the filling.
This was the first recipe I chose. It was good, but you'll probably want to add 15 minutes to the cooking time. At the suggested 45 minutes, it was a little runny. I followed the directions as stated on Recipezaar, but used toasted pecans and browned, melted butter.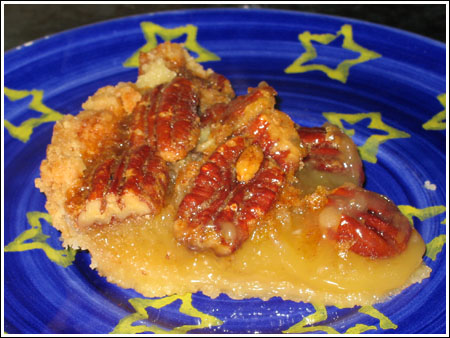 For the crust, I used a simple "pat-in-the-pan" recipe. It is kind of crumbly as opposed to flaky and reminds me of a sandie cookie. Good, but not sure I'd use it again for pecan pie.
The second recipe was sent to my by Lauren. This one also happens to be in The Southern Living Ultimate Cookbook. I loved this one and it got great reviews from Todd's office mates. I used the recipe's suggested dark corn syrup which gave the pie a distinct molasses-like twang. This pie came out of the oven a bit lumpy, but after I cooled it, froze it and thawed it, it smoothed out. I don't know why, but for some reason, lumpy pecan pies smooth out after being frozen and thawed.
I am sad to say, I forgot to take a picture of this one before I sent it off to Todd's office.
Reba's Famous Pecan Pie
1 stick (8 tablesoons) butter (I used butter, but didn't brown it)
1 cup dark Karo syrup
1 cup sugar
4 eggs, beaten
1 tsp. vanilla
1 cup pecans
Melt butter and remove from heat. Add sugar and Karo syrup. Add beaten eggs and vanilla. Stir in pecans.
Pour into pie crust and bake at 325 degrees for 55 minutes. Sometimes I end up leaving it in for a few minutes longer.
(Lauren's favorite pie crust)
Never Fail Pie Crust
4 cups flour
1 Tbs. sugar
2 tsp. salt
1 ¾ cup shortening
1 Tbs. white vinegar
½ cup water
1 large egg
Put dry ingredients into large bowl. Add shortening and mix till crumbly (shortening the size of peas). Mix water, vinegar, and egg. Stir into flour mixture. Mix well.
Divide dough into 5 balls. Refrigerate ½ hour, then roll out. You may also freeze in a plastic bag. To use frozen, thaw about 1 hour before rolling out on floured surface.