There was a time when I considered myself somewhat of a pecan pie recipe purist and had no interest in anything but basic pecan pie. I've loosened up over the years and love embellishments -- especially bourbon! So even though it's a bit last minute, here's a recommendation for a fantastic Thanksgiving Chocolate Bourbon Pecan Pie. It's from The Blue Moon Bakery, via Midtown Magazine.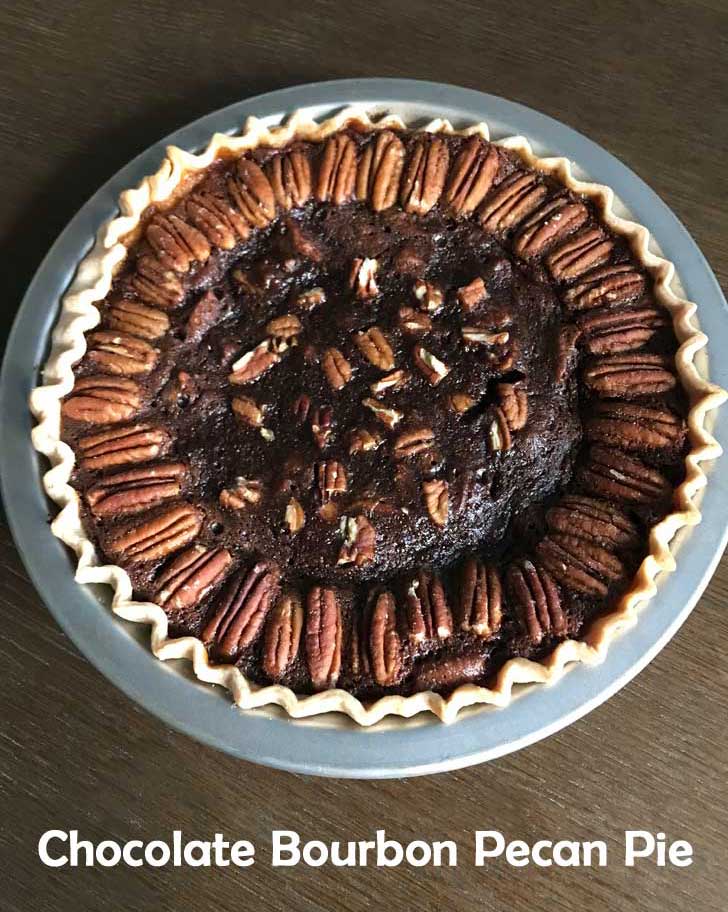 Texture and Flavor
The recipe is very simple, especially if you use a store bought crust. I used one from Aldi for this pie, but next time I'll use Blue Moon's recipe (which is in the notes) or our current favorite pie crust. The truth is I didn't want to waste time on a homemade crust until I knew the pie was good, and this one is. It's somewhere between a bourbon-y tasting custard and chocolate cream pie filling that just happens to have pecans. It's way more boozy tasting than the other bourbon pecan pie on Cookie Madness, but it's also pretty different since it's completely chocolate. For the holidays, you may want to bake this as well as the One Stick of Butter Pecan Pie for the traditionalists.
Chocolate Bourbon Pecan Pie Ingredients
Here's a quick ingredient list rundown.
I used a roll and bake pie shell, but put a scratch recipe in the notes. Feel free to make your own using your favorite recipe or Blue Moon's, which is in the notes.
Pecan Pieces -- Kirkland pecan halves from Costco, which I toasted and chopped. The recipe doesn't call for making a pecan border, but if you have plenty of pecan halves you can put them around the perimeter. The pecan halves you use for the border do not need to be toasted.
Butter -- Any kind
Bittersweet Chocolate -- I used Guittard Bittersweet Disks but feel like Ghirardelli Bittersweet Chips would also work well.
Corn Syrup -- Karo dark and light
Eggs -- Bring to room temperature
Cocoa Powder -- Hershey's Natural
Bourbon -- I used ⅓ cup of Four Roses. Use one you like because you'll taste it.
Salt - Morton Kosher
Vanilla -- Nielsen Massey
More Recipes With Bourbon
Recipe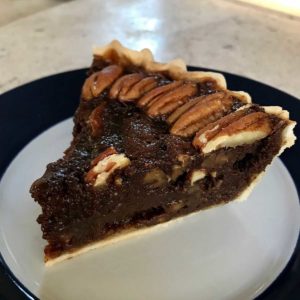 Chocolate-Bourbon Pecan Pie
This chocolate rich pie has the most bourbon of all the recipe I've seen.
Ingredients 
1

9-inch

unbaked pie shell or a roll-and-bake crust

deep dish

1 ½

cups

toasted and chopped pecans plus some whole ones for the border

6

tablespoons

unsalted butter

(84 grams)

3

ounces

bittersweet chocolate or Ghirardelli bittersweet chips

(84 grams)

¾

cup

dark brown sugar

(150 grams

½

cup

light corn syrup

(150 grams)

½

cup

dark corn syrup

(150 grams)

4

large

eggs, bring to room temperature

2

tablespoons

cocoa powder

⅓

cup

bourbon

¼

scant

teaspoon salt

½

teaspoon

vanilla extract
Instructions 
If using a store-bought roll and bake crust, let it come to room temperature. Roll out and fit into a 9 inch pie dish and keep chilled until ready to use.

Preheat oven to 350 degrees F.

Toast the pecans at 350 for about 7 minutes or until fragrant. Set aside to cool, then chop.

Combine the butter and chocolate in a microwave-safe bowl and heat on high, stirring every 30 seconds, until chocolate is melted and mixture is smooth. If you have a microwave-safe mixing bowl, you can do it directly in the mixing bowl. Let the mixture cool for 10 minutes.

Whisk together the chocolate mixture, dark brown sugar, corn syrups, eggs, cocoa powder, bourbon, salt and vanilla.

Sprinkle the toasted nuts over the pie crust, then pour the chocolate mixture over the nuts. They will rise to the top.

Set the pie on a rimmed baking sheet and bake for about 45 minutes.

Allow the pie to cool for several hours. If you want to solidify the chocolate, let cool, then chill, then bring back to room temperature.
Notes
Blue Moon Bakery Crust Recipe
1 ½ cups flour
¼ teaspoon salt
10 tablespoons unsalted butter, chilled and cube
2-4 tablespoons ice water
Put the flour and salt in a food processor and pulse while slowly adding cubes of butter until pea-size lumps form.  Add ice water a tablespoon at a time until dough starts to hold together.  Empty onto a pastry mat and shape into a disk.  Wrap in plastic and chill until ready to use (at least an hour).  When ready to use, bring to cool room temperature, roll into a 12 inch circle and fit into a 9 inch metal pie pan.  Crimp the edges and return to the freezer. Freeze just until firm, then press a piece of plastic wrap over it and keep frozen until you are ready to make the pie.