I like reaching goals, which is why I keep them simple. Today's goal was to use up some cornflakes.  Mission accomplished, thanks to this recipe for Can't Stop Cookies.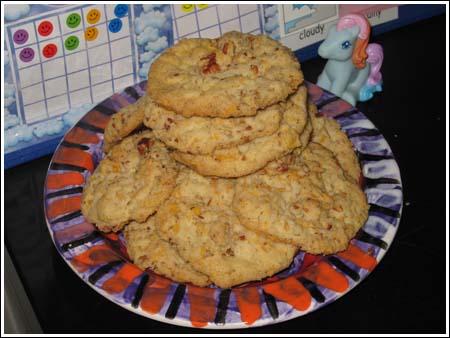 I'm not exactly sure where I found this recipe, but it's a good one. The cookies have a light, crispy texture elegant enough to be served with tea at The Ritz. In fact, I think "Ritz" came into my mind because these are almost as flaky as the cracker with the same name. I guess the high amount of butter combined with the cream of tartar and baking soda is the secret to this cookie's ethereal texture.
Can't Stop Cookie Tips
If you use unsalted butter, you may want to up the salt a bit. I used salted butter and these cookies were just perfect.  Also, the recipe does not call for any eggs, so make sure to measure the dry ingredients carefully so that the dough will hold together.  If you accidentally use too much flour or cereal, you'll get more crumbly.  I do not recommend leaving out the nuts because they tame some of the sweetness, but if you need to make nut-free Can't Stop Cookies you can.  Just leave out the nuts and add another 1/3 cup of cereal.
Can't Stop Cookies are fun, but if you'd prefer Cornflakes cookies made with peanut butter, the Ultimate Cornflakes Cookies are good, too.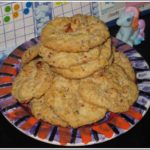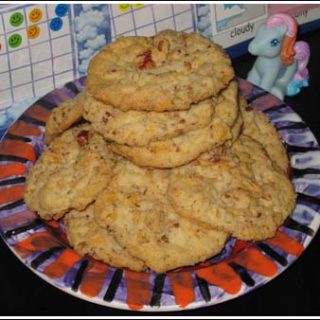 Print Recipe
Can't Stop Cookies
Can't Stop Cookies are egg-free cookies made with Corn Flakes.
Ingredients
1 1/2

cups

all-purpose flour

190 grams

1

teaspoon

cream of tartar

1

teaspoon

baking soda

1/4

teaspoon

salt

increase to 3/4 tsp if using unsalted butter

2

sticks

butter

softened (salted) (230 grams)

1

cup

granulated sugar

200 grams

1/2

teaspoon

vanilla

3/4

cup

pecans

toasted and finely chopped

2

cups

cornflakes cereal
Instructions
Preheat oven to 350 degrees F.

In a small bowl, whisk together flour, cream of tartar, baking soda and salt.

In a mixing bowl, cream butter, sugar and vanilla. Using a spoon, stir flour mixture into butter mixture and stir until well mixed. Stir in pecans and cornflakes.

Using a teaspoon, scoop up dough and shape into balls of about 1/2 to 3/4 inch. Place on cookie sheets, 12 per sheet, spacing a few inches apart. Bake for 13-16 minutes. Let cool on cookie sheet for about 4 minutes (they'll be delicate at first!) then transfer to a wire rack to cool completely.

Makes about 34 cookies

Note: This cookie has no eggs and is easy to halve if you only want a small batch.

Note #2: My next experiment will be making these with Post "Banana Nut Crunch" cereal in place of Cornflakes.