Update: It's 2021 and I still love making Frito Candy! Plus now there's a new and improved(?) version of the Frito Candy recipe made with Bugles.
Here's the old post.
Frito Candy is something I came up while playing around in the kitchen.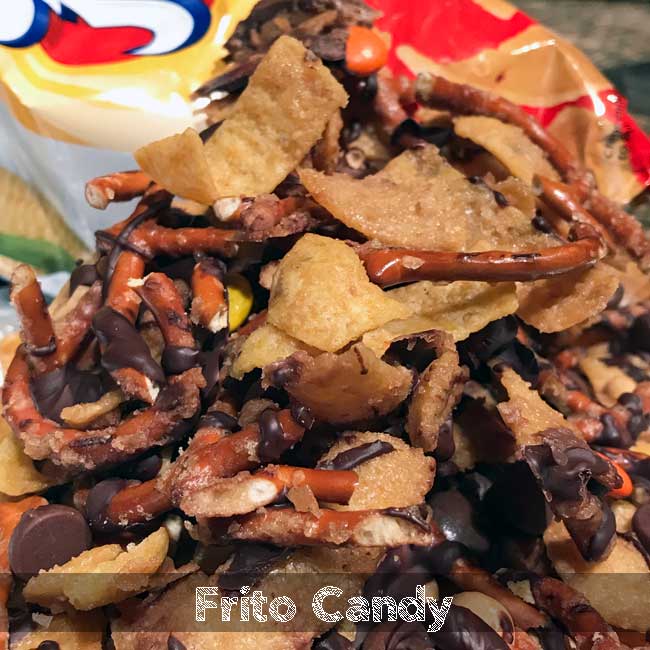 It was supposed to be (and is) a trashy but delicious snack. It's a mess of Fritos, pretzels, and peanut butter cups held together in a matrix of brown sugar and butter. I made it with skepticism knowing it would at the least, satisfy a sweet & salty craving. In the end, I liked it enough to take it to a party.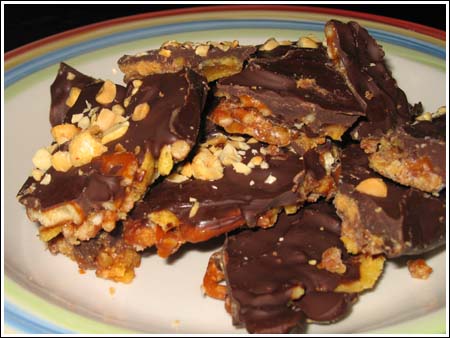 The reaction to a candy made with Fritos was astonishing. My friends ate it up in seconds and over the course of the next few months, kept asking for more. I developed a new appreciation for Fritos (which do not have MSG, I learned) and have come to appreciate them for the wholesome, trans-fat free snack food they are ;). Okay, so that's a stretch, but Fritos are not all that bad for you and in some cases, they can stand in for dessert.
The finished product should look like this.
Frito Candy Recipe Pan Size
I have always made it in a 9x13 inch pan, but I'm thinking about switching to a 15x10 inch pan and increasing the pretzels for a higher ratio of salty to sweet.  Here's a picture of the latest batch before it set. I like to use milk chocolate for half and dark for half.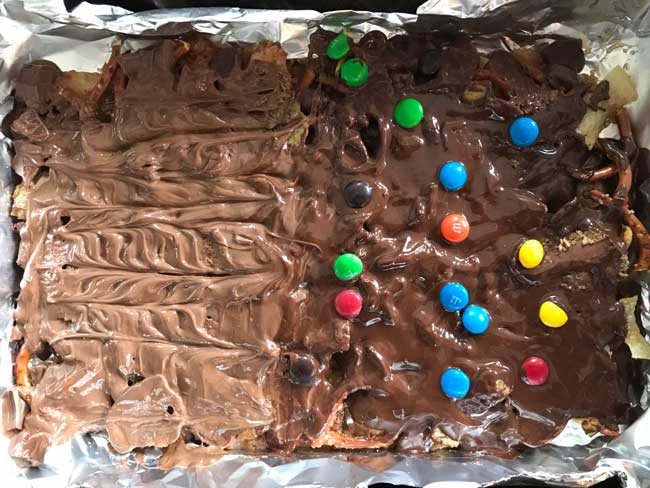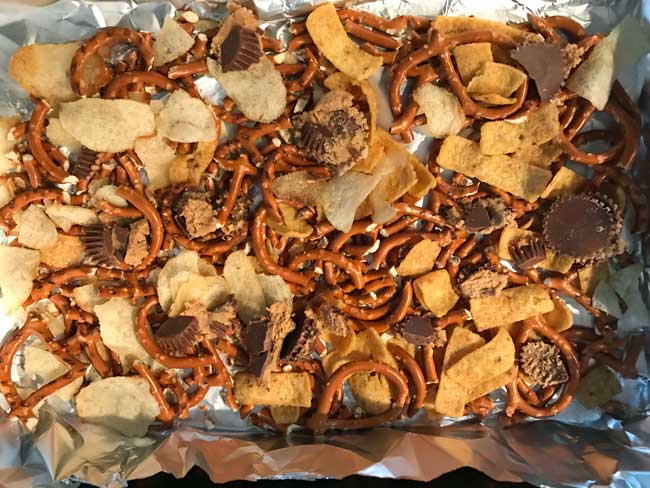 I was low on Fritos and threw in some regular potato chips.  The candy was okay, but I recommend sticking with Fritos....or Bugles.  A long time ago I used Bugles for some reason and they worked quite well.
Bugle Candy
So I kind of mentioned it in passing the other day (see above), but I ran out of Fritos and have been using Bugles again. The Fritos are excellent, but if you are looking for an excuse to buy some Bugles then I recommend you try this with Bugles in place of or along with the Fritos.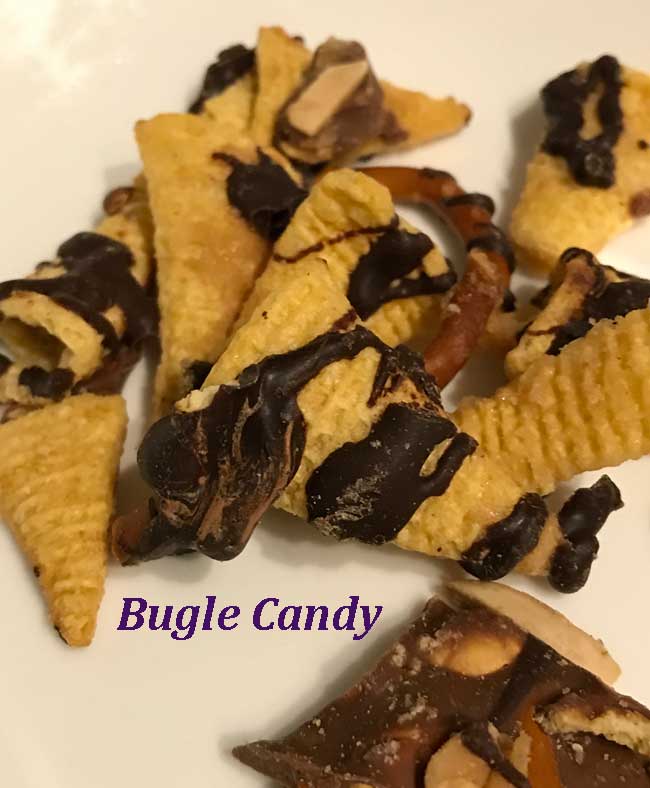 Sad Update
As of November 2022, Bugles are no longer available in Canada. I'm very sorry to hear this, Canada. However, I'd trade Bugles for your superior Kit Kats.
Recipe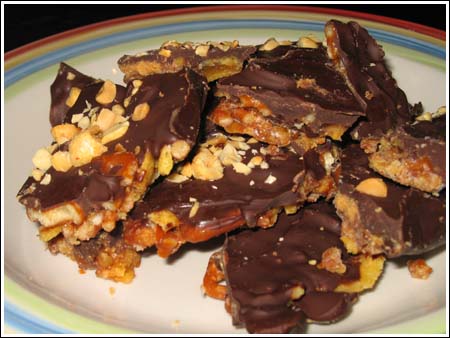 Sweet, Salty, Frito Candy
Sweet, Salty, Frito Candy made with peanut butter cups. This is a revised version! I've increased the Fritos from 1 to 2 cups and now make it on a large rimmed baking sheet.
Ingredients 
2

cups

pretzels

you can use mini or slightly broken regulars, more if desired

2

cups

Fritos

or Bugles

½

cup

peanuts

8

mini peanut butter cups

use more or fewer to taste

1

stick unsalted butter

8 tablespoons

½

cup

brown sugar

6

oz

chopped dark chocolate or 1 cup

or more of good quality chocolate chips

Optional: Some peanuts for the top
Instructions 
Preheat oven to 350 degrees F.

Line a large rimmed baking sheet (around 17x12 inches) with nonstick foil.

Put 2 cups of broken pretzels (or minis) onto the rimmed baking sheet, then add 2 cups of Fritos -- you can leave them whole or break them up. Throw in the peanuts.

Unwrap peanut butter cups, but don't throw them in quite yet.

Place butter in a large non-stick saucepan and melt over medium heat. When butter is melted, stir in brown sugar. Bring mixture to a full boil and boil for 1 minute, stirring once or twice.

Working quickly, drizzle hot sugar mixture over Frito mixture, stirring a little to coat the Fritos and Pretzels. Immediately place in the oven and bake for 8 minutes.

After 8 minutes, pull from oven and sprinkle on the unwrapped peanut butter cups. If you want, you can also throw in some Reese's candies or chocolate chips.

Allow the mixture to cool slightly.

Put the chopped chocolate (or chips) in a large microwave-safe bowl and heat on high for 30 seconds. Stir and repeat until chocolate is melted and smooth. Drizzle the melted chocolate over the candy. Allow it to set at room temperature or let it cool somewhat and then transfer to the freezer to quick set it.

When chocolate is set, lift from pan and break the candy up as you would almond toffee. You can eat it cold or let it come back down to room temp.