Frito Candy is something I came up while playing around in the kitchen. It was supposed to be kind of a trashy but delicious snack — a mess of Fritos, pretzels, and peanut butter cups held together in a matrix of brown sugar and butter. I made it with skepticism knowing it would at the least, satisfy a sweet & salty craving. In the end, I liked it enough to take it to a party.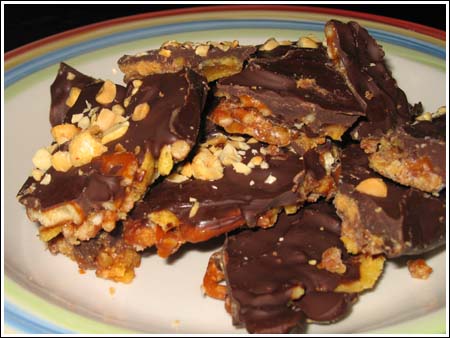 The reaction to this candy/cookie or whatever you call it, was astonishing. My girlfriends ate it up in seconds and over the course of the next few months, kept asking for more. I developed a new appreciation for Fritos (which do not have MSG, I learned) and have come to appreciate them for the wholesome, trans-fat free snack food they are ;). Okay, so that's a stretch, but Fritos are not all that bad for you and in some cases, they can stand in for dessert.
Note: If you are unsure about this recipe, as you should be, go ahead and halve it and do it in an 8 inch pan.
The finished product should look like this.
Sweet, Salty, Frito Candy
Sweet, Salty, Frito Candy made with peanut butter cups.
Ingredients
2 cups pretzels
1 cup Fritos
8 mini peanut butter cups
1 stick unsalted butter (8 tablespoons)
1/2 cup brown sugar
1 1/2 cups semi-sweet chocolate chips (or however many you want)
Optional: Some peanuts for the top
Instructions
Preheat oven to 350 degrees F and line a 13x9 inch pan with parchment paper or no-stick (Release) foil.
Place pretzels in food processor and pulse to break - don't pulverize. Add Fritos to processor and break them up with pretzels. Dump into pan. Unwrap peanut butter cups and throw them in the mix. It should look similar to this, keeping in mind this is a half batch.
Place butter in a non-stick saucepan and melt over medium heat. When butter is melted, stir in brown sugar. Bring mixture to a full boil and boil for 1 minute, stirring once or twice. Pour over Frito mixture and bake for 8 minutes.
Remove pan from oven and sprinkle chocolate chips over hot candy. Return to oven for 1 minute to soften chips. Spread softened chocolate chips over bars.
Cool at room temperature until you feel the pan is cool enough to be transferred to your refrigerator, then transfer to refrigerator to set the chocolate. When chocolate is set, lift from pan and break the candy up as you would almond toffee. You can eat it cold or let it come back down to room temp. It doesn't have to be refrigerated, really.