Nigella's Chocolate Muffins is a recipe that at some point appeared on Food Network's website. The link no longer works, but its probably there if you search for it.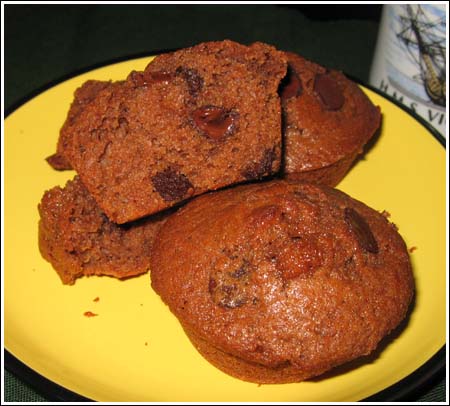 If I recall, some of the reviews weren't great, but I like these muffins. They're handsome and definitely have enough chocolate if you use the full cup of chips she suggests. While the background is not as intensely chocolaty as the King Arthur muffins, that might be more desirable when you're looking for a light breakfast or snack. The KA muffins were decidedly more dessert-like than these. Oh, and these were sweet enough, which is contrary to what a few reviewers on FoodTV said.
The only changes I made to Nigella's muffins were to nix the paper liners, use flour-added Pam cooking spray and add a generous pinch (somewhere between 1/8 and 1/4) teaspoon of fleur de sel. Since one reviewer perceived "lack of dimension" and since there is no salted butter in the recipe, I figured the salt could only enhance….and I think it did.
UPDATE:  This has become one of my favorite chocolate muffin recipes!
Nigella's Chocolate Muffins
1 3/4 cups all-purpose flour (gently spoon and sweep — don't scoop)
2 teaspoons baking powder
1/2 teaspoon baking soda
1/8 to 1/4 teaspoon salt or fleur de sel
2 tablespoons best quality cocoa powder
3/4 cup superfine sugar (comes in a canister)
3/4 cup semisweet chocolate chips, plus 1/4 cup for sprinkling
1 cup milk, room temperature
1/3 cup plus 2 teaspoons vegetable oil
1 egg
1 teaspoon pure vanilla extract
Preheat the oven to 400 degrees F. Spray 12 muffin cups with flour-added Pam.
Combine the flour, baking powder, baking soda, salt, cocoa powder, sugar, and 3/4 cup of the chocolate chips into a large bowl. Pour all the liquid ingredients into a measuring cup. Mix the dry and wet ingredients together, remembering that a lumpy batter makes the best muffins. Spoon into sprayed muffin tins. Sprinkle the remaining chocolate chips on top and then bake for 20 minutes.