Applesauce Granola is my version of Nigella Lawson's recipe, Andy's Fairfield Granola. I found Nigella's recipe while trying to find a granola similar to the granola at Whole Foods.  As usual, I didn't have all the nuts and seeds (especially sesame seeds) needed for Andy's Fairfield, so I made some adjustments and scaled down the recipe quite a bit.  I can't exactly call it Andy's Fairfield Granola anymore with all the changes, so Applesauce Granola it is!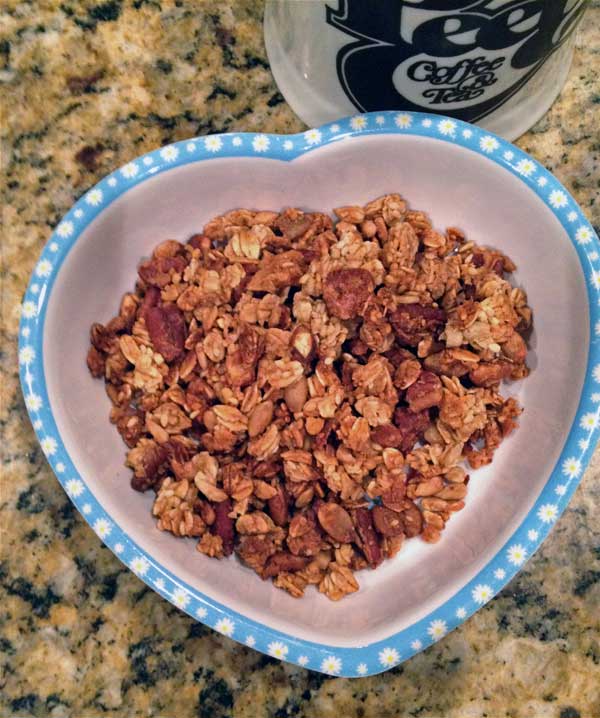 Applesauce Granola is Spicy!
This granola has less oil than some so it's a tiny bit crunchier. The big difference, at least in my opinion, is the amount of spice.  I typically don't love cinnamon and ginger in granola, but my husband does. And every so often I do like a granola with more spice than my usual Extra Chunky Granola and Clumpy Granola recipes.  It's one of those "have to be in the mood for it" type recipes.
Other Granola Recipes
Since you are here looking at granola recipes, I should mention that the Carrot Cake Granola is also super good as is the Chocolate Granola.
Recipe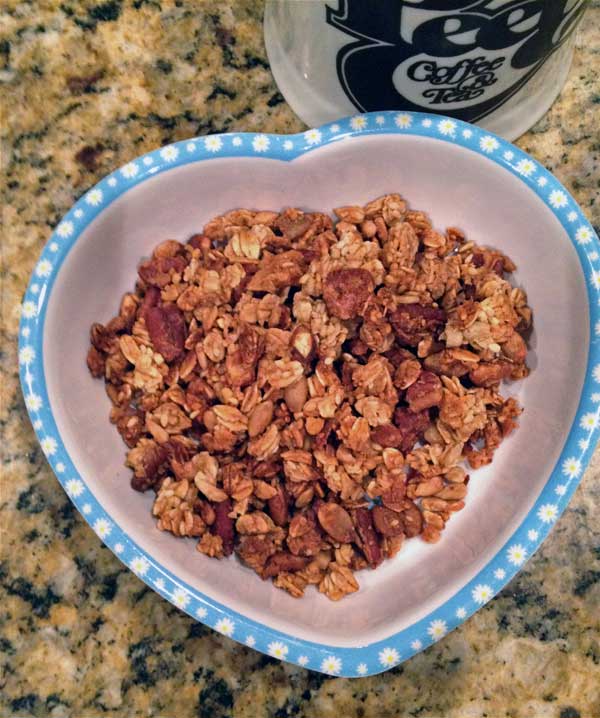 Applesauce & Agave Granola
A low oil granola recipe made with applesauce and spices.
Ingredients 
6

tablespoons

applesauce

unsweetened

6

tablespoons

brown sugar

1

tablespoon

coconut oil

2

tablespoons

plus 2 teaspoons agave syrup or corn syrup or rice syrup

2

tablespoons

honey

1

teaspoon

cinnamon

½

teaspoon

ginger

2 ¼

cups

old fashioned oats

1

cup

nuts

almonds, pecans or anything you like

⅓

cup

sunflower seeds

2

tablespoons

sesame seeds

¼

teaspoon

salt

plus more if needed
Instructions 
Preheat oven to 300 degrees F. Line a large rimmed baking sheet with nonstick foil or parchment paper.

In a large bowl, mix together applesauce, brown sugar, coconut oil, syrup, honey, cinnamon and ginger.

Add the oats, nuts, sunflower seeds and sesame seeds.

Sprinkle the salt over the mixture, then toss everything together until oats and nuts are thoroughly coated.

Spread the mixture on the prepared baking sheet and bake for about 40 minutes, stirring every 10-15 minutes, until the granola is a golden brown (be careful because it starts to brown quickly during the last 10 minutes). Remove from oven and let cool completely. It should crisp as it cools.
Notes
I've cut the salt down a bit, so feel free to add more.  
.