Ah, Saturday morning. So how some Sour Cream Muffins? If you like sour cream in your baked goods, this recipe is for you.  It's based on a muffin recipe from the legendary Helen Corbitt, who suggests adding blueberries, chocolate chips or nuts.  At my daughter's request, I served the muffins plain with a simple topping of cinnamon sugar.  Even without the add-ins, the muffins were very satisfying.  They have high tops, a rich sour cream and vanilla flavor, and are of course very moist. The original recipe makes 24, but it's easy to halve or quarter.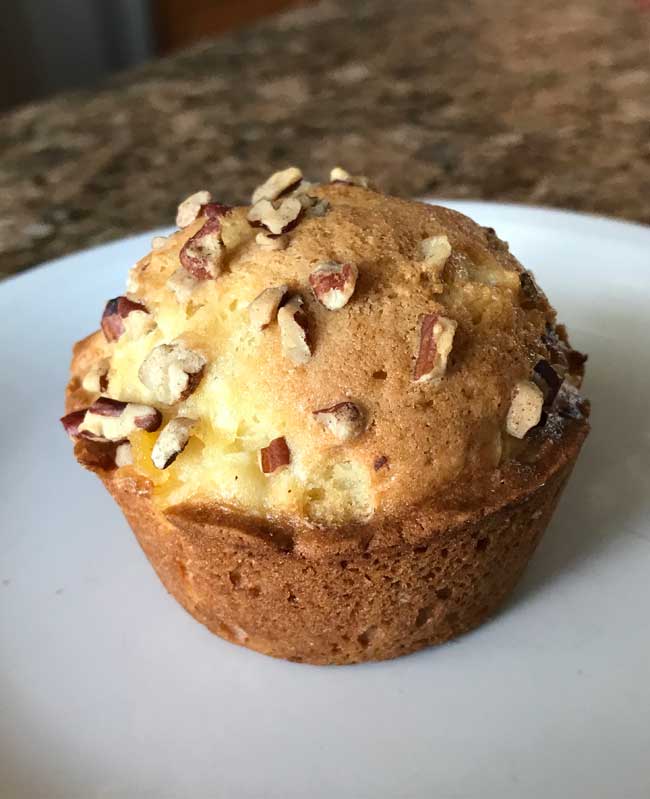 Sour Cream Muffins Baking Notes
Note: I baked mine at 450 and got high tops, but the edges were very brown. 400 might be a better temp — especially if you think your oven runs a little hot.  Update:  Now I put them in at 450  and immediately drop the heat to 350.  That works even better!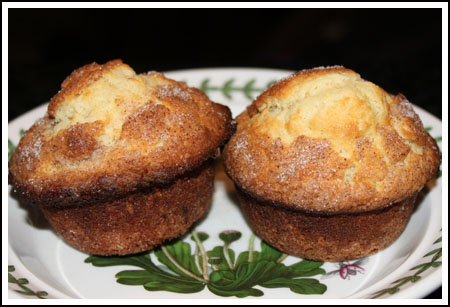 Small Batch Version
The recipe in the card makes 24 (small-ish) muffins. I usually quarter the batch and use a six cup muffin pan to make a half dozen muffins or four large muffins. Here are the measurements for the small batch version.
2 tablespoon unsalted butter, softened (28 grams)
1/4 cup plus 2 tablespoons granulated sugar (75 grams)
1/4 teaspoon vanilla
1 large egg
1/8 teaspoon salt
1/4 teaspoon baking soda
3 tablespoons sour cream, regular — not light (42 grams)
2/3 cup all purpose flour (86-90 grams)
Recipe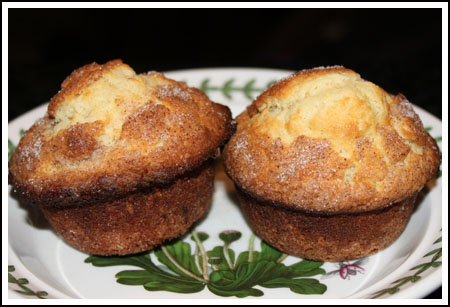 High Rising Sour Cream Muffins
An old muffin recipe from Helen Corbitt. I've changed it a bit over the years to work with different ovens. Rather than bake the muffins at a high heat, I start them at 450, then bake at 350 until done.
Ingredients 
4

oz

unsalted butter, softened

1 1/2

cups

granulated sugar

1

teaspoon

vanilla

4

large

eggs

1/2

teaspoon

salt

1

teaspoon

baking soda

3/4

cup

sour cream

2 3/4

cups

all purpose flour

12.5 oz
Instructions 
Preheat the oven to 450 degrees F. If you're using a dark (darker than silver) muffin pan, use 400 degrees F. Grease 24 muffin cups or line with paper liners.

Beat butter and sugar with an electric mixer until light and creamy. Beat in vanilla, eggs, salt and baking soda. Fold in the sour cream, then fold in the flour and any add-ins you choose (see below).

Divide batter evenly among the muffin cups.

Put the muffins in the hot 450 degree oven, close the door and set the timer for 25 minutes.

Immediately reduce heat to 350 and allow the muffins to bake for 25 minutes or until they appear to be done.
Notes
For add-ins, you can use 1 cup of drained and dried pineapple, 1 cup (or more) of fresh blueberries, chopped nuts or miniature chocolate chips. However, the muffins are very light textured and might be more suitable for just spreading with butter or jam.