I've been working with this recipe over the years and have updated it a bit.  The old version of Lemon Muffins with Pudding Mix called for cake flour, but this new version uses all-purpose flour, which makes the cupcakes a little bit sturdier.  I also used granulated sugar instead of brown and added some Boyajian lemon oil for extra lemon flavor.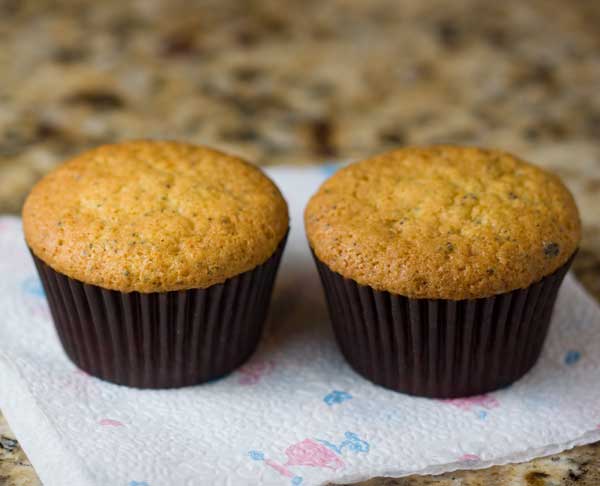 The photo above is of the new muffins.  Unfortunately, the new version didn't dome as much as the old recipe, but overall I like the texture of the new version better. Update: They dome more in greased metal pans without liners.
Lemon Muffins with Pudding Mix
Here's a photo of the old cake version. Those were delicious, but a little more delicate in structure.  I kept the old version in the notes in case you have cake flour and want to try a lighter muffin. If you do use cake flour rather than AP, use the equivalent weight.
Can You Use Cook and Serve Pudding Mix?
Yes, you can use Cook and Serve instead of Instant. I accidentally bought Cook and Serve. The Cook and Serve box holds 2.9 oz (82 grams) of mix and makes 6 half cup servings, which is different from the Instant, which is a 3.4 oz box. For the lemon muffins, you only need the 2.9 oz mix rather than the 3.4 oz (96 grams). Also, the batter will be a lot stiffer. I made a half batch using the Cook and Serve (42 grams) and added about a tablespoon of water to thin the batter. I also used buttery olive oil in place of butter. The muffins looked like this.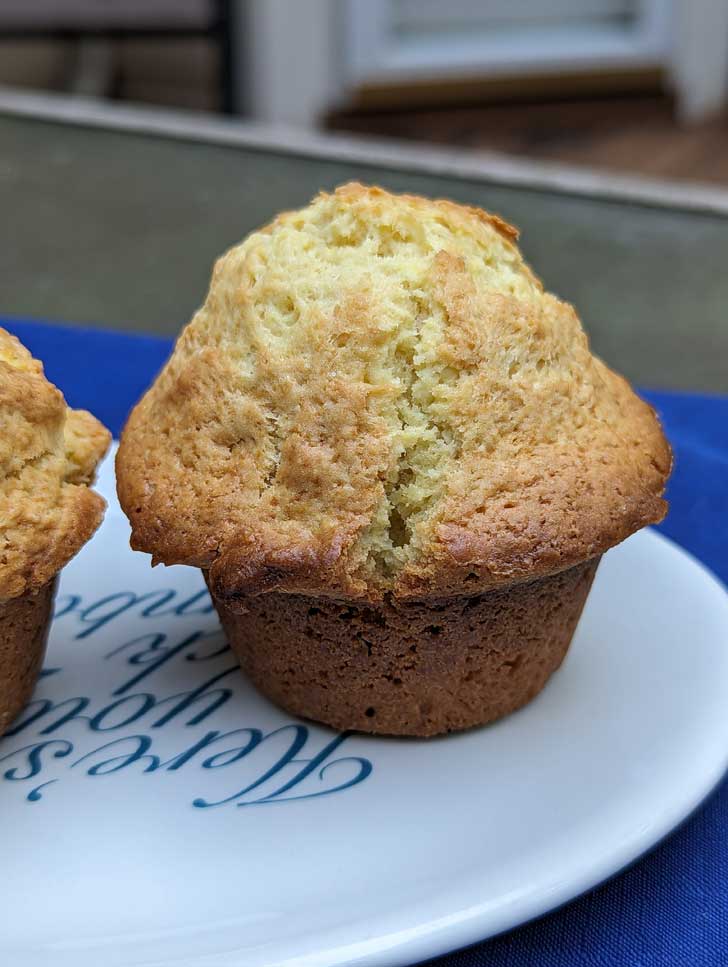 Half Batch Toaster Oven Version
Our daughter grew up and moved away so I do a lot of baking in a toaster oven and use a little 6-Muffin pan. Here are the measurements if you are like me and only need 6
Weigh 48 grams (half a package) instant lemon pudding mix on scale (or 41 Cook and Serve) If using Cook and Serve, add 1 T. water to batter
¾ cup plus 2 tablespoons all-purpose flour about 4 oz total (114 grams)
½ cup granulated sugar (100 grams)
½ teaspoon baking powder
½ teaspoon baking soda
⅜ teaspoon salt
1 tablespoons poppy seeds more if desired (or leave them out)
1 tablespoon grated lemon zest or a teaspoon of good quality lemon oil (I didn't fully cut that in half. We like lots of lemon.)
1 large egg
½ cup whole milk
4 tablespoons butter, melted (olive oil works too)
Preheat oven to 375 degrees F. Grease your muffin tins using your favorite method or line with paper liners. Put a bowl on the scale and set tare to zero. Add 48 grams pudding mix,114 grams of flour, 100 grams of sugar and ½ teaspoon each of baking powder and baking soda. Add the salt, poppyseeds (if using) and lemon zest too. Mix well. In another bowl whisk together egg and milk. Combine egg mixture with flour mixture and stir until blended, then pour in the melted butter. Put batter in muffin tin and bake at 375 degrees for about 22 minutes.
Recipe
Lemon Muffins with Pudding Mix
A recipe for lemon muffins with a secret ingredient -- instant pudding mix.
Ingredients 
1

3.4 oz box

instant lemon pudding mix

1 ¾

cup

all-purpose flour

about 8 oz total (228 grams)

1

cup

granulated sugar

1

teaspoon

baking powder

1

teaspoon

baking soda

¾

teaspoon

salt

2

tablespoons

poppy seeds

more if desired

1-2

tablespoon

grated lemon zest

or a teaspoon of good quality lemon oil.

2

large

eggs

1

cup

whole milk

8

tablespoons

butter, melted (or use half butter and half olive oil)

***
Instructions 
Preheat oven to 375 degrees F. Line 12 muffin cups with paper liners.

In a large bowl, whisk together pudding mix, flour, sugar, baking powder, baking soda and salt. Stir in poppy seeds.

In a medium bowl, whisk together eggs, milk, and lemon zest or oil. Add this mixture to the dry ingredients and then pour in the melted butter. Using a wooden spoon, stir batter just until combined.

Evenly divide batter between 12 muffin cups.

Bake for 22 minutes or until a toothpick placed in the center comes out clean or with a few moist crumbs attached. Remove and place pan on a wire rack for 5 minutes. Remove the muffins from the pan and let cool.
Notes
For cake flour muffins, use an equal weight of cake flour in place of all-purpose, use ¼ cup of brown sugar instead of granulated sugar, add 1 tablespoon of fresh lemon juice along with the lemon oil (or zest) and bake at 425 degrees F. for about 17 minutes. Also, I originally made only 10 muffins and filled the muffin cups almost to the top. You can do that, or you can go ahead and make 12 by putting slightly less batter in the cups.
I have not tested a full batch using oil instead of butter, but I have tested a half batch and that works. For the full batch, you might want to start with half oil and half butter rather than substituting with the full ½ cup of oil. It might work, I just haven't tested it.