This pudding was inspired by Yigit, who made a Milk Chocolate Ginger Pudding on Top Chef Just Desserts. I liked the fact that he made his pudding with milk chocolate as opposed to plain cocoa or regular chocolate, and started thinking about the Jell-O brand pudding I used to eat as a kid. Even back then I could taste the difference in their Milk Chocolate flavor as opposed their regular Chocolate and Chocolate Fudge flavors. Maybe since pudding is by nature a dairy-rich dessert, milk chocolate is just a natural complement? I don't know, but after Top Chef I was ready to make some milk chocolate pudding.
My go-to pudding recipe is a cook over the stove recipe using Penzey's cocoa, but for this recipe I wanted milk chocolate and looked to the Internet. Ezra Pound Cake had one from the CIA that sounded great, but I opted to go for a New York Times recipe. They mixed theirs with bananas and cookies, but I served mine in wine glasses with whipped cream. Todd loved it so much he posted a photo of it on Twitter, and I liked it because it was yet another way to showcase good milk chocolate.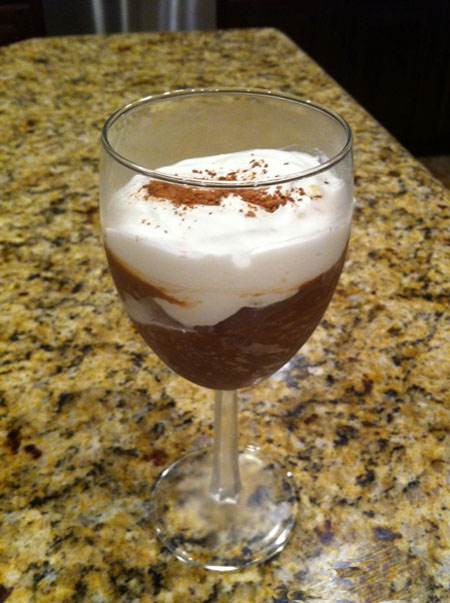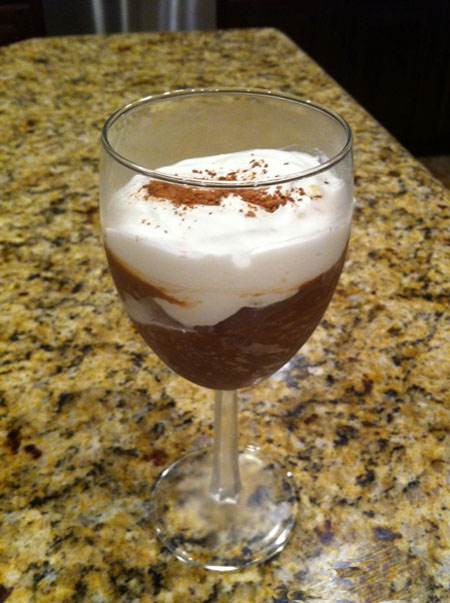 Milk Chocolate Pudding
Milk Chocolate Pudding
Ingredients 
5

ounces

milk chocolate

I used Ghirardelli Luxe

3

tablespoons

sugar

2

tablespoons

unsweetened cocoa powder

2

tablespoons

cornstarch

Pinch

salt

2

large egg yolks

1 1/2

cups

whole milk

divided use

1/2

cup

heavy cream

1

teaspoon

vanilla extract
Instructions 
Place chocolate in a bowl a small mixing bowl.

In a second mixing bowl, whisk together the sugar, cocoa, cornstarch and salt; whisk in egg yolks and 1/2 cup milk until smooth.

In a large saucepan over high heat, bring remaining 1 cup milk and 1/2 cup cream to a simmer. Pour hot milk mixture into bowl with chocolate and whisk until smooth.

Whisking constantly, slowly pour hot chocolate mixture into egg mixture until completely incorporated and cocoa is dissolved.

Return custard to saucepan. Cook, stirring constantly, over medium heat, until thickened, about 10 minutes (Mine was thick in five, at which point I reduced the heat to low and cooked it another minute or two). Do not let mixture reach a simmer. If custard begins to steam heavily, stir it, off the heat, a moment before returning it to stove top. Strain through a fine-mesh sieve. Stir in vanilla.

Lay a piece of waxed paper or parchment over the pudding and let it cool for about 30 minutes at room temperature. Transfer to refrigerator to chill.

When pudding is chilled, whip the cream until peaks form. Beat in sugar and vanilla. Layer pudding in glasses with the whipped cream.