Tres Leches Cake is not a dessert I grew up with. In fact I'd never even heard of it until three years ago when it suddenly seemed to be everywhere, including the freezer case at the grocery store and the local vegan restaurant. Yes, vegan tres leches cake. This was the trigger. If vegans were taking the time to make milk-free versions of "three milks cake" then it must be a pretty good cake.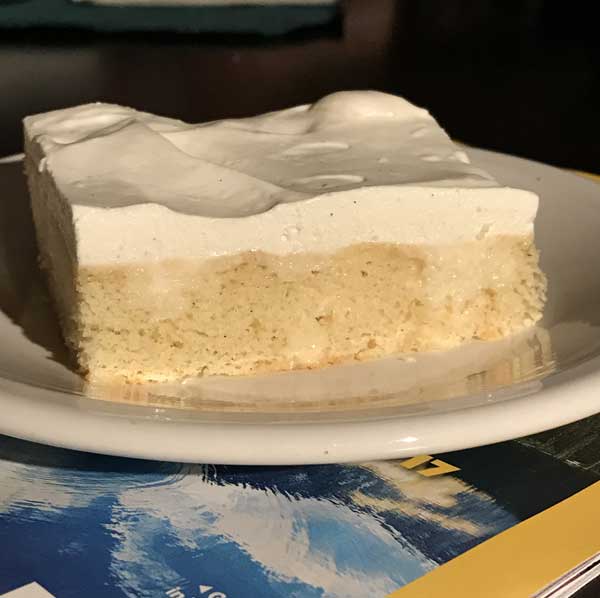 Cake Mix Version
My first Tres Leches was from Food.com (formerly Recipezaar). That was and still is a solid recipe if you want to make a cake mix version. I still make that one sometimes, though I like to halve it and make it as a 9 inch pan springform Tres Leches.
Houston Chronicle Tres Leches
I also make a scratch version adapted from one in The Houston Chronicle. This one can be made in a 9x13 inch cake pan or glass dish. To make it a little thicker, you can bake it in a 9x12 inch dish. It's a hard cake to mess up, really.
Gluten-Free Version
Gluten-free flour does not work well in this cake -- or at least not for me. I tested with Thomas Keller's Cup4Cup and the cake came out mealy. I'm sure there are ways to make gluten-free Tres Leches, but for this recipe all-purpose flour works best.
Recipe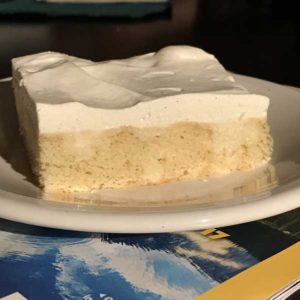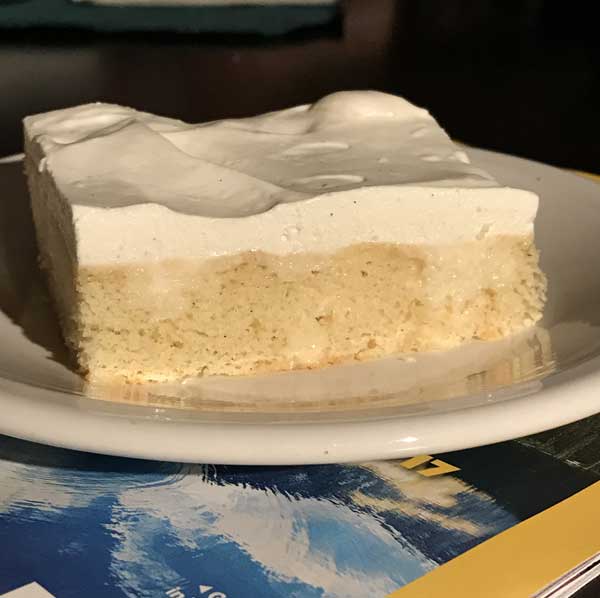 Tres Leches Cake
Three-Milk Cake (Pastel de Tres Leches)
Ingredients 
Cake:
1 ½

cups

all-purpose flour

(200 grams)

2

teaspoons

baking powder

4

eggs

separated

1 ½

cup

granulated sugar

(300 grams)

1

teaspoon

vanilla extract

½

cup

milk
Three-Milk Topping:
1

cup

evaporated milk

14

ounce

sweetened condensed milk

¾

cup

milk

1

cup

sour cream

room temp or slightly warm
Whipped Cream Topping:
1

cup

cream

¼

cup

powdered sugar

1

teaspoon

vanilla
Instructions 
Preheat oven to 350 degrees. If using a glass pan, use 325 degrees F.  Grease a 9x13 inch pan.  For a thicker cake, you can use a 9x12 inch pan.

Sift flour with baking powder and set aside. In a large bowl with clean beaters, beat egg whites until foamy. Gradually add sugar and continue beating until thick and white. Beat in yolks, one at a time.

With a heavy duty scraper, fold in flour mixture and milk; mix well but don't beat. Pour batter into prepared pan and bake until edges are golden brown, about 30 to 35 minutes. Remove from oven; let cool on a rack.

Prepare Milk Topping by combining all 4 ingredients (I guess this sort of makes it Four Milks Cake!). Using a skewer, poke holes all over the cake. Gradually pour milk mixture over cake and let sit until all mixture is absorbed, 20 to 30 minutes. After it has sat for 30 or so minutes at room temperature, go ahead and refrigerate it.

Prepare Whipped Cream Topping Chill cream, bowl and beaters thoroughly. Beat cream with electric mixer until it begins to thicken. Gradually add sugar and vanilla and beat until stiff peaks form. Cover cake with whipped cream with a spatula or knife. Chill until ready to eat (tastes best the next day).

Topping, cut cake into squares and serve, or spread Whipped Cream Topping over squares of cake.

Cut cake and serve. Or cut the cake in squares and top with whipped cream when it is served.

About 12 servings
Notes
Notes:
I don't think I've ever mentioned this, but my favorite tool for mixing is a heavy duty scraper. The one I liked best is from Pampered Chef. I don't sell Pampered Chef, but I get invited to lots of PC parties and this is one of the things I purchased and now recommend. The big, strong, spatula really shines in recipes like this where you are folding whipped egg whites into batter. It has a larger surface area and won't cut into as many of the air bubbles.
This is what the cake looks like before being soaked. It's very dry and doesn't have any added fat.
And here's the cake soaking up some of the liquid. I used cold sour cream and it formed unattractive lumps. To remedy the situation, I warmed the soaking liquid a bit and stirred it up until smooth. The hot cake eventually melted the lumps you see here, but in the future I will use warm sour cream.