Banana Sour Cream Cake
I'm turning off comments for this post. In fact, I wasn't sure if I would post at all, but I've mentioned my grandmother quite often so it seems fitting that I should let you all know that she died. She'd been sick for a while and her death did not come unexpectedly, but it's still hard to believe we won't see her again. She and my grandfather were a huge influence in my life and supported me in everything I did including my education. They were especially enthusiastic towards my love of cooking, and until she died, my grandmother kept track of all my cooking contest adventures and recipes. She was having trouble eating, but she still liked hearing about the recipes in detail.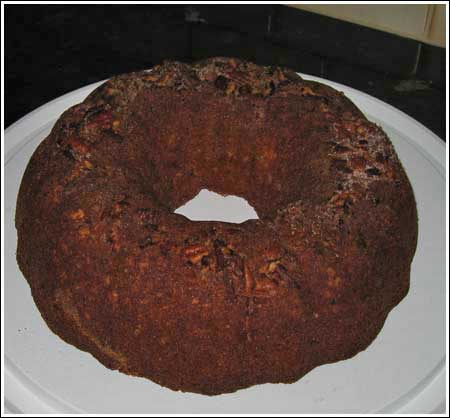 My mother and aunt have been planning the funeral. This morning, my mother called and asked if I'd provide cookies for the reception. I told her I was making oatmeal chocolate chip cookies with tahini today and would be glad to bring them. "It would be nice if you brought an old favorite, something classic." She said. So I thought about it and decided to make something I know my grandmother would have loved.
This Sour Cream Banana Cake is from a 1980 Southern Living and I've been baking it since I was 10 years old. I'd bake the cake at home then take it to my grandparents'house where they'd make a big deal about how a 10 year old could bake. I'm pretty sure all the positive reinforcement they gave me for my hobby played a big part in my current love of cooking.
Recipe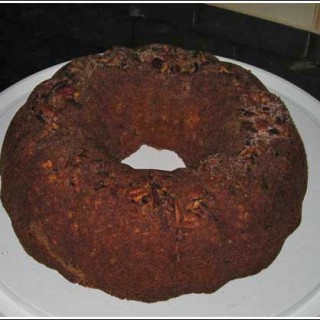 Banana Cake Sour Cream Cake
Banana Sour Cream Coffee Cake is a cake disguised as banana bread. Shortening is key to the texture, but you can substitute butter if you need to.
Ingredients 
1/2

cup

pecans; chopped and toasted

1/4

cup

granulated sugar

(50 grams)

1/2

teaspoon

cinnamon

1/2

cup

shortening (I use butter flavored Crisco or Nutiva)

(100 grams)

1

cup

sugar

(200 grams)

2

large

eggs

1

cup

mashed bananas

about 2 large, weigh out 240 grams)

1

teaspoon

vanilla extract

1/2

cup

sour cream

2

cups

all-purpose flour, weight it out or measure lightly

250 grams — light handed 2 cups

1

teaspoon

baking powder

1

teaspoon

baking soda

1/4

teaspoon

salt
Instructions 
Preheat oven to 350 degrees F. Spray a 12 cup (10 inch) Bundt pan with flour-added cooking spray or grease well. You can also use two 8×4 inch loaf pans.

Combine pecans, 1/4 c sugar, and cinnamon; stir well, and set aside.

Combine shortening and 1 cup sugar; cream until light and fluffy. Beat in eggs, bananas, and vanilla; stir in sour cream. Combine remaining dry ingredients; add to creamed mixture, and stir just enough to blend.

Sprinkle half of reserved cinnamon mixture into bottom of prepared pan; spoon half of batter into pan. Sprinkle remaining cinnamon mixture over batter; spoon remaining batter into pan. Bakeat 350 degrees for 40 to 45 minutes or until cake tests done. Cool cake 5 minutes in pan on a wire rack. Loosen edges of cake, if necessary. Invert cake on serving plate; serve warm or cold.

Makes 1 10 inch cake