Sour Cream Banana Bread isn't a very Valentine's Dayish recipe, but if you happen to have some over-ripe bananas, I think you'll appreciate it.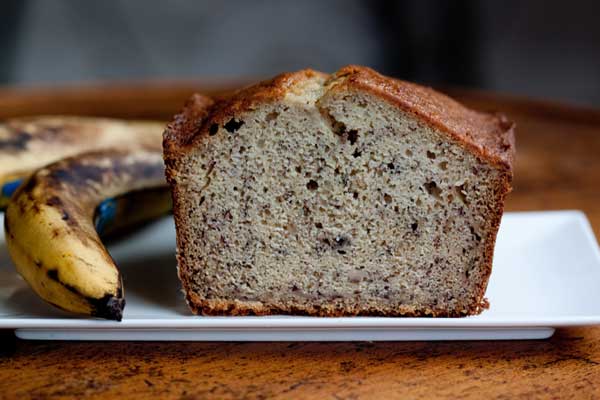 It's a banana bread recipe with sour cream for tenderness and bread flour for structure.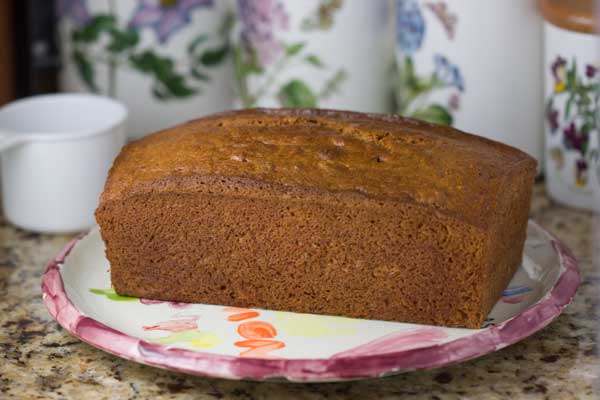 Of course you can always stick with all-purpose flour, but I recently discovered that bread flour makes the banana bread less crumbly and gives you neater slices. So if you are looking for a way to use ripe bananas and happen to have some bread flour, why not experiment and see if you can detect the difference in texture?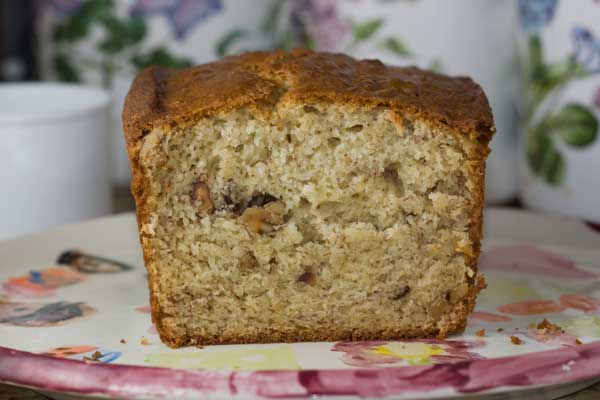 Update: My tastes have changed over the years and I have updated the recipe to my new favorite Sour Cream Banana Bread. The new version is similar to one from Martha Stewart, and in my opinion it's a little better than the old version.  The new version is the one in the first picture and the last picture.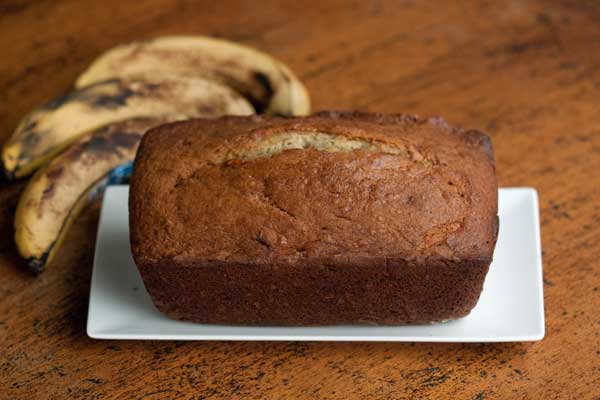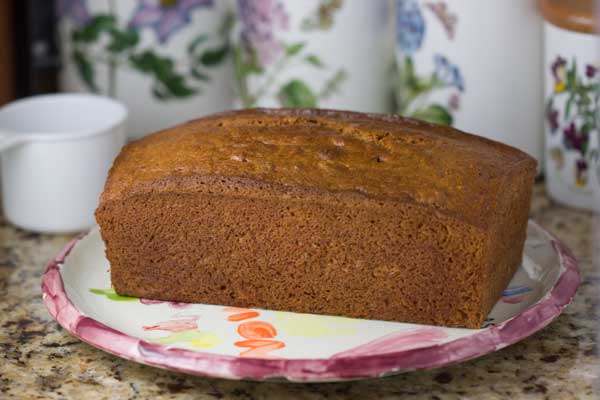 Sour Cream Banana Bread
A basic banana bread recipe that calls for sour cream. You can use bread flour or you may use all-purpose.
Ingredients 
1

stick

4 ounces unsalted butter, softened

1

cup

granulated sugar

or use 1/2 cup brown and 1/2 cup white

2

large eggs

room temperature

1

teaspoon

vanilla extract

1 1/2

cups

7 1/2 oz bread flour or all-purpose (weigh if possible)

1

teaspoon

baking soda

3/4

teaspoon

salt

reduce to half if using salted butter

1

cup

mashed ripe bananas

about 3 (sometimes 4 or up to 11 oz weight)

1/2

cup

sour cream

1/2

cup

toasted and chopped walnuts

optional
Instructions 
Preheat the oven to 350 degrees F. Grease and flour a 9x5 inch loaf pan.

In a large mixing bowl, beat the butter and sugar until creamy.

With mixer on low speed, beat in the eggs one at a time. Increase speed to high and beat for 30 seconds. Beat in vanilla.

In a second bowl, thoroughly whisk together the flour, baking soda and salt. Add to the batter and stir by hand until mixed. Stir in the bananas, then stir in the sour cream and nuts.

Pour into the pan (make sure to leave at least an inch for it to rise, so not quite full) and bake for 55 minutes to an hour or until a meat thermometer inserted in the center registers between 205 and 210.
Notes
My loaves sometimes come out a bit lighter in appearance, and it seems to depend on what type of flour I use (bleach vs. unbleached) and how many bananas I use. If I go a little short on bananas it's whiter and more bananas makes it darker. Unbleached flour also makes it a little darker.
You can also halve the recipe and make a rather petite but nice 8x4 inch loaf. If you do this, check the bread at 40 minutes. A Bundt pan may also be used, but make sure to grease and flour it very well. And finally, this bread is also good with melted butter. If you use melted butter you can skip the electric mixer and just beat everything together with a spoon.