Back in 2005, I made Vienna Squares, which are bar cookies composed of shortbread, raspberry preserves and meringue. After I posted Vienna Squares, I received some emails asking if I'd ever tried the chocolate chip version. I hadn't at the time, but eventually I did.
Yesterday, a Cookie Madness reader emailed me another recipe for a meringue topped bar cookie – a nut-free version with slightly different proportions. This version was much better than the last. Or maybe I was just hungrier. It's hard to say, but I prefer this recipe.
What I also liked was the concise format showing the Name, Course, Category etc. — Difficulty is "1" , Rating is "5" and cook time is only 25 minutes. I liked that format so much that I inserted my own note so when you pass this recipe down to your children, they'll know they can bake it in an 8 inch pan.
Note:  I baked a half batch in an 8 inch pan.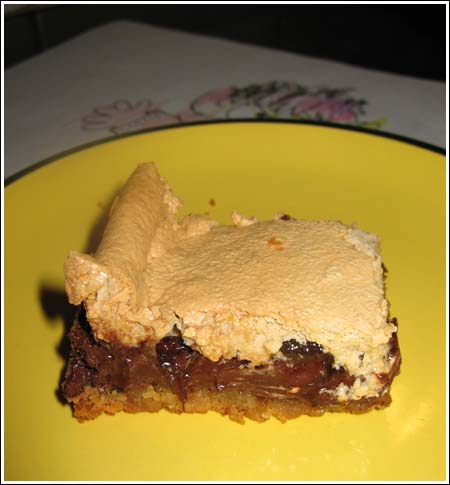 Name: Donnie Cookies
Course: Dessert
Category: American
Rating: 5
Difficulty: 1
Cook Time: 25 minutes
Yield: 1 batch
Description: Pritzker Family Favorite
Base:
1 cup butter
1/2 cup sugar
1/2 cup packed brown sugar
2 egg yolks
1 teaspoon vanilla extract
2 cups all-purpose flour
1 teaspoon baking soda
1/2 teaspoon salt
9 ounces chocolate chips
Topping:
3 egg whites
1 cup packed brown sugar
1/2 tsps vanilla
In a mixing bowl, cream butter and both sugars. Beat in the egg yolks
and vanilla; mix well.
Combine the next three ingredients (flour, soda, salt); gradually add to creamed mixture. Spread into a greased 13×9 inch metal baking pan. Sprinkle with chips and pat lightly.
Prepare topping: Beat egg whites in a mixing bowl on medium speed until
soft peaks form. Gradually add brown sugar 2 tablespoons at a time,
beating on high until stiff peaks form. Beat in vanilla. Spread
evenly over chips. Bake at 350 degrees F for 25-30 minutes or until
golden brown. Cool on a wire rack. Cut into bars. Store in the refrigerator.
Cookie Madness Tip: Egg whites whip up faster in a metal bowl.