These cookies usually go by the name Halfway Bars, but this version is called Donnie Cookies and were named for Donald Pritzker. I believe the recipe is from someone in their family, but I'm really not sure. What I do know is that the cookies are very tasty!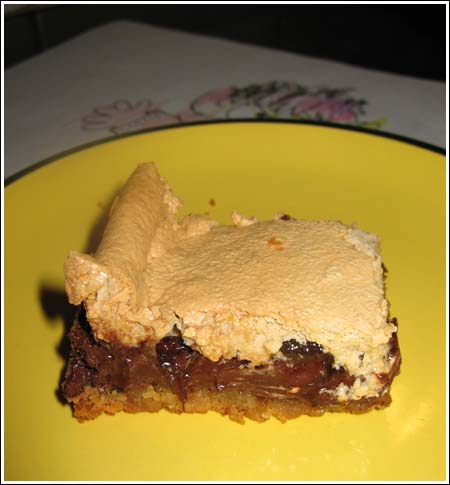 As you can see from the picture (which needs an update), they are bar cookies. They have a cookie base, a layer of chocolate chips and flaky meringue topping. The raspberry version is called Vienna Bars (and was said to be Ronald Reagan's favorite cookie) and the peanut butter version is called Mud Hen Bars.
Donnie Cookies or Halfway Cookies
Base:
1 cup butter
½ cup sugar
½ cup packed brown sugar
2 egg yolks
1 teaspoon vanilla extract
2 cups all-purpose flour
1 teaspoon baking soda
½ teaspoon salt
9 ounces chocolate chips
Topping:
3 egg whites
1 cup packed brown sugar
½ tsps vanilla
In a mixing bowl, cream butter and both sugars. Beat in the egg yolks
and vanilla; mix well.
Combine the next three ingredients (flour, soda, salt); gradually add to creamed mixture. Spread into a greased 13x9 inch metal baking pan. Sprinkle with chips and pat lightly.
Prepare topping: Beat egg whites in a mixing bowl on medium speed until
soft peaks form. Gradually add brown sugar 2 tablespoons at a time,
beating on high until stiff peaks form. Beat in vanilla. Spread
evenly over chips. Bake at 350 degrees F for 25-30 minutes or until
golden brown. Cool on a wire rack. Cut into bars. Store in the refrigerator.
Cookie Madness Tip: Egg whites whip up faster in a metal bowl.