So I've learned a few things this week -- mostly about bar cookies with meringue and brown sugar on top.First I re-discovered an old recipe called Halfway Cookies where you spread dough across a pan, press in some chocolate chips, then spread the top with a mixture of egg white and brown sugar. During Halfway Cookie research, I got sidetracked by its cousin-cookie, the Mud Hen Bar. I'd intended to make Betty' recipe "Aunt Eva's Mud Hen Bars", but instead went off on my own and created Peanut Butter Mud Hen Bars.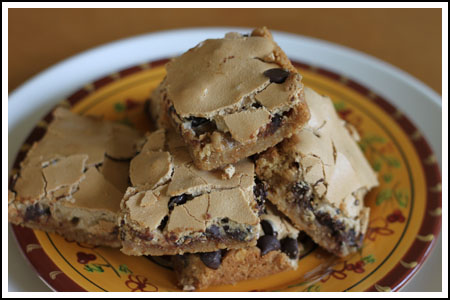 Peanut Butter Mud Hens
If you're a peanut butter fan or bake for someone who is, you'll like these. In fact, you might even want to throw a few peanut butter chips in with the chocolate chips for more peanut flavor. These are a little richer than regular Halfway Bars and have a bit of airiness from the marshmallows which melt and leave air pockets underneath the meringue. Overall, I think the peanut butter was a fun add-in but I'd be happy with regular Mud Hens too.
Recipe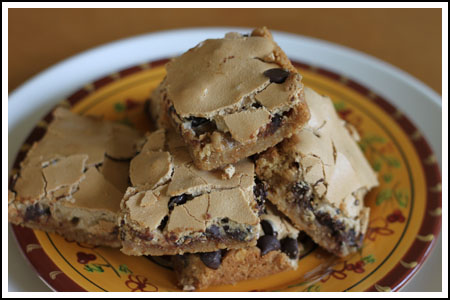 Peanut Butter Mud Hen Bars
Peanut butter flavored bar cookies with a layer of meringue across the top
Ingredients 
¼

cup

butter

softened

¼

cup

creamy peanut butter

¼

cup

granulated sugar

3

tablespoons

plus ½ cup brown sugar

divided use

¼

teaspoon

vanilla extract

1

large egg

separated

½

cup

all-purpose flour

2.25 oz (spoon and sweep)

¼

cup

chopped peanuts

½

cup

semi-sweet chocolate chips

½

cup

mini marshmallows
Instructions 
Preheat oven to 350 degrees F. Line an 8 inch square pan with foil and spray with baking spray or grease well and dust with flour.

Mix together the butter, peanut butter, granulated sugar, 3 tablespoons of the brown sugar, vanilla and egg yolk. Add flour and stir just until mixed. Stir in the peanuts. Spread batter across bottom of prepared pan using wet fingers.

Sprinkle the chocolate chips and marshmallows evenly over the batter and press lightly.

Beat the egg white until stiff and beat in the brown sugar. Spread egg white mixture over marshmallow mixture (I stopped about ¼ inch from the edges of pan leaving edges uncovered) and bake at 350 for 25 minutes or until meringue is brown.

Cool in pan set on a wire rack for a few hours. Lift foil from pan and cut into squares. At this point, I recommend chilling the bars/squares for a while. They're easier to cut when cold, and should you decided to cut them into even smaller squares, it will be easier.

Makes 16 squares (of which some will be crusty edges).