I am not sure of this recipe's origin, but many thanks to whomever invented it. Blackberry Oatmeal Pie is the perfect pie for blackberry season.
This easy dessert seems to be a cross between oatmeal pie (which I believe, is Amish) and cobbler. The filling has just the right amount of sweetness. I served this about 2 hours after it had cooled and it held together fairly well. It will probably hold together even better after it's been chilled.
This is the perfect accompaniment to vanilla bean ice cream.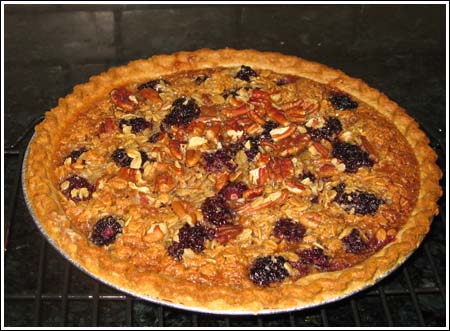 Easy Blackberry Oatmeal Pie
1 9 inch pie crust (I used Mrs. Smith's because I was in a hurry)
12 oz fresh blackberries
⅔ cup light brown sugar, divided use
3 tablespoons unsalted butter, softened
¼ teaspoon vanilla
½ cup plus 1 tablespoon light corn syrup
½ teaspoon cinnamon
2 large eggs
⅔ cup oats, old fashioned or quick cooking, not instant
⅓ cup chopped pecans
Preheat oven to 350 degrees F.
Toss blackberries with half of the brown sugar, then spread sweetened berries across pie crust.
In a bowl, beat together remaining ⅓ cup brown sugar and butter until creamy. Stir in vanilla, corn syrup, cinnamon, eggs (one by one) and oatmeal. Pour over berries. Sprinkle pecans over top center.
Place pie on a cookie sheet and bake for 50 minutes. Serve warm or let cool.
The point of this (ha ha) is that this pie slices very well after being chilled. I cut the first piece last night and while it held together well enough to be served, it was beyond unattractive. Now it looks pretty good.