Ricotta Cheese Chocolate Muffins is a recipe shared by Liz, who wanted to help get us break a boring breakfast routine. Actually, it was a Pop Tart eating routine so it really needed to be broken! I'm still a Pop Tart fan and will be for life, but double chocolate muffins like these have a little more to offer.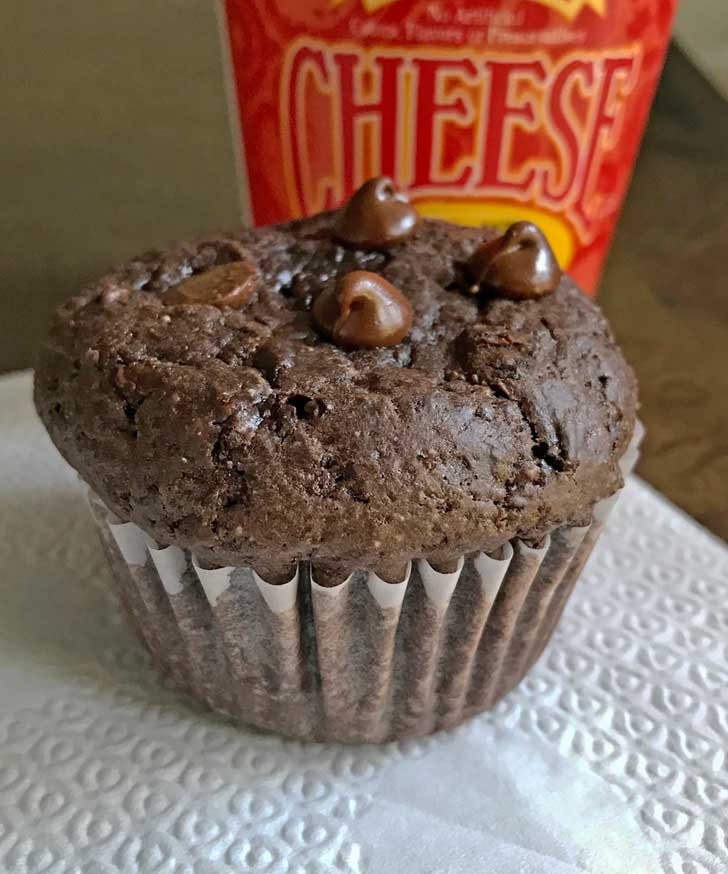 The recipe is from Mollie Katzen's page. You can see the full version on the link. I rarely need 12 muffins, so I always halve it as written below.
Ricotta Cheese Chocolate Muffins and Milk
What's great about Ricotta Cheese Chocolate Muffins (aside from the fact they are chocolate) is they have some extra protein from the ricotta and the milk. You can use any kind of ricotta, but whole milk ricotta makes taller, rounder muffins. This is also true for the milk. Reduced fat milk will work, but muffins made with whole milk will have a richer texture.
Sugar in Ricotta Muffins
The recipe calls for a half cup of sugar, but you can reduce it by half if you need to. The muffins will still get plenty of sweetness from the chopped chocolate or chocolate chips. One of these days I will test the muffins with a allulose. I'll update when I do.
Two Kinds of Chocolate
The types of cocoa and chocolate will make a difference as well. The muffins in the photo directly above were made with natural style cocoa, while the muffin in the top photo was made with Double Dutch Dark. I like both kinds of cocoa, but in these muffins the Dutch was the winner. For the chocolate, chips or chopped dark chocolate are both great choices. The chopped dark chocolate feels a little richer.
Recipe
Molly Katzen's Ricotta Chocolate Muffins Half Batch
This version makes 6 muffins.
Ingredients 
1

cup

plus 2 ½ tablespoons unbleached all-purpose flour

(160 gams)**

⅜

teaspoon

salt

1

teaspoon

baking powder

3 to 4

tablespoons

unsweetened cocoa, Dutch works well

(20 grams)

½

cup

sugar (can be reduced)

(100 grams)

½

cup

semisweet chocolate chips or chopped dark chocolate

(84 grams)

½

cup

ricotta, whole milk

1

large egg

⅔

cup

whole milk

1 ½

teaspoons

vanilla extract

2

tablespoons

unsalted butter, melted
Instructions 
Preheat the oven to 350°F. Lightly spray 6 standard-sized (2 ½-inch-diameter) muffin cups with nonstick spray or line with paper liners.

Combine the flour, salt, baking powder, cocoa, and sugar and stir until very thoroughly blended. Add the chocolate chips (or dark chocolate) to the dry mixture. STir well.

In a mixing bowl, whisk together the ricotta, egg, milk and vanilla.

Add the dry ingredients to the ricotta mixture and stir until moistened, then stir in the melted butter. Don't overmix; a few lumps are okay.

Spoon the batter into the prepared muffin cups. For smaller muffins, fill the cups about ⅘ of the way. For larger muffins, fill them even with the top of the pan. If you have extra batter, spray one or two additional muffin cups with nonstick spray and put in as much batter as you have.

Bake on center rack at 350 for 20 to 25 minutes, or until lightly browned on top, and a toothpick inserted into the center comes out clean. Remove the pan from the oven, then remove the muffins from the pan and place them on a rack to cool. Wait at least 30 minutes before serving.
Notes
I measured the flour with a scale.  If you are measuring by volume, spoon it lightly into the cup.