Making chocolate ricotta muffins seemed like a good way to use leftover ricotta cheese, so this morning I searched for some recipes. Molly Katzen's chocolate ricotta muffins appeared most often, and while they looked good, a few people complained that  they were slightly dry and could use more sweetness.   Given those reviews, I made some changes.  Along with halving the recipe, I added applesauce, incorporated brown sugar, and used little white whole wheat flour for whole grain. The results were dense, rich tasting muffins that in my opinion, were plenty moist.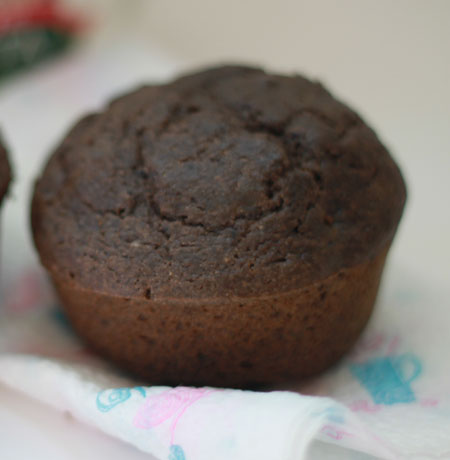 If you want to cut the calories even more, you could use your favorite artificial sweetener in place of one or both of the sugars.  If you do that, let me know how it works.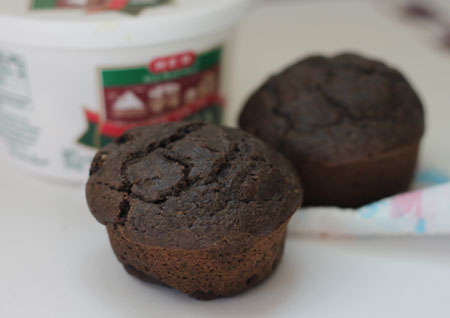 Chocolate Ricotta Muffins
1/3 cup unsweetened applesauce
2/3 cup white whole wheat flour plus 1/2 cup minus a teaspoon of all purpose (5.2 oz total)
3/8 teaspoon salt
1 teaspoon baking powder
1/4 cup unsweetened cocoa powder (Hershey's Dark/Dutch)
1/4 cup granulated sugar
1/4 cup packed light brown sugar
1/2 cup ricotta cheese (not reduced fat, part skim okay)
1 large egg
2/3 cups milk
1 1/2 teaspoons vanilla extract
2 tablespoons vegetable oil, generous
1/2 cup semi-sweet or dark chocolate chips
Preheat the oven to 350°F. Spray 8 muffin cups with non-stick baking spray. Leave the remaining 4 empty for now.
Spread the applesauce in a 5 inch circle on a stack of paper towels and let it sit for about 10 minutes to drain.
Meanwhile, combine the flour, salt, baking powder, cocoa, and sugar in a medium-sized bowl.
In a mixing bowl, mix the ricotta cheese, egg, milk, vanilla and oil. Using a tablespoon, scrape up 4 tablespoons of the drained applesauce and add to ricotta mixture.
Add the flour mixture to the ricotta mixture and stir until blended, then stir in the chocolate chips.
Spoon the batter into the prepared muffin cups going all the way to the top. You should get about 8 muffins. Add a little water to the empty muffin cups to help the muffins bake evenly.
Bake in the middle of the oven for to 20 to 25 minutes, or until a toothpick inserted into the center comes out clean.
Remove the pan from the oven, then remove the muffins from the pan and place them on a rack to cool. Let cool for 30 minutes before serving.
Quick Notes
For extra moisture I added some drained applesauce. The applesauce also added a little sweetness.
For a touch more sweetness, I used half brown sugar and half granulated
For whole grain, I used a combination of white whole wheat and all purpose, but you can stick with all purpose if you want – just use 5.2 oz or 1 cup and 3 tablespoons.