My contest-world friend Camilla is a sociology professor who has written a number of cookbooks including Cookie Dough Delights, Brownie Mix Bliss, Cake Mix Cookies and Puff Pastry Perfection. She has a real knack for building good recipes out of convenience products, but rest assured, she could cook circles around most people while sleepwalking on Ambien. Not that she's ever tried it, but I'm guessing….
With all the kids running around here, I needed an easy recipe — something I could make which didn't involve much concentration and which would also satisfy a raging chocolate craving. For this, I turned to Camilla. And as usual, she did not disappoint. This one is (paraphrased) from Brownie Mix Bliss – a real life-saver of a book for brownie lovers.
These brownies are really good, but my batch wasn't particularly photogenic. It's my fault because I didn't bother to line the pan….I just ate them straight out of it. I scattered some nuts over part of the brownie, but the nuts are not included in the recipe and are likely to get picked off by little kids anyway. I like nuts. They make brownies healthy!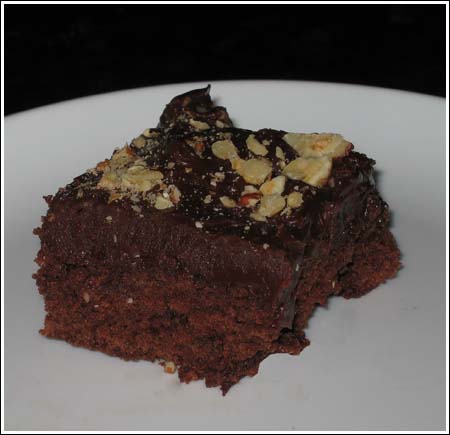 Truffle-Topped Brownies
1 (19.5 to 19.8 oz) package brownie mix
1/2 cup unsalted butter, melted
1/4 cup water
2 large eggs
1 (14 oz) can condensed milk
1 (12 oz) bag chocolate chips (semi-sweet or maybe try bittersweet)
2 teaspoons vanilla
Preheat oven to 350 degrees F. Spray a shiny 13×9 inch metal baking pan with cooking spray (bottom only). If you are using a dark pan, preheat the oven to 325 degrees F.
In a mixing bowl, stir together brownie mix, butter, eggs and water until well-moistened. Pour into pan and bake for 28-30 minutes.
During last 5 to 10 minutes of baking, start preparing topping. Cook condensed milk and chocolate chips together in a saucepan over medium-low to medium heat. Stir to melt chips, then remove from heat and stir in vanilla.
Remove brownies from oven and immediately spread topping over brownies. Set the pan on a rack and let them cool completely, then transfer to the refrigerator and chill for an hour to set topping. Cut into bars.
24 large brownies