Truffle-Topped Brownies is an old recipe from my friend Camilla Saulsbury's book, Brownie Mix Bliss. It's boxed brownies topped with an easy fudge mixture made with condensed milk and chocolate chips. I'll post a new photo next time I make the brownies.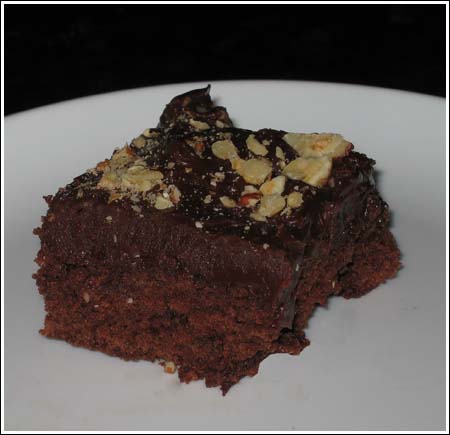 Truffle-Topped Brownies
1 (19.5 to 19.8 oz) package brownie mix
½ cup unsalted butter, melted
¼ cup water
2 large eggs
1 (14 oz) can condensed milk
1 (12 oz) bag chocolate chips (semi-sweet or maybe try bittersweet)
2 teaspoons vanilla
Preheat oven to 350 degrees F. Spray a shiny 13x9 inch metal baking pan with cooking spray (bottom only). If you are using a dark pan, preheat the oven to 325 degrees F.
In a mixing bowl, stir together brownie mix, butter, eggs and water until well-moistened. Pour into pan and bake for 28-30 minutes.
During last 5 to 10 minutes of baking, start preparing topping. Cook condensed milk and chocolate chips together in a saucepan over medium-low to medium heat. Stir to melt chips, then remove from heat and stir in vanilla.
Remove brownies from oven and immediately spread topping over brownies. Set the pan on a rack and let them cool completely, then transfer to the refrigerator and chill for an hour to set topping. Cut into bars.
24 large brownies