This morning's cake comes from Kristin in Nashville. She knew I'd been having a tough time finding easy yet impressive recipes and sent me one of her favorites -- Glazed 'n' Tipsy Amaretto Cake. Here's what she had to say:
I thought I'd shoot over my new favorite party cake. I took it to THREE potlucks this weekend. It's a cheater cake -- based on cake mix and instant pudding -- but delicious nonetheless. A few notes: It says to bake it 60-75 minutes, but that's WAY too long. I find it works best somewhere around the 45-minute mark. I've also found that it absorbs a lot more of the sauce if you slice off the top before you invert the cake. And, take the "liberally" seriously when greasing the pan, or the nuts won't stick to the sides and will collect into a hard, inedible mass on the top of the cake.
After reading that review, how could I not bake this cake immediately? I'm taking it to a party this evening and will report back with reviews. Here's a picture of what it looked like last night before I wrapped it up and let it sit. Hopefully, I'll remember to take along the extra amaretto sauce.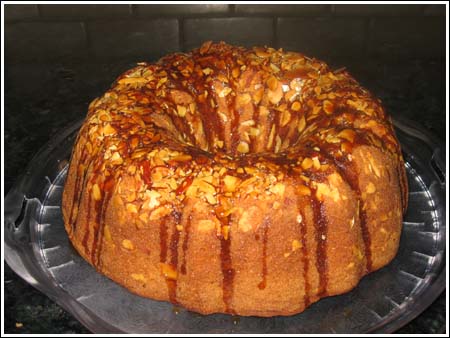 Glazed 'n' Tipsy Amaretto Cake
1 package yellow cake mix
1 small package instant vanilla pudding
4 eggs, lightly beaten
½ cup cold water
½ cup vegetable oil
½ cup amaretto liqueur
½ cup almonds, lightly toasted and finely chopped
Combine all ingredients except the nuts. Beat for 5 minutes, until well-incorporated.
Grease large Bundt pan liberally with butter. Coat sides and bottom of pan with the nuts. Pour in batter.
Bake at 350 for 60-75 minutes. (Kristin says 45 minutes was plenty.) Cool cake completely in pan before turning out.
Sauce:
1 cup dark brown sugar
1 stick butter
½ cup amaretto liqueur
¼ cup water
Combine all ingredients in small saucepan. Bring to boil and boil for one minute. Cool slightly and drizzle half the sauce over the cooled cake. Chill cake overnight for best results.
Anna's Notes: After the cake had been turned from the pan and cooled, I used a long wooden skewer to poke holes around the top. This helped the cake to absorb more sauce. The holes kind of blend in with the top and weren't unattractive. They'll be even harder to see once the cake is drizzled with glaze the second time.
To toast the nuts, lay them on a cookie sheet and bake at 350 for 6-8 minutes or until they appear brown around the edges - make sure to check them at 5 minutes.
Here's a bonus picture of my friend Rachael. She lives at the farm where Fuzz takes horseback riding. I love her, but she's been trying to butt me with her horns and it's more frightening than you'd think. She's small, but those horns are sharp.