I wasn't sure what to bake today, so I flipped through an old cookbook and found "Perfect Spice Cake with Sea Foam Frosting", winner at the Los Angeles County Fair. I'm not sure what attracted me to this recipe, but I think it was the sea foam frosting. Plus I liked the name.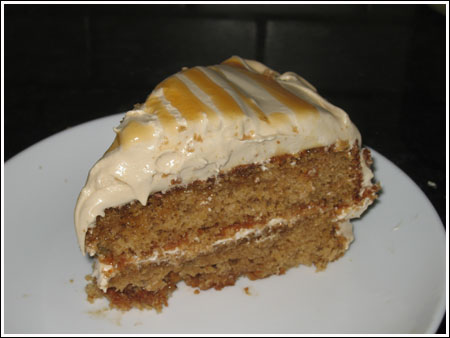 The cake itself is pretty basic. It's a spice cake with no raisins and no nuts. I figured the sea foam icing was key to making the cake special, so I kept on going with the recipe. Maybe you or your grandmother or your mother use to make Seven Minute Icing, the kind you whip up in a bowl set over a pan of hot water. Well, sea foam icing is like Seven Minute icing, but made with brown sugar. It sounds like a real pain, but if you have the correct size metal bowl and pot on hand, it's fairly simple. In exactly seven minutes, I had a shiny, fluffy brown frosting which spread on the cake quite beautifully.
The sea foam icing is very sweet and so is the cake itself; at least right after being assembled. I found that letting it sit for a while toned down the sweetness. End result — a blue ribbon worthy cake.
Here's a slice of the cake. Now remember, I put this cake together very quickly while baking cookies and fixing lunch for small children, so it's ugly and I'm aware of that. But it's good! The stuff on top is caramel. If something looks bad, a drizzle of store-bought squeezable caramel sauce does wonders.
Spice Cake with Sea Foam Frosting
2 1/4 cake flour, sifted before measuring
1 teaspoon baking powder
3/4 teaspoon baking soda
1 teaspoon salt
1 teaspoon cinnamon
1/4 teaspoon each – cloves and ginger
1/8 teaspoon ground black pepper
3/4 cup butter flavored shortening (Crisco)
1 cup granulated sugar
3/4 cup firmly packed dark brown sugar
3 large eggs, room temp
1 cup room temp buttermilk mixed with 1 teaspoon vanilla extract
Sea Foam Frosting
2 egg whites
1 1/2 cups firmly packed light brown sugar
1/3 cup water
1 teaspoon vanilla extract
Preheat the oven to 350 degrees F. Spray two or three 9 inch round (see note) cake pans with flour-added cooking spray. Sift together pre-sifted flour, baking powder and baking soda. Stir in salt and spices (cinnamon, cloves, ginger, black pepper). Set aside.
In a bowl, using medium speed electric mixer, beat shortening and both sugars until mixed. Increase speed to high and beat until fluffy. Add eggs, one at a time, beating for 30 seconds after each egg. Using a mixing spoon or lowest speed of blender, add flour and buttermilk/vanilla mixture alternately, beginning and ending with flour.
Divide batter evenly between two cake pans and bake for 28 minutes or until cake tests done with a wooden skewer or pick (moist crumbs/no batter). Cool in pans for 10 minutes. Invert onto cooling racks.
Prepare sea foam frosting. Set a deep metal bowl over a pan (I used a 3 quart saucepan) of boiling water. Reduce heat to a good simmer. Combine egg whites, light brown sugar, and water. Beat over boiling water for 7 minutes or until soft peaks form. Add vanilla and beat until thick enough to spread.
Note: Original recipe called for 3 (9 inch) round layers, but I prefer thicker layers of cake and used 2.