Spice Cake with Sea Foam Frosting is a recipe I found years ago in an old cookbook with contest winning recipes. This particular cake was a winner at The Los Angeles County Fair. That of course lured me in, as did the name -- Sea Foam Frosting. It sounded so old fashioned! Since finding this recipe, I have made it twice and plan to keep it in rotation. It's kind of different and the frosting makes it special.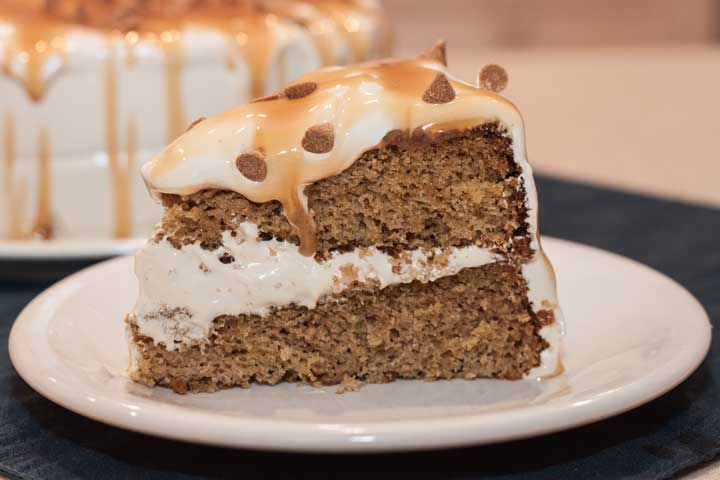 Spice Cake
First, a little about the cake. It's a spice cake without nuts or raisins.  It bakes up flat and is sweet and dense. The last time I made it I forgot to add ¼ cup of flour and it sank a little (you can see it in the photo). Still a good cake, though! Another thing I did was add mace. I don't know if it was the mace, but all of a sudden I had this taste memory of Little Debbie Spice Cakes. They must have used mace. I haven't had one in at least 20 years, so it was interesting having that taste memory. The Little Debbie Cakes looked like this.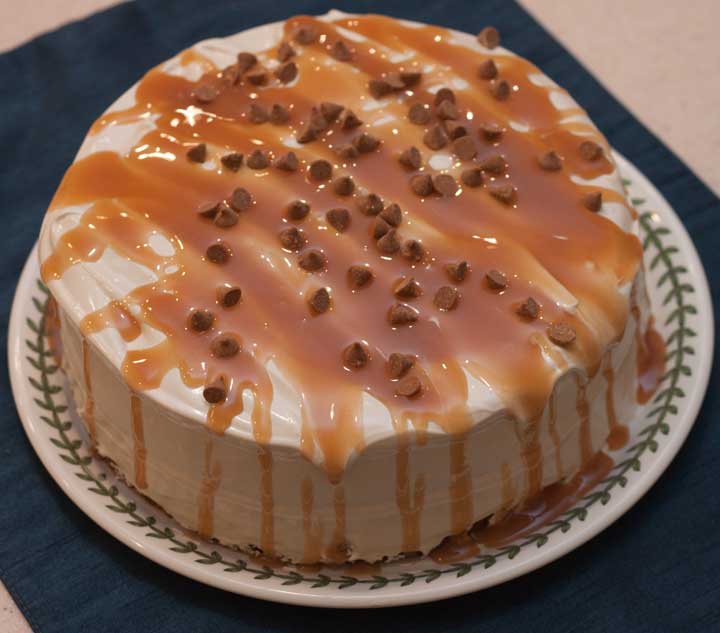 More About the Frosting
As for the frosting, Sea Foam Frosting is like Seven Minute Frosting, but made with brown sugar instead of granulated so it has a bit of a caramel-molasses flavor. You can make it in a double boiler or use a mixing bowl set over a pan of water.  The first time I made the cake I used a mixing bowl. Since then I've purchased a double boiler. While a double boiler is more convenient, a mixing bowl is deeper and has more room. So I recommend just setting a mixing bowl over (but not touching) simmering water. It's even more convenient if you use a stand mixing bowl, because after 7 minutes you can stop using the hand mixer, put bowl on mixing stand and let the whisk attachment finish the job.
The Sea Foam Frosting is very sweet and so is the spice cake itself. It's even better after it sits for a while. End result -- a blue ribbon worthy cake.
Update: I'm keeping this recipe as it is with shortening, but if you want to try a version with butter, there is a new one on Spruce Eats which looks good! The frosting is also similar, but it calls for more salt and includes some corn syrup.
Recipe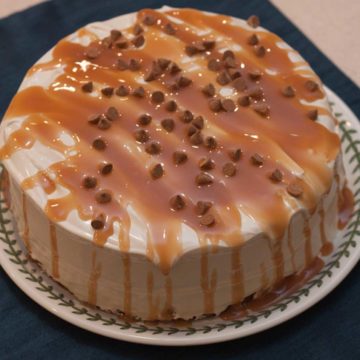 Spice Cake with Sea Foam Frosting
This is adapted from an old prize winner from the L.A. County Fair. I've tested it a couple of times and have found it's best to sift the cake flour after measuring or weigh out 270 grams.
Ingredients 
2 ¼

cups

cake flour

sifted after measuring (270 grams)

1

teaspoon

baking powder

¾

teaspoon

baking soda

1

teaspoon

salt

1

teaspoon

cinnamon

¼

teaspoon

each - cloves and ginger

⅛

teaspoon

ground black pepper

⅛

teaspoon

of mace

optional

¾

cup

shortening, butter flavor or regular or a mix

1

cup

granulated sugar

(190 grams)

¾

cup

firmly packed dark brown sugar

(150 grams)

3

large

eggs

room temp

1

cup

buttermilk

****

1

teaspoon

vanilla extract
Sea Foam Frosting
2

egg whites

1 ½

cups

firmly packed light brown sugar

(300 grams)

⅓

cup

water

1

teaspoon

vanilla extract

⅛

teaspoon

salt
Garnish
caramel sauce

(Like Hershey's Sundae Sauce)

Cinnamon Chips
Instructions 
Sift together pre-sifted flour, baking powder and baking soda. Stir in salt and spices (cinnamon, cloves, ginger, black pepper, and mace if using). Set aside.

In a bowl, using medium speed electric mixer, beat shortening and both sugars until mixed. Increase speed to high and beat until fluffy. Add eggs, one at a time, beating for 30 seconds after each egg. Using a mixing spoon or lowest speed of blender, add flour and buttermilk/vanilla mixture alternately, beginning and ending with flour.

Divide batter evenly between two cake pans and bake for 28 minutes (up to 33) or until cake tests done with a wooden skewer or pick (moist crumbs/no batter). Cool in pans for 10 minutes. Invert onto cooling racks.

Prepare sea foam frosting. Put some water in bottom of a double boiler and bring to a simmer. In the top of the double boiler, Combine egg whites, light brown sugar, and ⅓ cup water. Set the top of the double boiler over the bottom.  Alternatively, use a metal bowl (preferably one that goes with a stand mixer) and just prop it over a saucepan of simmering water.

Using a hand held mixer (one hand holding mixer, other hand holding bowl with a hot pad to keep it still), beat until soft peaks form. This should take about 7 minutes.  Remove from heat, add vanilla and salt; continue beating until it is spreadable.

Spread icing over top of one of the cooled cakes. Stack the second cake on top. Cover entire cake. Drizzle with caramel sauce and sprinkle with cinnamon chips.

Note: Original recipe called for 3 (9 inch) round layers, but I prefer thicker layers of cake and used 2.
Notes
If you have buttermilk powder, you can use ¼ cup of buttermilk powder (mix it with the dry ingredients) and 1 cup of water in place of the 1 cup buttermilk.