Angel Food Cake with Seven Minute Icing is one of our favorites, and this is solid recipe for it. It's originally from Good Housekeeping, but I've made little changes over time including grinding the sugar extra fine.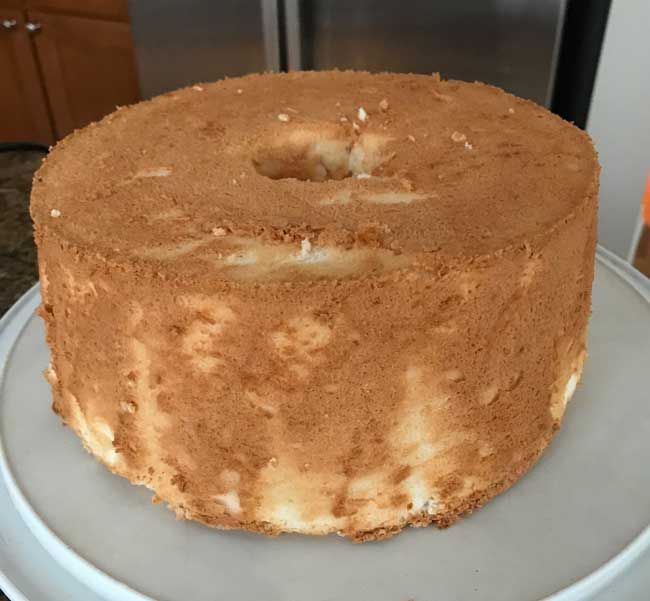 Even though I buy pre-made angel cakes on occasion, there's no substitute for freshly made angel cake. It's crustier and has a better texture and flavor. Like Strawberry Shortcake's friend Angel Cake, angel food cake can be temperamental. Follow the instructions carefully.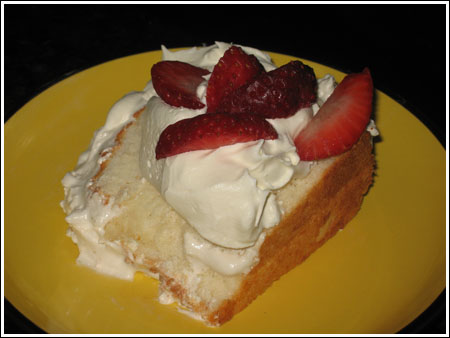 Angel Food Cake Baking Tips
1) Make sure to let your egg whites come to room temperature
2) Add the sugar slowly
3) Do not overbeat after adding the flour
Those are the most important tips I can think of. Some recipes also call for quick dissolving sugar or suggest that you buzz your sugar in the food processor to make it fine. 
Update:  I first posted this recipe back in 2007 and 11 years later it's still a favorite.  I've since added metric weights to make the recipe more accurate.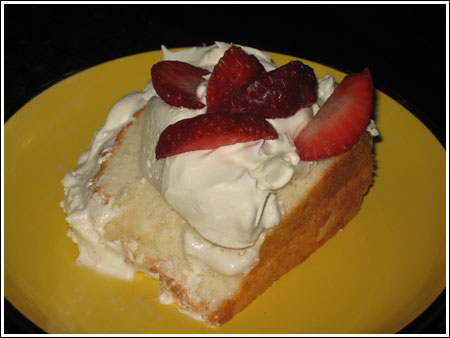 Angel Food Cake with Seven Minute Icing
Angel Food Cake
Ingredients 
12-14

large egg whites

1 2/3 cups total 425 grams

1

cup

cake flour

4 ounces/114 grams

1/2

cup

powdered sugar

60 grams

1 1/2

teaspoons

cream of tartar

1/2

teaspoon

salt

1 1/4

cups

granulated sugar

240 grams

2

teaspoons

vanilla

1/2

teaspoon

almond extract

optional
Instructions 
Set the egg whites in bowl of mixer and let them come to room temperature.

When ready to cook, preheat oven to 350 degrees F.

Into a medium bowl, sift together the cake flour and powdered sugar; Set aside.

With mixer on medium speed, beat egg whites and cream of tartar until foamy. Increase mixer speed to medium high; beat until soft peaks form. Beat in salt, then gradually sprinkle in granulated sugar, 2 tablespoons at a time, and beat until egg whites stand in stiff peaks. Beat in vanilla and almond extract (if using).

Sift flour mixture, one-third at a time, into whites. Folding with a rubber spatula or wire whisk just until flour mixture disappears. Do no over-mix.

Turn batter into an ungreased 9 to 10 inch tube pan (highly recommend removal bottom tube pan). Bake 35 to 40 minutes, until cake springs back when lightly touched. Invert cake in pan and set on metal funnel or bottle. If using an angel food cake pan with legs, you won't have to worry about funnel or bottle. Let cool, then carefully loosen cake from side and center of pan.
I usually ice the cake with this icing.  You can make it in a double boiler, but I've found that standing the bowl of a stand mixer over a 3 1/2 quart saucepan works just as well.  I put a picture of my double boiler setup below.
Seven Minute Icing
2 large egg whites
1 cup sugar
¼ cup water
2 teaspoons fresh lemon juice (I usually omit)
1 teaspoon light corn syrup
1/4 teaspoon cream of tartar
2 teaspoons vanilla
Combine all icing ingredients except for vanilla in a deep metal bowl which will sit comfortably on a saucepan of simmering water. Alternatively, put the ingredients in top of a double boiler. Using high speed of electric mixer, beat for 7 minutes over simmering water. Peaks should be either soft or perhaps stiff after 7 minutes – my icing is usually done in 7 minutes. If yours is not done, remove it after 7 minutes and beat for another 5 to 10 minutes or until peaks are stiff. Spread all over cake. Note:  If you try to speed up the process too much the icing thickens too quickly and can be grainy.