Blueberry Sour Cream Pie is from an older post, but thankfully my daughter made the pie again and updated the photo. Thanks, Emma!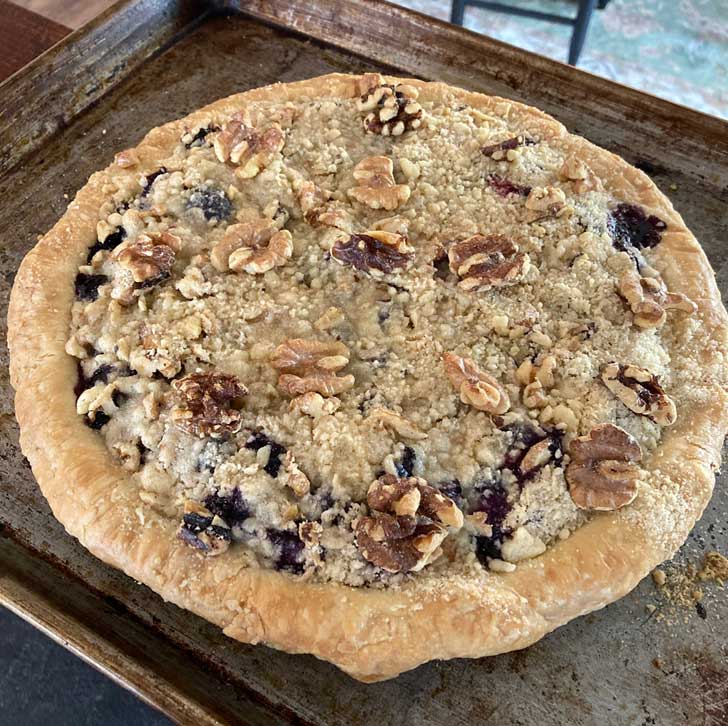 Old Post: There's a new movie out called Waitress. All I know is it stars Keri Russell as a waitress who makes pies and gives them funny names. The Fort Worth Star Telegram found the premise so amusing that they held their own contest and asked readers to send in pie recipes with dramatic names and memorable stories. The article is here, as is the recipe I used to make the crust for this pie. Can't find the link anymore.
As for my pie, which does not yet have a funny name but will soon, I chose Blueberry Sour Cream. I chose this recipe because blueberries are not as ridiculously expensive as usual and because putting sour cream with them seemed like a good idea. Too bad it's an old one and not some new invention. This recipe is all over the Internet and there are a quite a few variations. Below, I've typed out the recipe as I made it. This is one I will definitely make again! The combination of flavors actually exceeded my expectations. Hopefully Todd will like it too.
Blueberry Sour Cream Pie
1 (9 inch deep dish unbaked pie crust) home-made or store-bought, depending on how much you care about crust.
¾ cup granulated sugar
1 cup sour cream
1 large egg, slightly beaten
2 ½ tablespoons flour
1 teaspoon vanilla
1 teaspoon lemon juice
¼ teaspoon salt
2 ½ cups fresh blueberries
Topping:
4 tablespoons cold unsalted butter, cut up
6 tablespoons flour
2 tablespoons sugar
¼ teaspoon cinnamon
⅓ cup chopped walnuts or pecans plus a few extra for top
Press a piece of foil over pie crust and weight down with pie weights or beans or rice. Bake at 400 for 12 minutes.
Reduce heat to 350 degrees F.
In a mixing bowl, stir together sugar, sour cream, egg, flour, vanilla, lemon juice and salt until well mixed. Stir in blueberries. Pour into partially baked crust. Bake the pie for 30 minutes. While pie bakes, prepare topping.
Cut butter into flour until crumbly. Stir in sugar and cinnamon, followed by nuts. Sprinkle topping over pie, sprinkle a few more nuts on top, then bake for another 15 minutes or until topping is lightly browned.
Let cool on a rack for at least two hours.
I served mine at room temperature, but am really looking forward to trying it cold.
Update: This picture was taken the next day. It was good cold, but I think I liked it better at room temperature.